Manic:  Trying to get a ton done before the kids start summer vacation, so I'm working hard at home and only have time for a quick homemade lunch.
Managed:  Trying the taste test area that Trader Joe's always offers last week and leaving with several ingredients that helped me turn an ordinary salad into one comparable to a nice restaurant's salad dish!  This was so easy and so yummy, that you've got to try it…
My Simple Salad Made Great!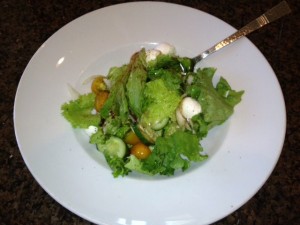 What You Need:
*Lettuce – I used green leaf that I get fresh from Sunizona Family Farms on Fridays through their FarmBox
*Cucumber cut into slices
*Grape Tomatoes cut in half
*Onion sliced in thin strips
*Trader Joe's Aceto Balsamico di Modena I.G.P. Balsamic Vinegar of Modena
*Trader Joe's Premium Extra Virgin Olive Oil
*Trader Joe's Ciliegine Whole Milk Fresh Mozzarella in Lightly Salted Water
*Dash of sea salt
*Dash of pepper
What You Do:
1.  Assemble salad using the lettuce, cucumber, tomatoes and onion.
2.  Add mozzarella cheese balls….as many as you would like.
3.  Drizzle the balasmic vinegar across the top of salad and then drizzle the olive oil across the salad.
4.  Sprinkle a dash of salt and pepper on top and toss.
This salad is soo good and here is why….
What is your favorite salad that you throw together quickly?  Share here in the comments section and eat well!