Manic:  Coming up with fresh dinner ideas, day after day, that are tasty…and healthy, too!
Managed:  Took the advice of one of our managedmoms.com subscribers to buy and try an awesome new cookbook called The Mom 100 Cookbook by Katie Workman.  I love it!  And Katie gave me permission to share one of her recipes, so I decided to try the Honey Ginger Soy Chicken dish and it is terrific!  Katie says that this recipe is an unabashed adaptation of Ina Garten's famous Indonesian chicken.  Take a look….
What You Need: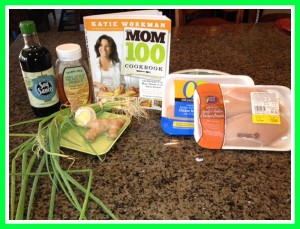 1 cup of honey, at room temperature
3/4 cup of low sodium soy sauce
1/2 cup very finely minced or grated fresh ginger (from about one thick 4-inch piece)
1/4 cup minced garlic (8 to 12 cloves)
recipe calls for 2 chickens, 3 to 3 1/2 lbs. each, trimmed of excess fat and cut into 8 pieces each…but I used chicken breasts and that worked fine, too
5 scallions, trimmed and cut into 1 inch pieces, from the white to about halfway up the green (optional)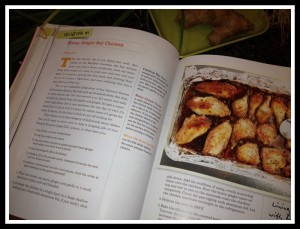 What You Do:
1.  Place the honey, soy sauce, ginger and garlic in a small bowl and whisk until blended.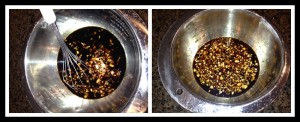 2.  Arrange the chicken in a single layer in a large shallow baking pan (lined with aluminum foil, if you wish) skin side down.  Add the scallions, if using, evenly scattering them over the chicken.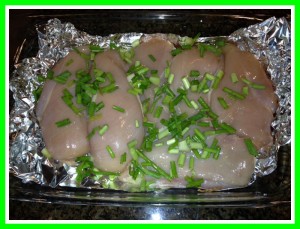 3.  Pour the honey ginger sauce on top and stir to mix so the marinade coats the chicken completely.  Cover the pan tightly with aluminum foil and let the chicken marinate overnight in the refrigerator….note that I didn't marinate overnight and the dish still came out quite tasty, but next time I will let it soak all night as the recipe directs.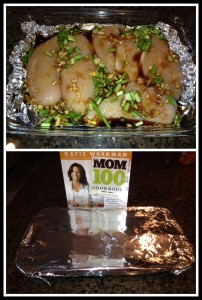 4.  The next day preheat oven to 350 degrees.
5.  Bake the chicken in the covered baking pan for 30 minutes.  Uncover the pan, turn the chicken skin side up and increase the temperature to 375 degrees.  Continue baking the chicken until the juices run clear when you cut into a piece and the sauce is a rich and dark brown, 30 to 40 minutes longer.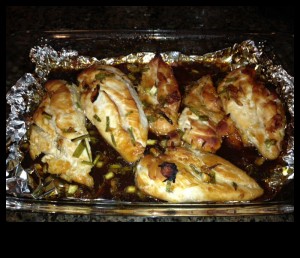 Serve the chicken with the pan sauce.  I served ours over mashed potatoes, paired with a healthy salad and it was delicious!

 Thank you Katie Workman for allowing me to share this healthy and tasty recipe with my managedmoms.com readers!  Katie's book is filled with easy recipes that can be made multiple ways to please every age in the family.  The book also includes a lot of great pictures, which I appreciate, because I'm a big picture person when it comes to following cookbook instructions.  I love my new Mom 100 Cookbook by Katie Workman and I recommend a copy for all busy parents looking for simple and nutritious recipe ideas that will please the whole family!  I purchased my copy at Barnes & Noble, but it can also be ordered online here.