If you have been following our family's fostering adventures with Oliver the cat, then you know that his new family came to get him last night.  And great news!  They texted me today that he is doing great, playing with his new human girls and purring for his new human parents.  He loves his new home, too.  Woo Hoo!  As my family adjusted to the roller coaster ride of our fostering experience, we all came to love him.  And my very thoughtful hubby surprised me with this note left in Ollie's old room that is addressed to me from Oliver the cat.  I share this heartfelt note with all of you and especially to those of you who have fostered or taken in an animal….
Dear Rachel,
Hi there.  It's me, Oliver the cat.  Since it is hard for me as a cat to write a letter by hand (because I have paws), I asked one of my human friends to type this up for me.  
Tonight is my last night before I leave for my new home, and I just wanted to thank you for everything that you have done for me.  You took me in when I didn't have any where else to go, you took me to the vet so I could get all the things done I needed to have done to make me safe and healthy; and most of all you take care of me every day since I met you.  I am the luckiest cat alive because I found you. 
I have become very close to you and I will miss you very much.  But please don't worry.  I know that I will love my new home where I will have three little girls all to myself to play with (all the time) and two nice adult people who will have no pet but me on which to lavish their attention.  (I know I write pretty good for a cat.)  I owe it all to you that I get to go live in such a great place, and I can't wait to start my life with my new human family. 
With all of that said, I hope you know how much I love you (a lot) and that I'll miss you and that I will think about you every day (on the other hand, I won't be missing Tucker, Stanley or Lucy so much).  No matter how much my new family loves me, you will always have a place in my heart and I hope I will always have a place in yours.  I hope you will come see me sometime in my new home, because I will always love to see you. 
Although I'm sad to leave you, I'm happy because I'm leaving to such a great place (because of you).  You are a wonderful person and I love you. 
Love, 
Oliver the Cat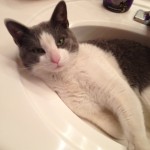 My hubs gets big kudos for this!  The support and compassion that my family showed me as I made my way through this adventure was an unexpected gift that I cherish…right along with this cool cat letter!