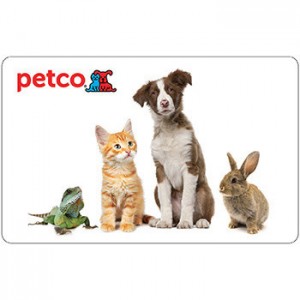 Thank you to all of you pet lovers who emailed us your name to be in the drawing to win the $50 gift card to Petco, courtesy of one very special cat named Figaro!  If you missed his wonderful story that ran last weekend about his adoption, be sure to read it here because it will put a smile on your face!  Fig and his Mom, Catherine decided to give one of our special human readers a $50 gift card to Petco to celebrate Fig's adoption and all of the rescue animals that find forever homes!  And today's winner will also let us know which pet charity they would like Cat, Fig and Managedmoms.com to make a donation to, so that we further spread the joy of pet adoption.  So today's winner walks away with a $50 gift card to Petco and the joy of knowing that her favorite pet charity gets a $100 donation, too!  So now for the winner….
Congratulations to:
Susan Christy from Wichita, Kansas!!
(winner drawn through random.org) 
Thank you to everyone who submitted their name for the drawing!  It is great to see that there are so many pet lovers out there!
Susan, please email us at [email protected] to give us your address to send the Petco gift card and to tell us which pet charity you would like to see us make a donation to!  Congratulations!