Manic:  The days after Christmas when family is still visiting and all are burned out on the leftover turkey and ham.
Managed: Making something that is still holiday green but is completely different from the eaten up holiday fare and this recipe remains my #1 all time read and loved website recipe.  It is my sister-in-law's amazing homemade green chile smothered burrito dish.  Her from scratch sauce from her family's New Mexico recipe book is delicious and crowd pleasing, so here is an idea for a yummy dinner that you can make your company in the days after Christmas.
My sweet sister-in-law made me a little recipe book years ago that has a simple and savory homemade green chile sauce recipe.  It is New Mexico-style to boot!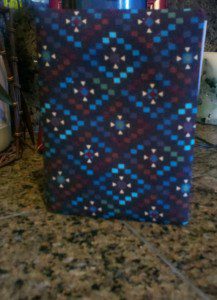 I found the book, so here it is!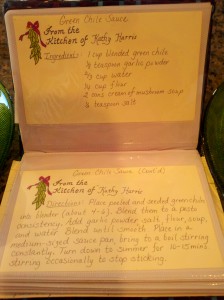 First the Homemade Green Chile Sauce — Easy & Pleasing!
What You Need: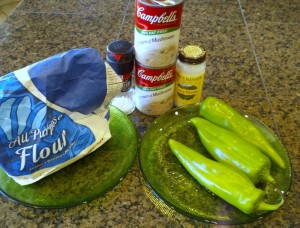 1 cup blended green chile (I used Anaheim Chiles and it came out great)
1/8 teaspoon garlic powder
2/3 cup water
1/4 cup flour
2 cans cream of mushroom soup
1/2 teaspoon salt
What You Do:
1.  Place peeled and seeded green chiles into blender (about 4 to 6).  (I took out the seeds in the Anaheim, but I did not peel.)
2.  Blend them to a pesto consistency.
3.  Add garlic powder, salt, flour, soup and water.  Blend until smooth.
4.  Place in a medium-sized sauce pan and bring to boil, stirring constantly.
5.  Turn down to simmer for 10 to 15 minutes, stirring occasionally to stop sticking.
Now read on to see how to make the smothered burritoes, that my family loved….
Green Chile Smothered Burritoes
What You Need:
1 can refried beans (however, I used black beans with jalapenos mixed in instead since my family likes black beans)
1 lb. ground beef
flour tortillas
1/4 lb. cheddar cheese
homemade green chile sauce that you just made 🙂
1 Tablespoon Schilling Chopped Onion
What You Do:
1.  Brown ground beef with the onion.  Drain.
2.  Heat beans in a sauce pan until warmed.
3.  Heat green chile sauce.
4.  Grate cheddar cheese and warm tortillas in the microwave for 10 to 20 seconds each.
5.   Spread one tablespoon each of meat, beans, sauce and cheese in each tortilla.
6.   Roll up and cover with sauce.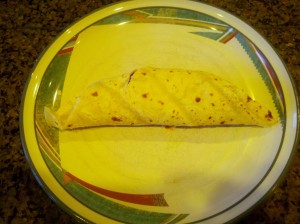 So delicious and my kitchen smelled good, too!  The homemade green chile sauce smelled so good!
Thank you to my sister-in-law, Kathy, who took the time to make me my little cook book several years ago.  It is a treasure and I love her New Mexico-style cooking.
What are your favorite fixings to put in a tortilla?  Share here in the comments section!