Since several of you have written in asking me for the recipe for those incredibly yummy…and healthy….homemade oatmeal peanut butter chocolate chip bars that I showed in my "Your Life A to Z" morning show segment today, here it is.  I love that this recipe calls for honey instead of sugar (I use raw organic honey) and other healthy whole ingredients like coconut, oatmeal and vanilla extract.  I also use a good peanut butter that doesn't have a lot of added sugars.  You will get sugar from the dark chocolate chips that are in this no bake recipe,  but this is still an excellent snack bar option for your family members that have a sweet tooth.  I especially love that my teen boy enjoys these bars.  I first found the recipe on Pinterest and have loved making it and sharing it.  Here it is….
Raisins and almonds can also be added, but I don't, only because my daughter is allergic to tree nuts.  Here is the base recipe that I found.  Feel free to modify and add your own tasty ingredients.  I would love to hear what you did to customize this tasty treat bar….
No Bake Oatmeal Peanut Butter Chocolate Chip Bars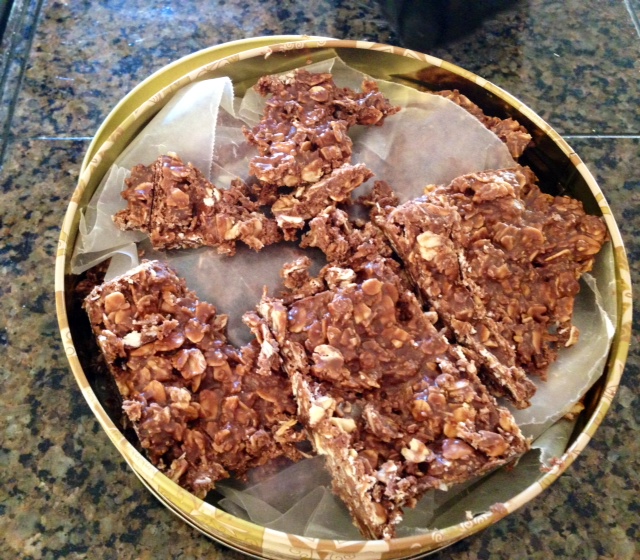 What You Need:
1 cup peanut butter
1/2 cup honey
1/2 cup unrefined coconut oil (be sure to use unrefined for the coconut flavor)
2 cups dry oats (not instant)
1 C shredded coconut
1/2 C chopped walnuts (optional)
1 1/4 cups dark chocolate chips
1 t vanilla extract

What You Do:
1.  Melt peanut butter, honey and coconut oil over medium-low heat.
2.  Once melted, remove from heat and add oats, shredded coconut, chocolate chips and vanilla.
3.  Stir until chocolate is entirely melted.
4.  Pour into a greased (I use coconut oil spray) 9×13 pan and cool in the fridge overnight.  When it's set, or the next morning, cut into bars and enjoy. Store in the fridge.