Manic:  Already feeling manic trying to stick to my New Year's resolution to cook more for my family, both to save money and to eat better.
Managed:  Checked out my favorite recipe app on my iPad called All Recipes and found this awesome meal called Baked Creamy Chicken Taquitos.  My family loved that they were crunchy and tasty and I loved that they were filled with homemade whole food ingredients that I assembled like green onion, garlic, cilantro and more.  Check out this awesome recipe…
Baked Creamy Chicken Taquitos Recipe 
What You Need: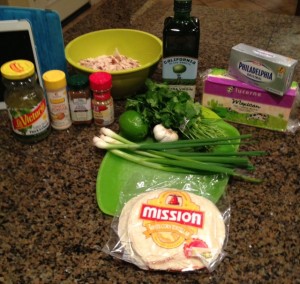 2 cups shredded chicken (I bought a rotisserie and shredded it to save time)
3 oz. cream cheese, softened
2 cups green salsa
1 tbsp fresh lime juice (so good to use freshly squeezed lime)
1/2 tsp cumin
1 tsp chili powder
1/2 tsp onion powder
2 garlic cloves, minced
3 tbsp chopped fresh cilantro
2 tbsp sliced green onions
1 cup shredded Mexican flavored cheese (so much better if you shred it yourself)
1 small package flour or corn tortillas (I used corn and they were yummy)
1 nonstick cooking spray
dash of kosher salt
*you will also need to have parchment paper on hand
What You Do:
1.  Preheat oven to 425 degrees.
2.  Line a baking sheet with parchment paper.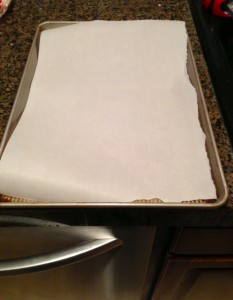 3.  In a large bowl, mix cream cheese, salsa, lime juice, cumin, chili powder, onion and garlic powder and minced garlic.  Once combined, stir in cilantro and green onions.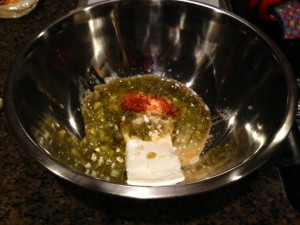 4.  Add the chicken and cheese and mix thoroughly.
5.  Working with a few tortillas at a time, heat them in the microwave between two sheets of paper towels, about 20 seconds, to soften them to roll.
6.  Spoon 2 – 3 tbsp of chicken mixture onto the lower third of the tortilla and then roll the tortilla as tightly at you can.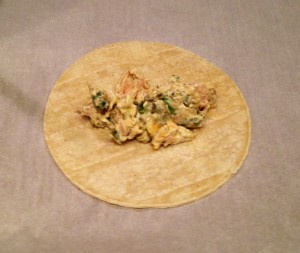 7.  Place the rolled tortilla seam side down on the baking sheet.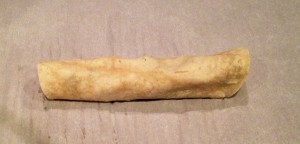 8.  Repeat with remaining tortillas until the mixture is gone.  Make sure rolled tortillas are not touching each other.
9.  Spray the tops with non stick cooking spray and sprinkle with kosher salt.  Bake for 15 to 20 minutes or until crisp and golden.
Serve with salsa, sour cream or guacamole.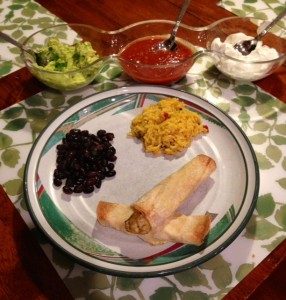 I made homemade guac and served with all three and it was perfect!