Manic:  Trying to stick to my New Year's resolution of feeding my kids less takeout and more homemade meals.  This is not an easy feat with rehearsals, hockey games, golf team practice, student council, yearbook meetings and more.  You get the idea.
Managed:  Did it today and the recipe was so easy and doable that I have to share this again.  I showed this recipe one year ago and I forgot just how quickly this tasty homemade marina sauce can be easily made.   I had one hour to make a homemade meal that I then packed in the car in three takeout boxes for my daughter and her two pals.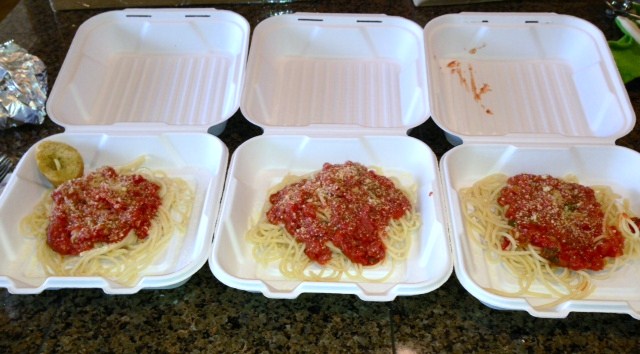 Every third week is my turn to drive the carpool that starts at 4pm and ends at 8:30pm when everyone is back home.  It is a busy run because my daughter goes from school to an after school middle school play rehearsal.  Her friend that we pick up goes from school to track and we also pick another pal from her house.  Then all three girls go straight from the after-school activity to their local community theatre show choir 2-hour rehearsal and after that, they have yet another rehearsal for a musical production that goes from 6:30 pm to 8 pm.  So Tuesdays are jam packed and our little ladies are quite hungry as they go from sunrise to past sunset fulfilling all of their obligations.
At some point along the way, the three of us carpool moms started showing up with food for our growing girls who need fuel to get through their 13-hour schedules on Tuesdays.  So, I usually buy the girls Subway, but I am really trying to stick to my resolution.  This homemade marina sauce was easy and the girls loved it and enjoyed every healthy bite as we made our way down the freeway this afternoon.  And if I hadn't met up with hubs for dinner in between the drop-0ff and pick-up time, then my guys would have had this sauce for dinner, too.  I also made garlic bread with olive oil and a little sea salt and packed in a few fresh strawberries.  It was a hit and the girls told me in between bites that they loved it. Of course my own kid asked me to still get Subway sometimes (of course she did)….but that didn't surprise me.  She ate every bite of the homemade pasta sauce, so that made me happy.
Try this recipe for a good homemade sauce when you have a little time but a lot of desire to feed your family whole foods for a quick dinner on the run.  Even though this looks messy, the takeout dishes that I used were big enough (and the girls are old enough) that not one drop was spilled anywhere.  Sub sandwiches usually leave a few pieces of stray lettuce here and there.
So with permission from the publisher of the book, "Betty Crocker Cooking Basics:  Recipes and Tips to Cook with Confidence" Wiley 2008, I get to share this delicious homemade sauce recipe for spaghetti (my family's #1 favorite dinner) with all of you.
From Betty Crocker Cooking Basics: Recipes and Tips to Cook with Confidence;
Wiley 2008; reprinted with permission from the publisher
What You Need: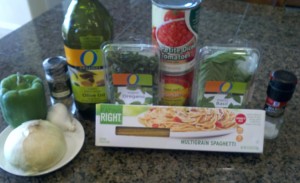 1 medium onion
2 cloves garlic or 1/4 teaspoon garlic powder
1 small green pepper
1 tablespoon olive or vegetable oil
1 can (14.5 oz.) diced tomatoes, undrained
1 can (8 oz.) tomato sauce
1 tablespoon chopped fresh or 1 teaspoon dried basil leaves
1 1/2 teaspoons chopped fresh or 1/2 teaspoon dried oregano leaves
1/4 teaspoon salt
1/4 teaspoon fennel seed, if desired
1/4 teaspoon pepper
1/2 teaspoon salt (for cooking spaghetti), if desired
8 oz. uncooked spaghetti
What You Do:
1.  Peel and chop the onion to measure 1/4 cup.  Peel and finely chop the garlic.  Cut the bell pepper in half lengthwise, and cut out seeds and membrane.  Chop enough bell pepper to measure 1/4 cup.
2.  In a 2-quart saucepan, heat the olive oil over medium heat for 1 to 2 minutes.  Add the onion, garlic, and bell pepper.  Cook 2 minutes, stirring occasionally.
3.  Stir in the tomatoes with their liquid, tomato sauce, basil, oregano, 1/4 teaspoon salt, the fennel seed and pepper.  Heat to boiling over high heat.  Once mixture is boiling, reduce heat just enough so mixture bubbles gently and does not spatter.
4.  Cover with lid and cook 35 minutes, stirring every 10 minutes to make sure mixture is just bubbling gently and to prevent sticking.  Lower the heat if the sauce is bubbling too fast.
5.  After the sauce has been cooking about 20 minutes, fill a 4-quart Dutch oven about half full of water.  Add 1/2 teaspoon of salt if desired (I didn't).  Cover with lid; heat over high until the water is boiling rapidly.  Add the spaghetti.  Heat to boiling again.  Boil uncovered 8 to 10 minutes, stirring frequently, until tender, but not mushy.
6.  Place a strainer or colander in the sink.  Pour the spaghetti in the stainer to drain.  I used a whole grain pasta for a healthier version for my family.  Cover with the homemade sauce that you just created :).  Yum!