Want a yummy and healthy recipe that is packed with veggies AND is kid friendly?  Then you have to got to try this amazing recipe for Lemon Chicken with Spring Veggies and Orzo Pasta.  A huge thanks to Celebrity/Professional Chef Chuck Wiley from Hotel Valley Ho's Cafe ZuZu for letting me share his recipe that is perfect for Spring.
Last night, my usually picky 16-year-old always hungry son asked for seconds and to save some for leftovers today.  That got my attention!  I have also made this for my both of my kids' friends and all have always loved this heart healthy recipe that calls for fresh asparagus, squash, zucchini, carrot and more.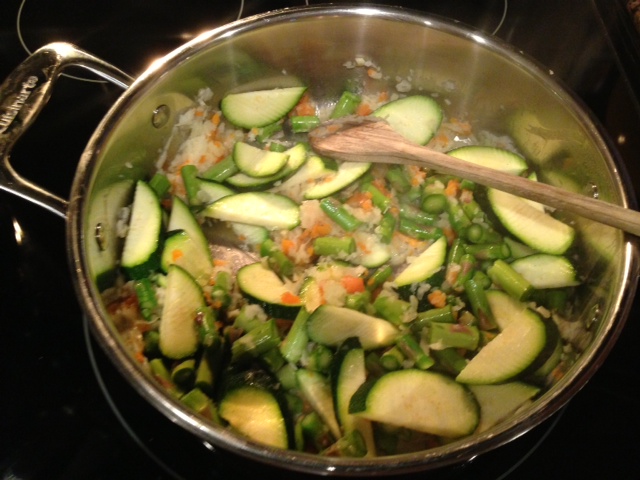 Kids like this because the freshly grated parmesean cheese perfectly complements the chicken and the orzo pasta.  Adults appreciate the bonus servings of delicious veggies that accompany the dish.  I have posted this recipe before and it is always a hit and since Spring has arrived with the glorious arrival of delicious in season vegetables that please the palette and the body, try this recipe that continues to be a family favorite in my household…
Lemon Chicken Orzo Pasta with Fresh Spring Veggies
What You Need: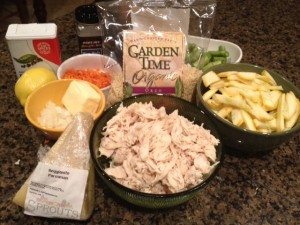 2 tablespoons butter
1 small onion, chopped
2 cloves garlic, chopped
1 carrot, diced
1/2 lb. asparagus, cut into 1 inch pieces
1 small zucchini, quartered lengthwise, cut in 1 inch pieces, diagonally
1 small yellow squash, cut in 1 inch pieces, diagonally
1 whole cooked chicken, boned and diced
1 cup orzo pasta, cooked al dente and drained
1 cup chicken broth
1 lemon, juice and zest
Kosher salt and ground black pepper to taste
1 cup Parmesan cheese, grated
1/4 cup basil leaves, sliced
3 tablespoons pine nuts, toasted
What You Do:
1.  Heat a large skillet over medium-high heat, add 1 tablespoon of the butter, onion, garlic and carrot and saute until tender.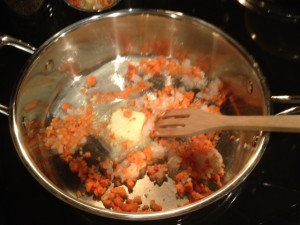 2.  Add the asparagus, zucchini and squash and saute briefly.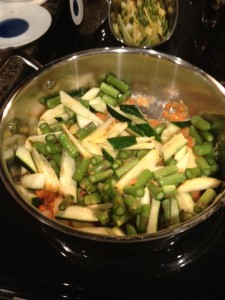 3.  Add the cooked chicken, cooked orzo pasta, broth and lemon.  Bring to a boil, lower heat and simmer, stirring until mixture begins to thicken.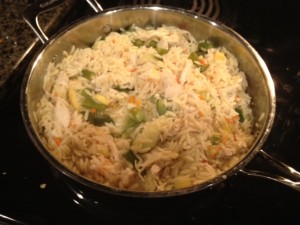 4.  Stir in the remaining butter, 1/2 cup of the cheese and transfer to a serving bowl.  Sprinkle with the basil and pine nuts.  Serve with the remaining cheese and enjoy!
A few notes….I used too much Orzo…stick with the 1 cup that Chef Wiley has in the recipe.  My picture has too much pasta and not enough veggies shown because I accidentally used too much of the orzo.  I also omitted the pine nuts because my daughter is allergic to tree nuts, but I've had it with the pine nuts and it is really better with the pine nuts, although my family still loved the dish, I'm happy to report!
I also highly recommend this dish with a good glass of Pinot Grigio Vino, too!