In the morning or after a nice dinner, a cup of java always sounds good and is a nice beverage to have on hand for your holiday guests.  So take it up a notch and create a festive holiday coffee bar that is inviting and relaxing.  Mix in decaf for your guests that may want to partake without the caffeine.  Here are several satisfying recipes for a festive and fun coffee bar setup.  I have included both hot and iced options to give your coffee bar some variety.
Hot Coffee Options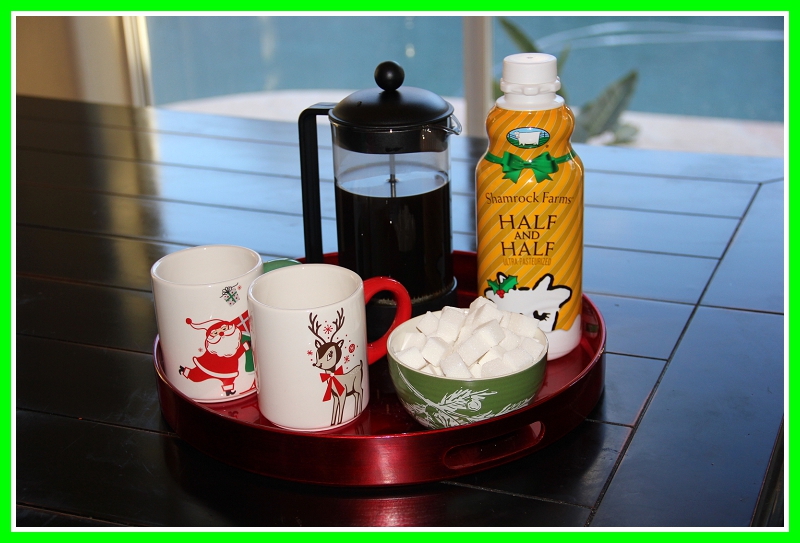 Decorate your table with a holiday table cloth and a few decorations and put out a pot of hot regular coffee and a pot of decaf.  On a pretty tray, assemble Shamrock Farms Half & Half and sugar cubes.  If you have a frother machine, add the froth and a serving spoon.  Make a little sign with a coffee recipe suggestion like this one….
For a little holiday touch, add this much –
Top your coffee drink with Shamrock Farms Half & Half and a touch of snowy white froth
and then sprinkle a dash of cinnamon 
and the flavors will sink
into this festive hot drink."
On the other tray, set out a bottle of Bailey's and whipped cream for a little holiday coffee with some spirit.
Cold Coffee Recipes
First freeze some prepared coffee into an ice tray.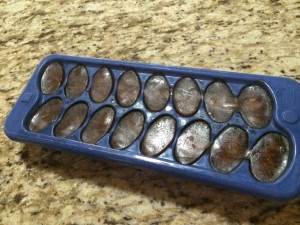 Now you will be able to offer your guests who prefer iced coffee the perfect ice cube to keep their beverage chilled.  Here are two simple and sweet recipes for iced coffee that can be offered along with those iced coffee cubes…
Magical Iced Coffee
 2/3 cup coffee
Splash of Shamrock Farms Half & Half
3 cups water
1 tsp cinnamon
3 tbsps dark brown sugar
Splash of milk
Serve over ice
Shaken Iced Mocha
3/4 cup cold coffee
1/4 cup of Shamrock Farms Half & Half (reg or fat free)
2 tbsps chocolate syrup (dark)
Shake and serve over ice.
What cool coffee recipes do you like for a little festive holiday pick-me-up?  Share in the comments section and Happy Holiday season to you!
This creative article was sponsored by the awesome Shamrock Farms.  My opinion about how much I love delicious Shamrock Farms is 100% my own.