Manic:  Trying to really stick to our New Year's resolution to cook more meals from scratch using whole foods.  One of the options that my very health conscious mother told me about is to use Tamari in place of soy sauce so I was anxious to give several recipes a try with the tasty Tamari.
Managed:  Working with San-J to share their Chinese New Year recipes for potstickers, a yummy stir fry and even good fortune cookies.  Why is Tamari so good and healthy?  San-J's premium gluten free Tamari Soy Sauce is naturally brewed from 100% soybeans for up to six months using traditional Japanese methods. For over 200 years, San-J's Tamari is brewed with no wheat for a richer, smoother, more refined taste than regular soy sauces (that can contain 40-60% wheat). San-J's Tamari is also Non-GMO, Vegan, Kosher and free from artificial preservatives or additives.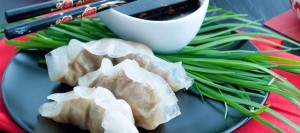 Take a look and give these ideas a try….
Using San-J's premium, gluten-free Tamari soy sauce, Gluten-Free Chef Carol Kicinski has crafted three authentic Chinese New Year dishes, with all the taste and none of the gluten for the holidays and beyond.

San-J Gluten-Free Chinese New Year Recipes:
Lamb Potstickers: Tasty lamb seasoned with Tamari and Sherry  wrapped in rice paper dipped in a tangy Tamari-based dipping sauce.  Get the recipe here.
Prosperous New Year Stir Fry: Delicious vegetable and tofu stir fry tossed with Tamari, topped with a dollop of yogurt pomegranate seeds, pistachios and cilantro.  Try this Stir Fry recipe here.
Good Fortune Cookies:  Rich chocolate and Tamari filled almond cookies decorated with half almonds. Make them yourself with the directions here.
I love how easy it is to get my hands on the San-J line, too.  San-J's Premium Gluten Free Tamari soy sauces, including Tamari Black Label (ARP $2.99), Gold Label Tamari (ARP $4.28) and Tamari Lite 50% Less Sodium (ARP $3.87), are available at natural food stores including select Whole Foods Markets and major grocery stores.  Check out the San-J website for more scrumptious recipes and products selection.
This tasty article was sponsored by San-J and my opinion about how much I love the Tamari and the recipes are 100% my own.