Manic:  You have been invited to a friend's Thanksgiving dinner but you don't have a lot of time to prepare something elaborate.  Or perhaps you have a long road trip planned to get to your family's Christmas celebration.  In both cases, you want to bring something festive and fun, but you don't have a lot of time to make something elaborate.
Managed:  Found some easy ideas, some prepared and some store bought to take to that holiday gathering that folks will love and appreciate…and you don't have to work hard.  Check out these ideas…
Salad in Seconds
*Easy 5 Second Salad – I call this the easy 5 Second Salad because you can grab the ingredients at the store and toss right before you bring the salad to the dinner.  Simply buy your favorite salad greens mix and buy a 1/2 pound (or 1 pound for large salad) of the deli Greek salad mix that includes the cucumbers, tomatoes, olives, etc. and add to the salad greens.  Then toss and top with a little olive oil and white balsamic vinaigrette to enhance the Greek salad dressing. 

Add a dash of salt and pepper and you've got a tossed salad that you made in seconds.
Fun & Festive Appetizer
*Cheese & Meat Turkey Tray – Found this super simple and visual idea on Pinterest.  Simply use cheese, crackers and meat to create a turkey.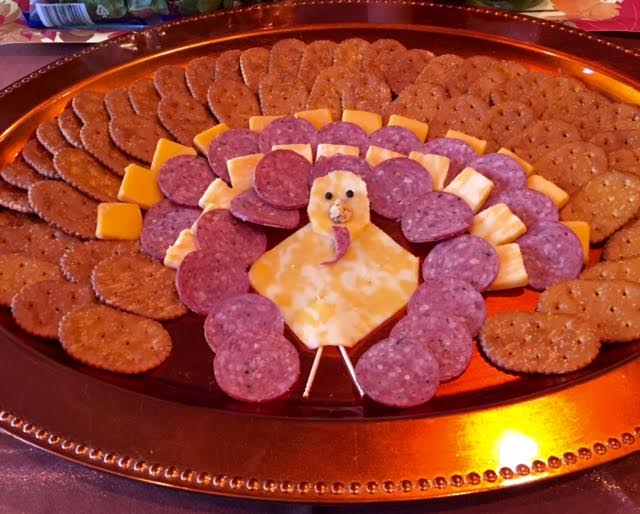 Start with the outside layer of feathers made with crackers.  I recommend the Flipsides pretzel crackers.  Make two layers of these.  Then make the next inside layer next to the crackers using squares of yellow cheese of your desired cheese flavor.  Next the inside layer is made with salami, then a layer of Colby jack cheese squares and another layer of the salami.  Make the center inside piece look like the turkey using a piece of Colby jack cheese cut into the shape of the front of a turkey body.  Put a round piece of yellow cheese on top to make the head with two peppercorns for the eyes.  Use an empty pistachio nut shell to make the beak.  Use a folded piece of salami for the part of the beak that hangs down.  Use two toothpicks for the legs.
Grazing Goods
*Trader Joe's A Joyful Mix Trek Mix ($4.99) — This is perfect to present as a hostess gift with a bottle of wine or to put out as a grazing snack.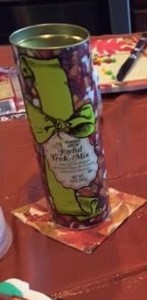 This holiday packaged nut mix contains Greek & Yogurt flavored chips and colorful chocolate buttons mixed in with almonds, pistachios and dried cranberries.
Sweet Tooth Offerings
*Give Thanks Cookies – Make a platter of turkey and pumpkin shaped sugar cookies and place two big cookies in the center of the platter.  Decorate the first cookie to say, "Give Thanks" and the second cookie say "Have Cookies".  Place both cookies next to each other in the center.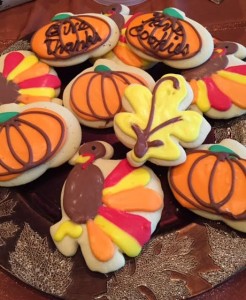 Fun and visual.  If you don't have time to make sugar cookies buy a batch at AJ's Fine Foods.  That is what I did and the lady at the dessert case wrote on the cookies for me right then and there.  The giant iced sugar cookies at AJs that are shaped like pumpkins, turkeys and leaves cost $2.79 each at the dessert case.
*Pilgrim Hats – Another simple treat to make are pilgrim hat cookies.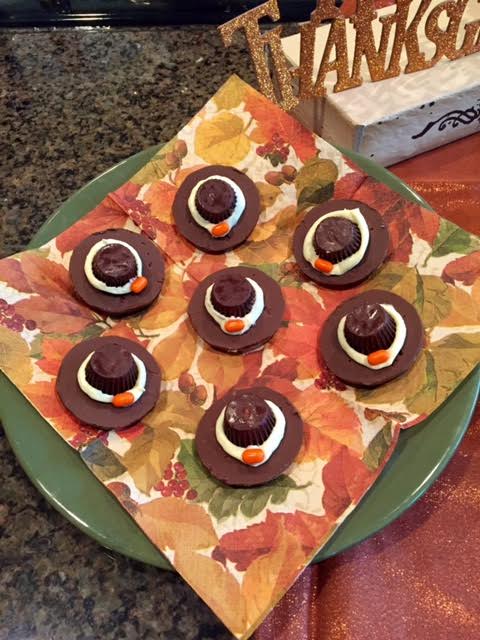 Simply take a fudge striped cookie (Keebler makes these) and turn it face down.  Then dip a miniature chocolate peanut butter cup into white (or yellow) frosting and place it over the center of the cookie so that it covers the hole.  This makes the hatband and crown.  Last place an orange Tic Tac on the crown to make the buckle.  Super easy and tasty Turkey Day treat.
*Miniature Dessert Tray – Trader Joe's frozen section has some terrific miniature dessert options that include Trader Joe's Mini Pie Medley ($4.49 for 6 little pies) with mini strawberry, blueberry and peach pies and Trader Joe's A Dozen Sweet Bites ($6.99 for 12 mini cakes) with chocolate & coffee opera cakes, raspberry Macaroon Aux Framboises cakes and caramel and chocolate mini cakes.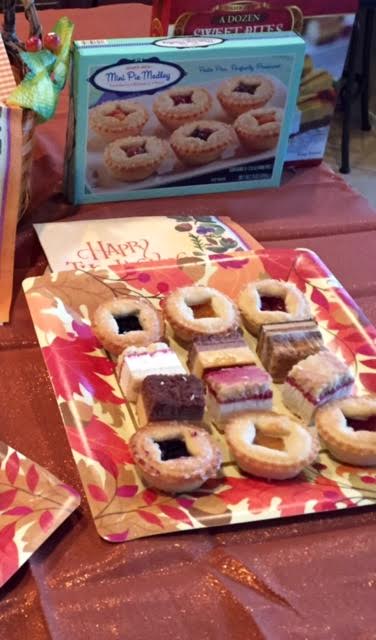 Place these minis on a platter for a crowd pleasing dessert or a post dinner snack later in the evening with coffee.
*After Dinner Coffee/Hot Cocoa Idea with Trader Joe's Iced Pumpkin Scone Cookies ($3.49 for 8 oz box) — Put these delightful little scone cookies out with after dinner coffee for a nice post meal treat. And for the kids put out CC Drink Original Hot Chocolate with Premium Belgian Dark Chocolate Sticks ($3.99 at Trader Joe's) out to dip into warm milk to create instant and satisfying hot chocolate.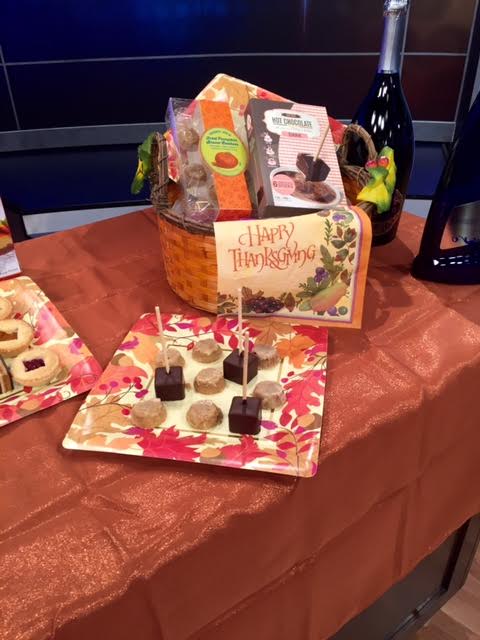 Add a bowl of mini marshmallows to the dessert display.
Seasonal Spirit Beverages For The Grownups
*Trader Joe's Cabernet Sauvignon Truffles ($8.99) paired with Borrellie Winery Napa Valley Cabernet Sauvignon wine ($14.99 at Trader Joe's) — This is a fun idea to give as a hostess gift or to put out with dessert and wine.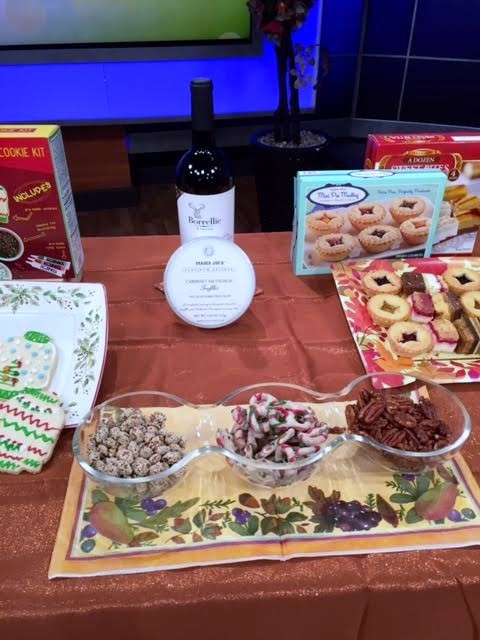 The Borrellie Wine label has a picture of a reindeer on it, making it festive and the chocolate truffles are filled with Cabernet Sauvignon inside.  Perfect!
*Oversized Champagne and Wine Bottles – Trader Joe's has oversized bottles in champagne ($12.99 for a 1.5 L bottle of Incanto Prosecco) and red wine and white wine.  I purchased the big pretty blue bottle of Incanto Chardonnay/Pinot Grigio blend for $12.99 for a 1.5 L bottle.
*Josephs Brau Winter Brew Beer ($5.99 for a 6 pack at Trader Joe's) — I thought this beer looks festive making it the perfect addition to the holiday spirits offerings.
For Christmas:
*Ugly Sweater Sugar Cookies – I found this fun cookie kit at Sprouts Farmers Market and I love this tasty and funny idea.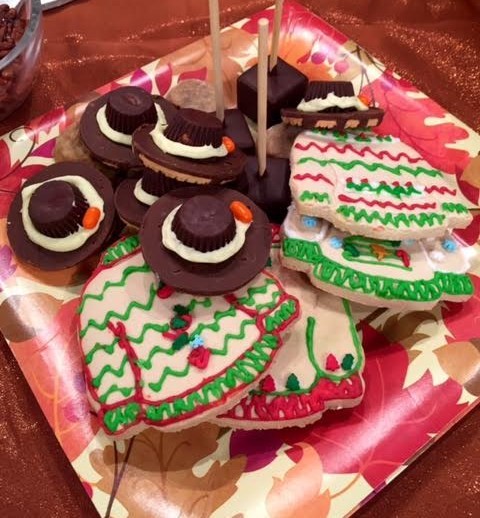 The Ugly Sweater Cookie Kit includes pre-made vanilla sweater cookies, candies for decorating, premade icing tubes and sprinkles.  I love this unique sugar cookie idea!
*Red & Green Yogurt covered pretzels – These are so yummy and look so festive.  Plus I love the sweet and salty combination.  Got these in the bulk section at Sprouts Farmers Market. Yum!
*Christmas Crunch & Munch Station – Make a Christmas Crunch & Munch station, that is sure to be a hit, by combining the Sprouts bulk yogurt covered pretzels that I mentioned earlier in one bowl and fill the bowl next to it with Trader Joe's Candied Pecans ($3.99 for a 5 oz bag) and then display Trader Joe's Sesame Honey Almonds ($6.99 for a 16 oz bag) since those look snow covered and lastly fill in with a bowl of Trader Joe's Iced Gingerbread Mini Cookies ($2.99 for a 16 oz box).  This is perfect for those who want to graze in between meals and the sweet and salty combo is a definite crowd pleaser!
What quick and easy and fun and festive holiday food ideas do you have to bring to the celebration?  Share in the comments section and Happy Holidays!