Yummy pumpkin season has arrived and I have found a healthier recipe for delicious pumpkin spice mini muffins! With the help of my favorite meal planning site, MealGarden, I found a delish recipe for Pumpkin Spice Muffins!  And MealGarden's recipe muffins are only 79 calories each (without optional chocolate chips) and only 4.8 grams of sugar each, too.  Not bad! Take a look at this video preview of this super simple seasonally pleasing treat that tastes like a moist pumpkin bread.  I modified the recipe just a bit due to my daughter's tree nut allergy….

Here is how you make these incredibly tasty pumpkin spice muffins that, my daughter and I think, taste like the pumpkin bread sold at Starbucks.  Make this healthier, lower calorie and lower sugar recipe yourself!
Note: this is NOT gluten free.  I believe that Spelt flour is a better alternative to white flour because it is an ancient relative of wheat that contains B vitamins, fiber and trace minerals.  And I think it tastes so similar that is has become my family's preferred option to white processed flour.  But Spelt flour is not gluten free.  For a gluten free flour, use almond flour.
Ok now back to the recipe!
I took MealGarden's awesome recipe and tweeked it just a bit only because my daughter is allergic to tree nuts so we couldn't use the almond meal/flour their awesome recipe calls for.  I also added dark chocolate chips (my addiction, dark chocolate) but the muffins without the chocolate were truly just as good.  To get MealGarden's original recipe (that I would make if I didn't have the tree nut allergy) go here to MealGarden.  I totally recommend their version and all of their recipes because their meal and snack ideas check out with whole food and healthy ingredients.  I love MealGarden!
To try my slightly different version, here is the recipe….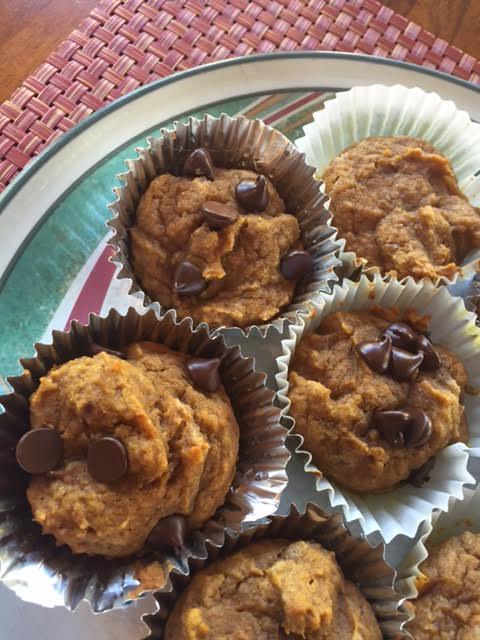 What You Need: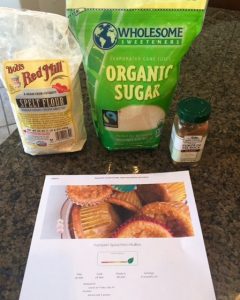 1/2 cup organic sugar
1 tsp pumpkin pie spice
1/2 tsp baking soda
1/2 tsp baking powder
1/4 tsp sea salt
1/2 cup extra virgin olive oil
1 tsp vanilla extract, pure…I used Organics Madagascar Bourbon Pure Vanilla Extract…yum!
1 cup pumpkin, canned….I used Sprouts Organic brand
Organic dark chocolate chips….optional
What You Do: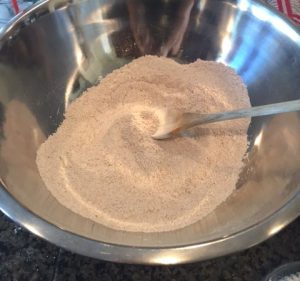 Preheat oven to 350 degrees.
In a large bowl, combine flour, sugar, pumpkin pie spice, baking soda, baking powder and salt.
Fold in oil, vanilla and pumpkin to form a smooth batter.  Add optional chocolate chips if desired.
Spoon one tablespoon of batter into 24 paper-cup-lined mini-muffin cups.
Bake for 15 minutes or until toothpick inserted into center comes out clean.  Seal in air-tight container or freeze.  To defrost, set on counter for 15 minutes, then enjoy!
A huge thanks to MealGarden for allowing me to share and tweak their awesome recipe.  I am a proud paid subscriber to their services and I highly recommend MealGarden for healthy and delicious meal planning!