Excessive hand washing (keep it up) can result in very dry hands so see my Your Life Arizona morning show segment below to learn how to keep them moisturized.  Plus, I share the recipe I found to make homemade hand sanitizer.  For the hand sanitizer recipe and list of product links I showed in the segment, see below under the segment video. We tried to have some fun in this segment with a few laughs and smiles since we are all living in such a difficult time right now.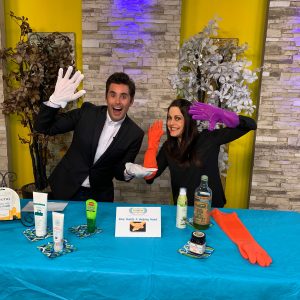 Stay positive, healthy and hang in there everyone.
Hand Sanitizer Recipe clip….
Segment about how to keep hands moisturized after washing…
Hand Washing 101
Have a quick hand washing 101 refresher course with your family.  Go over the proper way to really wash hands which includes thoroughly scrubbing the backs of hands, in between each finger, the thumbs, underneath the fingernails and the wrists, too. Remind them to spend 20 full seconds washing hands.  Singing the Happy Birthday song twice or the ABCs twice is a good way to teach children.
Cool Songs To Sing & Wash To
Tired of those songs? Here is a list of some great tunes, some current and some from years before.  Singing the chorus of your favorite one works for the handwashing recommended time.  This fun list comes from Journalist Jen Monnier and the LA Times…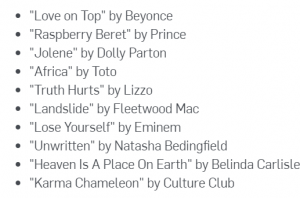 Homemade Hand Sanitizer
Before the shortage of store-bought hand sanitizer, I hadn't made my own.  Now I plan to keep a homemade supply on hand (no pun intended).  Here is the recipe I found on USA Today…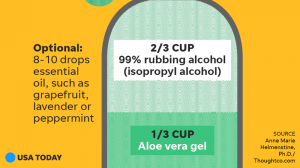 I did have trouble finding the ingredients in local stores. I was able to order what I needed on Amazon but with delayed shipping.  It is recommended that 99% rubbing alcohol be used, which isn't easy to find in the stores.  My Amazon delivery did include the 99% grade but I had to wait a few days to receive it.  If a lower percentage of alcohol is used, then increase the amount in the recipe or it won't be as effective.  I was able to order the Aloe Vera gel on Amazon as well.  Washing your hands with soap and water is best, but when a sink isn't nearby, it is helpful to have hand sanitizer.
Dry Hand Helpers
Here are some of my favorite products that help to keep my hands moisturized.  The other time in my life that had me washing my hands excessively was when I had newborn babies at home.  I washed my hands so much that my knuckles bled a little from the excessive dryness so I tried several products that saved the day and my hands. The list of my current faves…
*Purely Northwest Tea Tree Oil Foot & Body Cream – It says foot on the label, but my hands love it as well.  I also like that this brand is gentle enough for sensitive skin and Eczema. I paid $9.95 for my 8 oz tube on Amazon.
*The Honest Co. Organic All-Purpose Balm – Hypoallergenic, natural and soothing.  It will leave a bit of a shiny residue on hands but it absorbs well and does the job.  I put some on my hands before I go to bed every night. I paid $12.81 for a 3.4 oz tube at Whole Foods.
*O'Keeffe's Working Hands Hand Cream – My longtime hair stylist, Angelic with Dakis Hair in Tempe, recommends this unscented, non-greasy and hypoallergenic hand cream.  She should know since she washes her hands all day long while shampooing her clients.  I purchased my own tube at Bed, Bath & Beyond for $6.49.
*Aveeno Repairing Cica Hand Mask – Give yourself and your nails some relief and a mini at-home spa treatment with this cool product.  I saw it at Target so I bought it for $2.99.  Infused with prebiotic oat and shea butter, this 10-minute glove treatment will help when our hands get extra dry.
Put A Glove On It
A lot of us are doing extra cleaning so remember to glove your hands to protect your skin and nails from excessive dryness.  I also bought a pair of gloves to wear to the gym to give me a little extra protection from the germs.  Don't forget to clean gloves often.  My picks for putting a glove on it are…
*Syrovia Arm's Length Reusable Kitchen Gloves – These gloves also protect wrists and forearms.  $9.79 on Amazon.
*Reusable Silicone Dishwashing Gloves with Sponge Scrubbers – These are made from 100% food grade silicone so the gloves can be used to clean veggies and fruit.  The gloves can be disinfected with boiling water since they are heat resistant up to 160 degrees.
Natural Remedies For Dry Hands & Nails
Some great natural remedies are probably already in your kitchen.  For example, I regularly put olive oil on my hands and nails.  Here are my home product recommendations…
*Olive oil – rub or spray a little on your hands and nails to combat dryness.
*Coconut oil – rub a little all over hands and nails. Works like petroleum jelly on hands.
*Honey – Rub on hands as honey is also anti-inflammatory.
What do you do to help your hands?  Share in the comments section and stay well out there!