As seen in my 3TV Your Life Arizona morning show segment that aired today…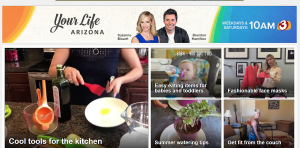 Like most people, I have been cooking a lot more lately.  As I spend more hours in the kitchen these days, I noticed that I have some favorite cool tools that I swear by.  All are ordinary kitchen items that you may already have on hand.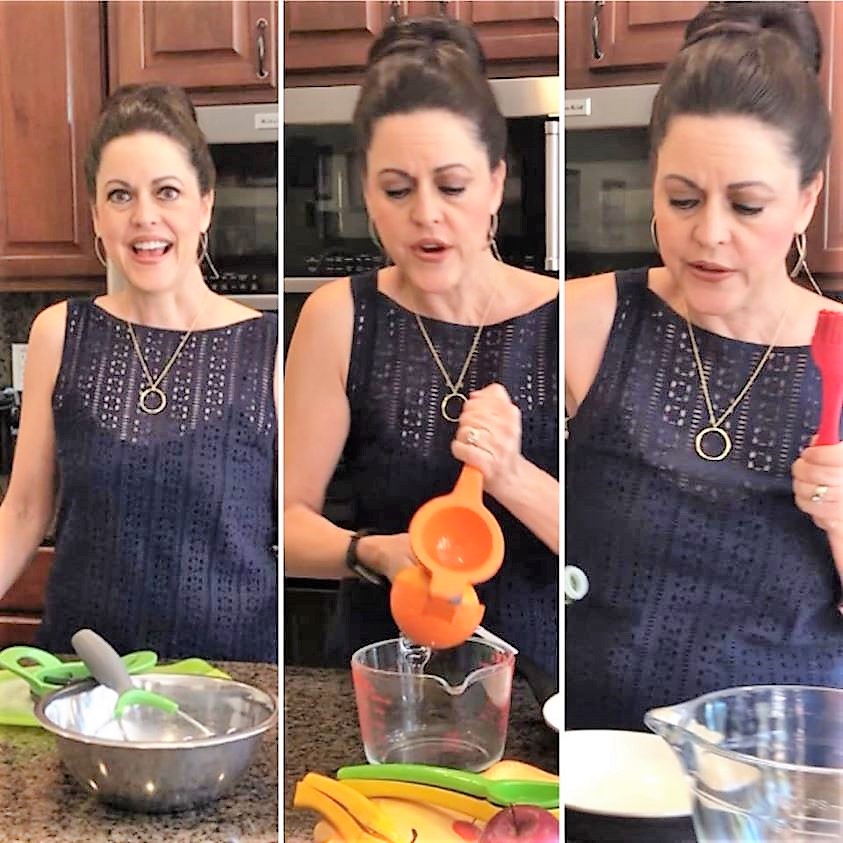 Plus, many work for multitasking which gives more bang for the buck.  Below is a list of my favorite cool tools that I use frequently in my kitchen.  Most of these tools work well for fruits and veggie prep. I aim to give my family healthy foods now more than ever as we strive to keep our immune systems strong.
I have all these items on hand and have owned them for a long time.  I looked up the links on Amazon if you are looking to purchase any of these items.  Those links are listed below with each description.  Other stores that sell many of these tools include Bed, Bath & Beyond, Target and more.  Here is my go-to list…
*Garlic Peeler Roller Tube – ($6.99 on Amazon) – My friend gave me this handy contraption that quickly removes the skin off garlic.  Simply place the garlic clove in the circular tube, roll it and the skin pops right off.  So quick and easy and we love garlic!  We add garlic to most of our recipes.  Link to buy this is here. 
*Wedge and Pop Apple & Pear Slicer – ($9.99 on Amazon) – Apple slices with a side of peanut butter or a sprinkle of cinnamon is a good nutritious treat so I use this tool frequently.  Press the slicer down on the apple and it creates perfect apple slices instantly.  As they say, presentation is everything and it sure works with my family.  I bought my slicer at the grocery store years ago but I also found a current link to purchase one that is here.
*Potato Masher – ($8.99 at Amazon sold at this link) – The standard potato masher works well with other foods, too.  I use mine to mash bananas for pancake and banana bread recipes. When I need to crush meat in the skillet, the masher comes out again and works great for that job as well.  For a yummy healthy snack, I use my potato masher to make perfect guacamole with ripe avocados.  I combine the avocado, garlic, tomato, salt, lime juice, jalapeno, and cilantro, mash it all together with my potato masher for good guac.  I bought my masher at Bed, Bath and Beyond a few years ago and I use it constantly.
*Hand orange juicer – ($13.73 at Amazon) – In addition to my hand lime and lemon hand juicers, I also love the one that is made for fresh squeezed OJ.  I prefer the freshly squeezed to store bought orange juice, especially in my mimosas!
*Traditional ice cream scoop for pancakes – Use a traditional ice cream scoop with your pancake batter to pour out perfectly round shaped pancakes on the griddle.  They come out exactly right when an ice cream scoop is used.
*Basting brush for coating pan – Out of spray oil to grease your pan?  Use your basting brush to spread the oil around the pan.  The brush works great for this and a small amount of oil can be maximized to cover the pan by using the brush to spread it out for cooking.
*Large liquid measuring bowl for leftover storage – Use your large glass liquid mixing bowl to store leftovers.  I have been short on Tupperware since we are cooking so much with lots of leftovers.  Using the big covered mixing bowl works great to store a large amount of leftover sauce and more.  Last week I was able to pack in a stack of leftover chicken drumsticks.  I found one called a batter bowl for $24.95 that comes with a lid like I showed in the segment.
What are your favorite kitchen tools?  Which cool tools do you multitask with?  Share in the comments section below.  Happy cooking and stay healthy.