Time for another Tasty Tuesday with managedmoms.com and La Brea Bakery and this week we use the scrumptious La Brea Bakery Roasted Garlic Loaf to make a family and friend pleasing fun fall football platter. Yes please! And a big thank you to my talented food stylist, Julie McMillian.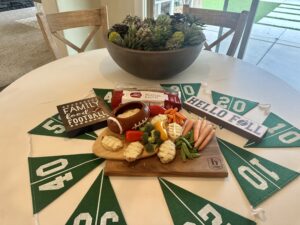 Just wait until your guests see and taste this festive food because the savory La Brea Bakery Roasted Garlic Loaf topped with the creamy and cheesy spread that adorned like a mini football. It's both so fun and quite yum! See how to quickly make this yum and fun fall appetizer in this short video. The full recipe is below the video. Happy fall football season!
Fun Family & Friends Football Food Platter Using La Brea Bakery Roasted Garlic Loaf Recipe
What You Need:
1 loaf of La Brea Bakery Roasted Garlic Loaf – sold at Fry's and Safeway and sold in a loaf or presliced at some of the store bakery locations
Veggies of choice for platter
Provolone cheese sliced into strips
Dip of choice -we found the Cindy's Kitchen Roasted Veggie Ranch with Creamy Yogurt Dip to work perfectly. I bought my tub at AJ's Fine Foods.
Football shaped cookie cutter
What You Do:
Press the bread slice into the football cookie cutter.
Spread with dip of choice or try what we used.
Place provolone cheese strips across the bread to make a football stripes
Serve cold on veggie platter or broil for an extra yummy touch.
To serve hot, turn oven on broil (low setting if stove has option) and broil for about 2 minutes BUT keep an eye on it so it doesn't burn
Place savory melted football bread slices on the veggie platter and have fun adding sports themed or favorite team decor.
Be sure to check the creative recipe section at the La Brea Bakery website. It is packed with great ideas! The high quality artisan La Brea Bakery loaves, baguettes and more are sold locally in Arizona at Fry's and Safeway stores. Check the La Brea Bakery store locater page to find a market near you to get your La Brea Bakery lovely loaves, beautiful baguettes and more!
What's your favorite go-to football season fun food for your pregame party? Share in the comments section and happy fall football season!
Managedmoms.com is proud to partner with La Brea Bakery to bring you tasty Tuesday recipe ideas weekly through September!