It's another tasty Tuesday and families are in full swing back in the busy school year, so here are some easy, tasty and nutritious after school snack ideas.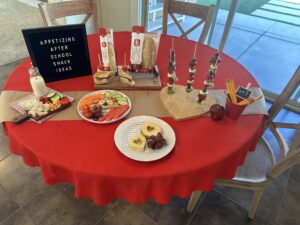 With after school activities on the heels of a busy school day, a good post-school snack to fuel the family can make the manic school year days a bit more managed. Take a look at these appetizing after school snack ideas using the artisan, high-quality La Brea Bakery loaves and baguettes.The instructions/recipes for each are below the video.
After School Snack Idea #1 – Marvelous Mini Charcuterie Boards with La Brea Bakery Country White Sourdough Loaf
Simply cut or tear La Brea Bakery Country White Sourdough Loaf into cubes. Place on mini charcuterie board (my food stylist bought hers at Target) and add your child's favorite dip like hummus or ranch. Add healthy veggie slices, cheese, crackers and a glass of milk. This is sure to be a hit!
After School Snack Idea #2 – Animal Face Toast with La Brea Bakery Country White Sourdough Loaf
Toast one piece of La Brea Bakery Country White Sourdough Loaf and spread peanut butter (or any nut butter) on toast. Use banana slices to make puppy dog eyes. Place one blueberry under the eyes to make the nose. Cut banana slice in half to make the mouth and finally use two sliced strawberries to make the ears. Younger kids will really love this fun faced toast. Surround toast with carrot, cucumber and watermelon slices and add grapes (cut in half for younger children to reduce choking risk) and tomatoes to complete plate.
After School Snack Idea #3 – Apple Heart Sandwiches
Use cookie cutters to cut two apple slices into hearts, fill with peanut butter (or other nut butter) and then place halves together to form an apple sandwich. Fun and you know what they say…an apple a day!
After School Snack Idea #4 – Fruit Skewers Paired with La Brea Bakery Demi French Baguette Mini Sandwiches 
Kids and adults alike love a good baguette and no one makes them better than La Brea Bakery! Simply use a La Brea Bakery Demi French Baguette to create your kid's favorite mini hoagie. We prepared a delicious turkey and pepper jack sandwich with honey mustard for the sandwich shown in the video. Pair the scrumptious sandwich with colorful and fun fruit skewers! For smaller kids, use kid friendly skewers that have softer edges. I bought a set of those on Amazon. The heart shaped cutting board/skewer holder that is shown in the video is a cute find that I purchased on Amazon.
Get your La Brea Bakery loaves, baguettes and rounds at Fry's and Safeway stores. Find a store closest to you for your La Brea Bakery shopping at the La Brea Bakery website store locater.
What are your go-to after school snacks for your family? Share in the comments section and keep having a good school year everyone!
Managedmoms.com is proud to partner with La Brea Bakery to bring you these helpful, healthy and tasty after school snack ideas.