Manic:  Looking through my mountain of cookbooks for quick dinner ideas.
Managed:  Finally organizing my cookbook shelf and finding a very special one that my long-time gal pal gave me back in college.  Thanks Michelle! 🙂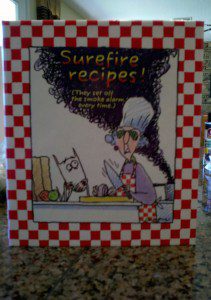 And inside this great little gift book is a yummy green chicken enchilada recipe that I hadn't made in years.
So, I made it and my family loved it!  My friends enjoyed some leftovers with me the next day and they told me that they even reheated the very last piece the next morning for breakfast!  So this recipe not only tastes great, but reheats well, too.  You've got to try it!
What You Need:
4 boneless cooked chicken breast halves, cut into small pieces
1 8 oz. package cream cheese, softened
1 small onion, finely chopped
pinch salt
1 lb. tomatillos (my favorite ingredient in this dish)
1 cup water
1   4 oz.  can green salsa
1 cup of whipping cream
15 to 18 corn tortillas
2 Tablespoons oil
8 oz. grated Monterey Jack cheese
What You Do:
1.  Preheat oven to 350 degrees.
2.  In large bowl, mix chicken, cream cheese and onion.  Season to taste with salt and set aside.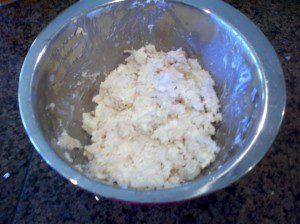 3.  The original recipe says to use a large saucepan and to cook the tomatillos in water over low heat until tender about 10 minutes.  However, it took my oven 20 minutes on medium heat, but my stove is getting old, so eye the time and tenderness.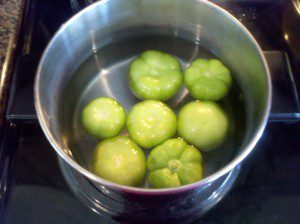 4.  Cool, drain and liquefy tomatillos in the blender.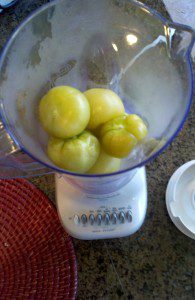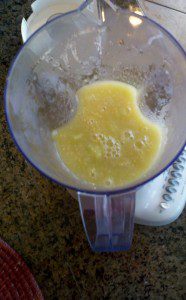 5.  Transfer to medium bowl and add the can of green salsa and whipping cream and whisk until blended.  Set aside.
6.  In a medium skillet, soften tortillas in hot oil.  Drain well on paper towels.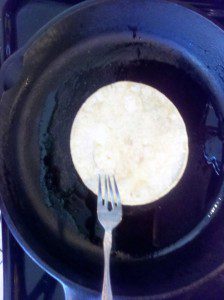 7.  Place one tablespoon of tomatillo sauce in a tortilla with one tablespoon of chicken mixture.  Roll and place the tortilla seam side down in a 9 x 13 inch baking dish.  I sprayed my pan with olive oil to keep the enchiladas from sticking to the pan.
8.  Repeat with remaining tortillas.  Pour remaining sauce over enchiladas and top with the grated cheese.
9.  Bake in oven for 30 minutes.
I like to top mine with Pico de Gallo.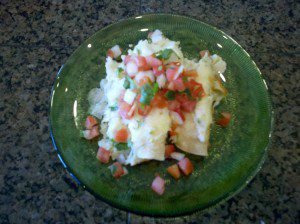 Scrumptious!  Enjoy!