Manic:  I want to eat well to look good, but don't have a lot of time to make gourmet meals.
Managed:  Found some easy recipes that are good and good for the body in a wonderful book called "The Beauty Diet" by Lisa Drayer, M.A., R.D.  She gave me permission to share a few of her recipes that use beauty food ingredients.  So today I'm showing her Oven-Crunchy Walnut Chicken Tenders because this is a recipe that my family likes, too!
Lisa says that walnuts are a beauty food because this is the only type of nut that has a large amount of healthy omega-3 fatty acids. Walnuts also contain Vitamin E, which is great for skin, too.  For more information about this and to see Lisa's other recommended beauty foods, get her book at amazon.com (http://ht.ly/4QUBy) and check out her very informative website (www.lisadrayer.com).  I highly recommend both.  Now on to her delicious and nutritous easy 6-ingredient recipe that my entire family liked!
Oven-Crunchy Walnut Chicken Tenders
Permission to share granted by:
The Beauty Diet:   Looking Great Has Never Been So Delicious by Lisa Drayer, MA, RD
(McGraw-Hill, 2009)
What You Need:
        Nonstick cooking spray
1 1/2 pounds chicken tenderloins
2 Tablespoons buttermilk
1/2 teaspoon salt
1 cup panko
1/4 cup finely chopped walnuts
What You Do:
 1.  Preheat oven to 450 degrees.
2.  Line a baking sheet with foil and spray with nonstick cooking spray. 
3.  In a medium bowl, toss the chicken with the buttermilk and salt.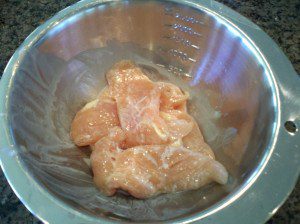 4.  Let sit for 10 minutes. 
5.  Sprinkle the panko and the walnuts directly into the bowl and toss well, coating all the tenders.
6.  Place on the prepared baking sheet and bake for 15 minutes or until the chicken is just cooked through and the crumbs are golden.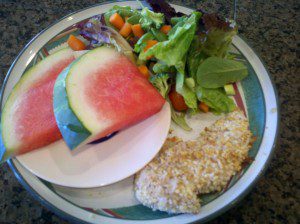 I paired my chicken tender with a healthy salad and sweet watermelon for a nutritious dessert.  I'm happy to report my very picky tween daughter also enjoyed the tenders….although I had to make her a walnut-free version because she is allergic to tree nuts. 
Too bad she can't have the nuts because the walnuts were the perfect crust for this yummy chicken.
A special thank you to Lisa Drayer for letting me share this beauty food recipe.   It is so easy and so tasty. 
Try it tonight!