Manic:   Never outgrew my #1 favorite food, spaghetti, but want to find a homemade recipe that is delicious, but quick and easy, too!
Managed:  Found a cool cookbook that has a picture of every dish right next to the recipe.  I love that!  So with permission from the publisher of the book, "Betty Crocker Cooking Basics:  Recipes and Tips to Cook with Confidence" Wiley 2008, I get to share this delicious homemade sauce recipe for spaghetti (my family's #1 favorite dinner) with all of you. 
From Betty Crocker Cooking Basics: Recipes and Tips to Cook with Confidence;
Wiley 2008; reprinted with permission from the publisher
What You Need: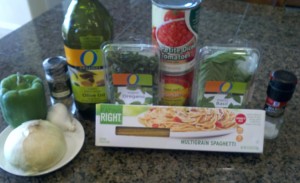 1 medium onion
2 cloves garlic or 1/4 teaspoon garlic powder
1 small green pepper
1 tablespoon olive or vegetable oil
1 can (14.5 oz.) diced tomatoes, undrained
1 can (8 oz.) tomato sauce
1 tablespoon chopped fresh or 1 teaspoon dried basil leaves
1 1/2 teaspoons chopped fresh or 1/2 teaspoon dried oregano leaves
1/4 teaspoon salt
1/4 teaspoon fennel seed, if desired
1/4 teaspoon pepper
1/2 teaspoon salt (for cooking spaghetti), if desired
8 oz. uncooked spaghetti
What You Do:
1.  Peel and chop the onion to measure 1/4 cup.  Peel and finely chop the garlic.  Cut the bell pepper in half lengthwise, and cut out seeds and membrane.  Chop enough bell pepper to measure 1/4 cup. 
2.  In a 2-quart saucepan, heat the olive oil over medium heat for 1 to 2 minutes.  Add the onion, garlic, and bell pepper.  Cook 2 minutes, stirring occasionally. 
3.  Stir in the tomatoes with their liquid, tomato sauce, basil, oregano, 1/4 teaspoon salt, the fennel seed and pepper.  Heat to boiling over high heat.  Once mixture is boiling, reduce heat just enough so mixture bubbles gently and does not spatter. 
4.  Cover with lid and cook 35 minutes, stirring every 10 minutes to make sure mixture is just bubbling gently and to prevent sticking.  Lower the heat if the sauce is bubbling too fast.
5.  After the sauce has been cooking about 20 minutes, fill a 4-quart Dutch oven about half full of water.  Add 1/2 teaspoon of salt if desired (I didn't).  Cover with lid; heat over high until the water is boiling rapidly.  Add the spaghetti.  Heat to boiling again.  Boil uncovered 8 to 10 minutes, stirring frequently, until tender, but not mushy.
6.  Place a strainer or colander in the sink.  Pour the spaghetti in the stainer to drain.  I used a whole grain pasta for a healthier version for my family.  Cover with the homemade sauce that you just created :).  Yum!
What variations do you put in your homemade spaghetti sauce?  Wine?  A type of meat?  Tell us here in the comments section!
I want to thank  Wiley Publishing again for granting me permission to share this recipe.  I love this easy-to-follow cook book with great pictures to boot!