Manic:  Finding time to make breakfast during the busy school week!
Managed:  Testing out a cool cookware item that makes a yummy and a healthy version of home fries that I can reheat the next day as we start our busy week!
I recently tested the T-fal ActiFry and I give this cooker a thumbs up!  The device comes with a cookbook that has over 30 recipes for several versions of french fries, meals like Chicken Gumbo, appetizers and desserts, too.  Don't let the name ActiFry fool you because this is not a fryer.  Instead the ActiFry cooks and steams foods using a lot less oil, so you get crispy french fries or home fries for your breakfast without the frying part.
And great news!  T-fal is giving away one ActiFry to this week's Freebie Friday winner!  So if you haven't subscribed to managedmoms.com yet on the home page, do so now!  All subscribers are entered into a drawing every Friday for a chance to win cool prizes like this week's terrific prize.  Winners are selected through random.org.  Now back to this tasty recipe!
I recently used my ActiFry to make the following breakfast burrito recipe.  I was inspired to do this because my family stayed at a hotel in Santa Monica over the summer that put home fries in their breakfast burritos.  My kids loved the meal so much that they were thrilled when I made our own breakfast burritos with my home fries.  And I made the meal on Sunday and was able to quickly reheat fresh burritos with the left over home fries on Monday morning.  Take a look at the recipe….
Managed Moms Breakfast Burritos with Home Fries
What You Need:
Eggs (choose how many you use based on your family size)
2 T. Olive oil divided
1 3/4 lb. Potatoes cut into strips (I leave skins on for added fiber)
1/2 T. Paprika
1/2 T. Italian Seasoning
Cheddar Cheese
Tortillas
For scrambled eggs:   Dash of Cracked red pepper, Onion, Garlic and Yellow Bell Pepper
What You Do:
1.  For the eggs, saute a little butter with chopped up onions, garlic and yellow bell pepper.  Use your own measurements of each based on how many eggs you use based on your family size.  We like the yellow bell pepper because it better blends with the color of the eggs and doesn't jump out at the kids as being a green veggie.  My kids don't question the added veggies in the egg, so using a yellow bell pepper as opposed to a green one is a good trick to get more veggies in your kids!  Once the onions, garlic and bell pepper is softened and cooked, add and scramble the eggs, season with a little cracked red pepper for a little spicy kick (if your family likes that) and set aside.
And I use the T-fal ActiFry to make the home fries: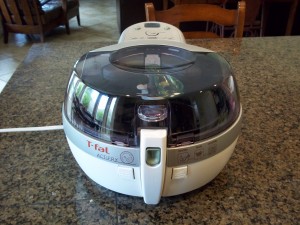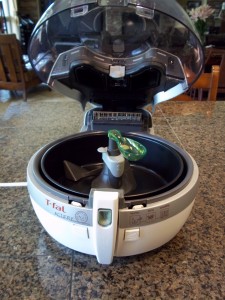 To make the home fries from the ActiFry Cookbook: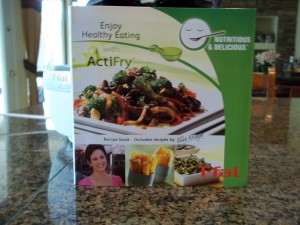 1.  Halve the potatoes lengthwise and cut each half into long, thin wedges.  Rinse wedges thoroughly in water, drain well.  Use a clean kitchen towel to thoroughly dry the wedges.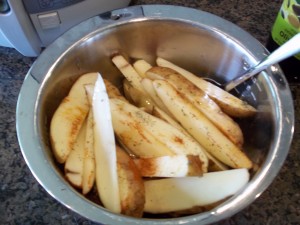 2.  Place the wedges in a large bowl.  Toss gently with the seasoning, paprika and half of the oil to coat wedges evenly.
3.  Transfer the wedges to the ActiFry pan.  Drizzle with remaining oil.  Cook for 35 to 40 minutes or until wedges are crispy, golden and cooked through.  Season with salt and pepper.  Making these yummy home fries is that easy!
4.  When the home fries are done, simply place a bit of your scrambled egg along with some grated cheddar cheese, into a tortilla.  Then add one or two of the home fries, wrap and heat the burrito for a delicious breakfast.  Don't forget to add healthy salsa and guacamole for a real crowd-pleasing breakfast!
And because this post is also a review of the ActiFry, here are some highlights of why I give this item a mom-approved thumbs up:
KEY BENEFITS:
*Versatility – Broad range of meals in one machine:  cooks veggies, meat. poultry, seafood, grains, desserts and fruits. It can achieve results similar to a roaster, stir fry pan, healthy fryer or speedy slow cooker.
*Convenience – Automatically cooks a variety of dishes with a patented heat pulsing action that evenly cooks the food at a constant temperature of 338° F, while the paddle gently stirs the food.
*Healthy – Your favorite dishes are healthier due to little or no required oil.
*Easy – Simply place food in the pan, close the lid, set the timer and turn it on with one simple button.  The T-fal non-stick pan, stirring paddle, filter and lid are all easy to remove and are dishwasher safe for quick and easy clean up.
*Safe – Closed cooking vessel provides safe splatter-free cooking.  Awarded the Parent Tested-Parent Approved seal.
*Odorless – Emits no frying odors.
Retail: $250.00  and available at Bed, Bath & Beyond, Amazon and www.t-falusa.com.