Manic:  Dinner period!  Being responsible for planning, shopping for and preparing dinner seven nights a week with after-school activities, etc. is not an easy task!  And no, I don't make dinner every single night.  My family is lucky if they get a home-cooked meal four nights a week…and that is during a good week, I might add!
Managed:  Trying out E-Mealz.com.  Talk about taking the stress out of supper planning.  This very economical online service (only $1.25 a week!) is like having a personal meal planner and I love it!  Read on to see how it works and to see one of the E-Mealz.com recipes.  Plus the fine folks at E-Mealz.com are offering all of you, my managedmoms.com readers, a 10% discount if you sign up here by October 31st.  The link and discount code is provided below, right after the recipe.  But first, here is how it works:
How It Works:
1.  Log on to E-Mealz.com  and sign up.  The very reasonable cost is only $1.25 a week, but do note, a 3-month membership is required to join, but that only costs $15.
2.  Once you are signed up, you visit the site to get your weekly meal plan.  Meal plans can be selected based on specific grocery stores for added savings, food allergies, gluten-free, low carb, vegetarian and more.
3.  Print out your week's worth of recipes and the grocery shopping list.
4.  Take the grocery shopping list to the store and buy your week's worth of menu supplies.  E-Mealz.com gives you a nice streamlined list making the dreaded weekly grocery shopping trip, faster and more efficient.  Needed foods are listed in categories that include deli/bakery, produce, dairy, meats and more, which makes finding each item quick and easy.  When I used the E-Mealz.com shopping list, I definitely saved time at the store.
5.  Keep your E-Mealz.com weekly menu handy and each night, simply follow that day's recipe and make your family a delicious dinner.  You will love how organized you feel as you keep your family fed, even with everyone's crazy schedules.  Each plan usually includes a crock pot recipe, too.
And speaking of a crock pot recipe, here is one I tried from my recent E-Mealz.com menu:
Savory Slow-Cook Beef Tips
What You Need: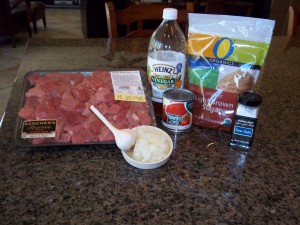 1 1/2 lbs. beef stew meat
6 oz. can of tomato sauce
1/2 onion, chopped
1/2 cup vinegar
1/4 cup brown sugar, packed
2 teaspoons salt
1 teaspoon minced garlic
What You Do:
1.  Place all ingredients in crock pot.
2.  Cook on low for 6 to 7 hours or on high for 4 hours.  I didn't have much time that day, so I cooked on the  high setting and the meal came out great!
E-Mealz.com also includes recipes for the side dishes.  This one had a baked potato recipe and a creative idea for your green beans.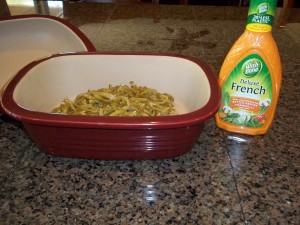 So the finished dinner looked like this and my family loved it…..and the ease of crock potting kept us on our tight schedule!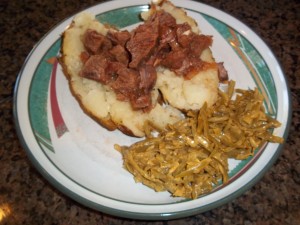 The meat was super tender and was perfect atop the baked potato.  If you are not a meat and potato person,  E-Mealz.com offers vegetarian menu options, too.
Join now and get a 10% discount (through the end of October) and BE SURE TO USE THE CODE KTV TO GET YOUR 10% DISCOUNT.  Just click this link:
E-MEALZ Easy Meals for Busy and Frugal Families
Membership is only $1.25 a week, but you must sign up for a 3-month minimum that only costs $15, PLUS you'll get your 10% discount when you use the code KTV.  I love my membership!
AND THIS WEEK IS FAMILY WEEK AT E-MEALZ.COM SO CHECK OUT THESE FREEBIES…
E-Mealz.com is run by two busy moms that are also sisters.  Plus they are both married to pastors, which is very cool.  And they have brainstormed a cool event called Family Week that is happening this week, as a matter of fact.  To celebrate family and encourage families to make time to eat together,  E-Mealz.com is offering some free recipes this week!   The free Family Day menu is a special menu that feeds 4 to 6, includes Susan's spaghetti casserole, simple salad, garlic bread, & blueberry crunch for dessert. Plus, the grocery list is priced at Walmart Supercenter and is under $20.  For a free dinner menu, complete with recipes and a grocery list, click this link:
https://e-mealz.com/family-week
I highly recommend  E-Mealz.com!  The menus are easy and delicious and the accompanying shopping lists take the stress out of your dinner planning.  As the site states, your weekly E-Mealz.com is your mental maid for only $1.25 a week.  I'll take any help I can get with my family's busy schedule!