Manic:  Halloween being on a Monday night and have to quickly get some good food into my kids before the onslaught of candy comes home!
Managed:  Thought of some quick and easy dinner ideas.  Here are some fast food fixes before your family hits the trick-or-treating trail!
*Put out a veggie tray, fruit and some sandwiches.  You can grab a quick ready-made vegatable tray from your grocery store.  If you put it out, they will eat it!  This way you can get at least one serving of fruit and veggies in them before the candy comes home.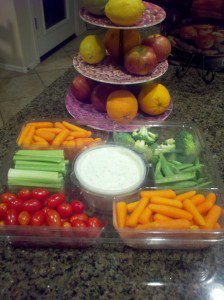 *Crock pot something this morning.  One easy idea is to make a pot roast with 1 packet of onion soup mix, 1 cup of water and veggies from the veggie tray pictured above.  By dinner time, you've got a good hearty meal, so they won't be as hungry for Halloween candy….notice I emphasize the word "as" because they will still want their treats, but hopefully not as much with a tummy full of pot roast!  Or roast chicken with veggies.  Using your crock pot also saves you from anxious kids waiting for Mom to cook dinner when the crock pot does it for you.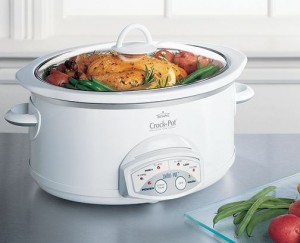 *Make pinwheels.  Just spread a little cream cheese in the middle of a tortilla and add turkey and lettuce.  Roll up the tortilla and slice evenly into little sections.  This is a crowd pleaser and paired with the veggie tray and fruit, you've got a complete….and quick meal!
*Or take those same tortillas and make a super fast burrito with what you have on hand.  My kids like black beans with cheddar cheese, which couldn't be easier.  Plus black beans are healthy.  Once I have placed the cheese and black beans in the tortillas, I roll it up and heat it in my little Big Boss Grill.  Super easy and family-pleasing before they head out the Halloween door.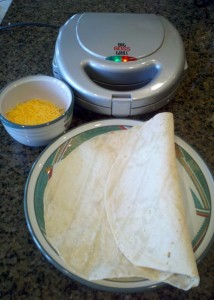 *Grab a ready-made Rotisserie chicken from the grocery store and use that chicken for a variety of quick recipes like chicken noodle soup, chicken enchiladas or chicken tacos.  You will save yourself time by being able to quickly shred the prepared chicken to add to your favorite go-to busy night recipe.
Hopefully we gave you an idea or two for a quick meal plan for your hungry little ghosts and goblins to gobble up before all of that trick or treating!  What are your quick Halloween dinner tricks and tips?  Share here in the comments section.
Have a safe and fun Halloween night out there!