Manic:  Keeping a promise I made to myself that I would cook a lot of homemade food this week, especially since my kids are in AIMS testing, but we had to be gone last night from 4:30 pm to 7 pm, so how could I do this?
Managed:  Remembered a pasta recipe that I saved on Pinterest, but I wanted to add to it.  So I made the base pasta at 4 pm and then arrived home at 7pm to add some finishing touches.  And I'm happy to report that my picky family loved this dish!  Take a look at my recipe….
Spaghetti Aglio, Olio, E Peperoncino …Plus My Finishing Touches!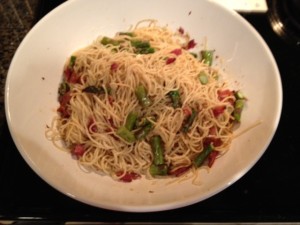 What You Need: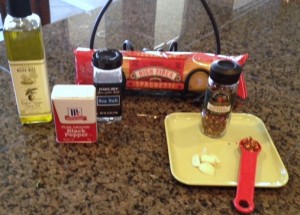 7 ounces of spaghetti….we love the Trader Joe's High Fiber Brand
3 small fresh garlic cloves, minced
1 1/2 teaspoon of chili pepper flakes…I used 1 teaspoon so it wasn't too hot for my kids
1/4 cup of extra virgin olive oil
3/4 teaspoon of salt…I used a sea salt
1/2 teaspoon of freshly ground pepper
***Read on to see what other ingredients I added***
What You Do:
1.  Prepare spaghetti according to the package until it is al dente.  Do not overcook.  This is key.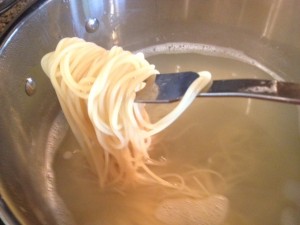 2.  Strain spaghetti and place in large serving dish.
3.  Add minced garlic, chili pepper flakes, olive oil, salt and pepper and mix together….so easy!
4.  Simply toss and serve if you want, BUT….I wanted more and we had to go….so I covered this with foil, set aside and ran my daughter to rehearsal.  Then when we returned 2 hours later, I decided that I wanted to add three more ingredients!
My Added Ingredients:
*Fresh asparagus that I baked in the oven – read below
*Parmesan cheese
*Bacon
So now we are back home and I've got about 20 minutes to get a good dinner out on the table.  So I took the base pasta and I added the above ingredients.  Here is what I did…
1.  I was lucky to have fresh asparagus, so I washed it, laid it out on a baking sheet, sprayed with olive oil and baked in the oven at 400 degrees for 20 minutes.  It came out perfect, sweet and slightly crunchy.  My family loved it!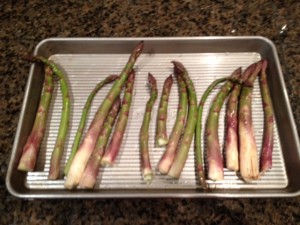 2.  Then I chopped the asparagus up and added it to the pasta plus I sprinkled on a good amount of parmesean cheese.
3.  Last but not least, I cooked, chopped and added some bacon.  And my family loved this finish dish!
What would you add to this pasta?  Take out?  Share here in the comments section.  For me I would have added the full amount of chili pepper flakes.  Everything else I did I will do again!  I often ask my family if a new recipe is a "repeat" or a "reject"….it was great to hear them all say repeat!