Manic:  Coming up with even more dinner ideas, that are healthy, since I'm trying to slim down for summer, hubs is working out at the gym daily and is finally ready for healthier foods and of course my mom guilt of not feeding my kids enough healthy meals!
Managed:  Set aside some time to go through my old cookbooks.  One of my favorite recipes from Celebrity Chef Mark Tarbell was tucked neatly inside the back cover of one of my books.  I was thrilled to find his recipe, which is actually called Fusilli Pasta with Chicken Sausage, Organic Tomatoes & English Peas. Since the closest pasta I could find was Campanelle pasta, I altered his recipe just a teeny bit.  I added several ingredients and used frozen peas instead of English Peas, but my recipe is pretty close to his masterpiece.  Take a look and try it!  And be sure to visit Mark's amazing restaurant, Tarbell's as it is truly one of the best in town!  I get to see Mark when I do my segments on the KTVK 3TV "Your Life A to Z" show. Mark's recipes are Jeffery Damer approved! Mark has also appeared on "Good Morning America" , the "Today Show", and several Food Network programs including the battle in the Iron Chef America Kitchen Stadium.  So trust me when I tell you that this recipe is really tasty….
Campanelle Pasta with Chicken Sausage, Organic Tomatoes & Peas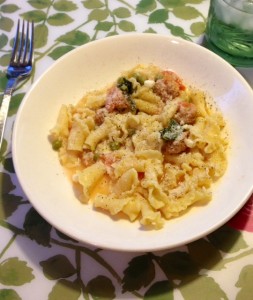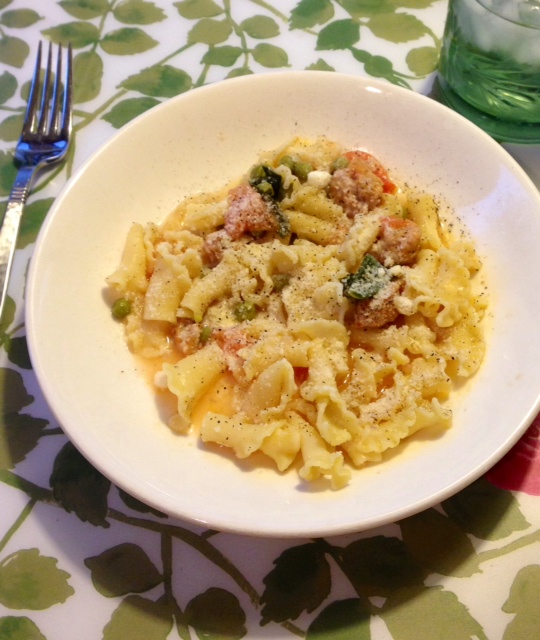 What You Need:
12 ounces of Campanelle pasta (go for whole grain, if you can find it)
3 each Italian Chicken Sausage Links, chopped (I used Open Nature 100% natural with no added hormones, raised without antibiotics, etc.)
1 organic tomato, chopped
1 pound frozen peas
1 whole shallot, peeled and chopped
1 1/2 cups organic chicken stock
Juice of 2 lemons
4 Tablespoons extra virgin olive oil plus extra for sauteing sage
1/8 cup extra virgin olive oil for pasta
10 leaves of fresh sage
Parmigiana-Reggiano cheese to taste
Crushed red pepper to taste
salt & pepper to taste
What You Do:
1.  In a small saute pan over medium heat, heat 1 tablespoon of olive oil.  Add sage and stir until crispy… about a minute or so.  Immediately remove to a paper towel to let rest.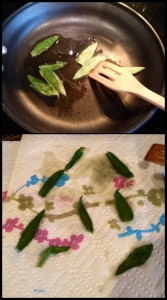 2.  Bring a large saucepan of water to boil.   Add pasta and cook until just tender (I did 10 minutes).  Drain immediately, toss with 1/8 cup of the olive oil, return to pan and cover.
3.  Meanwhile, heat a large saucepan over medium-high heat.  Quickly sear sausage pieces, stirring, about 3 minutes.
4.  Add peas and shallot and cook for one minute.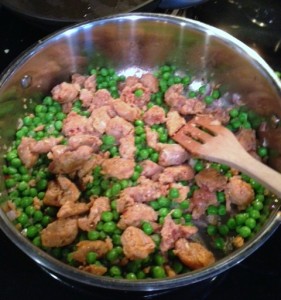 5.  Add tomatoes, stir and pour in chicken stock, lemon juice and 4 tablespoons of olive oil.
6.  Raise heat until liquid simmers, then lower heat and let simmer for 2 minutes.
7.  Toss pasta with sausage mixture and top with Parmigiana-Reggiano cheese, crushed red pepper for spicy and salt and pepper to taste.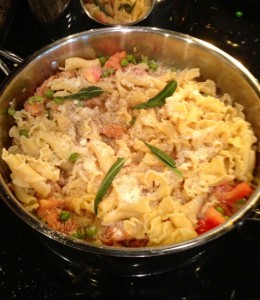 8.  Divide between serving plates and garnish with crispy sage.  So yummy!  We loved this dish.