Vanessa Garcia sent us this family-friendly and super easy recipe and when I saw that one of the ingredients called for tortilla chips,  I knew my family would like this one!  Here is how to make Easy Enchiladas in a snap:
What You Need: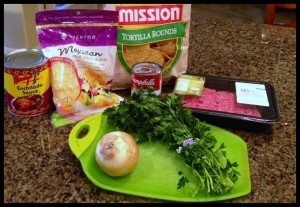 1 lb of hamburger meat (I used Laura's Lean Beef that I get at Safeway..it is free of  hormones & antibiotics)
1 large can of Macayos enchilada red sauce
1 can of cream of mushroom soup
1 bag of yellow tortilla chips
cilantro & yellow onion for toppings
2 cups of Mexican blend shredded cheese
*Be sure to use a large and deep pan
What You Do:
1.  Cook hamburger meat in large deep pan until fully cooked and drain oil.
2.  In another pot on medium heat, warm up entire can of enchilada sauce.  When it is warm, add the can of cream of mushroom soup.  Whisk together until well blended.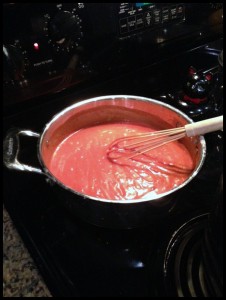 3.  Add whisked enchilada sauce to meat mixture and combine.
4.  Add tortilla chips and Vanessa says to be generous with the chips.  I didn't add as many as I should have, so do take Vanessa's advice and add a lot of chips.  She uses about 3 quarters of the Fry's brand tortilla round chips.  Mix together.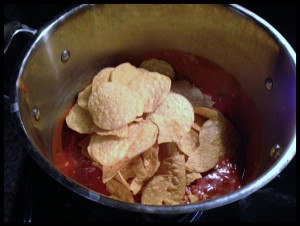 5.  When chips are softened, add cheese on top and set stove burner temperature to medium until cheese is melted.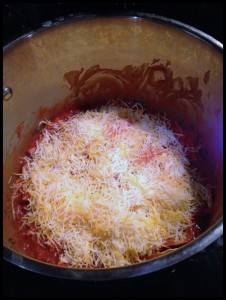 6.  Garnish with fresh cilantro and chopped onions and you've got a done and yum dish!
Vanessa tells me that this can also be made with chicken.  If you are in a real pinch, buy your grocery's store cooked and roasted chicken, shred it up and throw into this dish and you get a fast and family-friendly meal that can be made in minutes.  I also plan to experiment with this and add ingredients like green chiles and black beans.  Thank you Vanessa for this recipe entry!  The winner will be named this Tuesday so good luck to Vanessa and to all of our entries.  We've got one more recipe to run, so stay tuned for that.  Happy Cooking!