Manic:  So far sticking with my New Year's resolution to cook more whole food meals for my family in spite of a very busy schedule.
Managed:  Accepting that cooking 4 to 5 times a week is a victory and to not worry about the other couple of nights when a pizza arrives or we are eating on the run.  With this realistic goal of cooking most nights (but not all), it is working well enough for me to up my personal game to now cook more whole food meals and not just an easy sloppy Joe packet (much to hubs disappointment tonight, but oh well).  Sloppy Joes are being saved for a night when I'm just too tired to attempt a whole foods meal, as I'm calling this new goal.  I know that will come soon enough!  Hubs did mention to me though, that he is grateful for my new found meals because he does want to be healthier.  So tonight, we tried a recipe that calls for chicken made with a home made gravy that consists of mushrooms, pearl onions, brandy, thyme and more.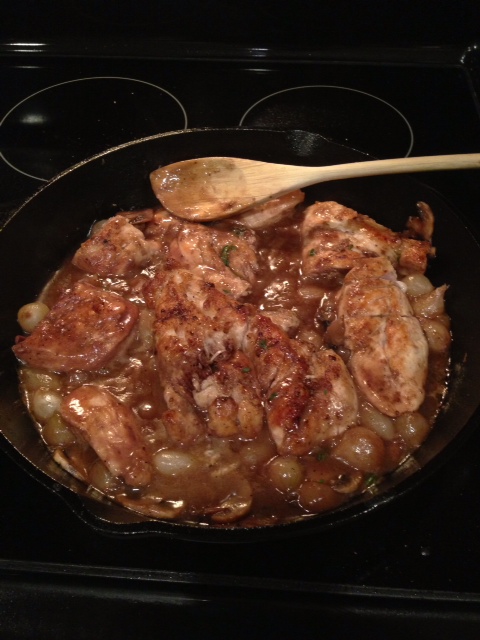 For the most part, it was pretty good.
I didn't have any brandy on hand, so I used red wine instead, but I do think it would be more flavorful with brandy, as the recipe calls for.  I also found a quinoa from Trader Joe's that is a good one to ease your family into this side dish over white rice.  Not an easy transition for my rice loving peeps, but for the most part, it worked.  My husband had a funny comment about the quinoa saying that it tasted better than he thought it would taste because it didn't have much of a taste, to his relief.  I think the recipe sauce flavored the quinoa perfectly.  So read on for the recipe that I found in the Cooking Light Magazine and let me know if you try it with the brandy instead and if you like this healthy whole food meal.
What You Need: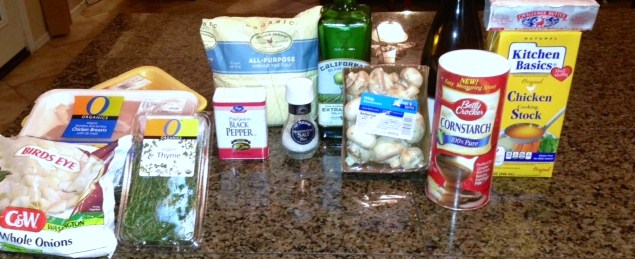 4 boneless skinless chicken breast halves
1/2 teaspoon kosher salt, divided
1/4 teaspoon freshly ground pepper
2 tablespoons all purpose flour
3 tablespoons olive oil, divided
3/'4 cups frozen pearl onions, thawed and drained
8 oz. quartered button mushrooms
2/3 cup brandy (I used red wine, but next time I will buy and use the brandy)
1 cup unsalted chicken broth
2 teaspoons corn starch
1 tablespoon butter
1 teaspoon fresh thyme leaves
What You Do:
1.  Make 8 chicken cutlets by cutting each chicken breast in half horizontally.  Heat a large skillet over medium high heat.  I used my iron skillet and it worked well for this recipe.  Sprinkle chicken evenly with 1/4 teaspoon of the salt and pepper.  Place flour in shallow dish and dredge the chicken in the flour, shaking off the excess flour.
2.  Add 1 tablespoon of olive oil to pan and swirl to coat.  Add four cutlets to the pan and cook about 2 minutes on each side or until done.  Remove the chicken from the pan and keep warm.  Repeat this process with 1 tablespoon of olive oil and the remaining chicken.
3.  Add remaining 1 tablespoon of olive oil to pan and swirl around to evenly coat the pan.  Add pearl onions and mushrooms and cook until browned.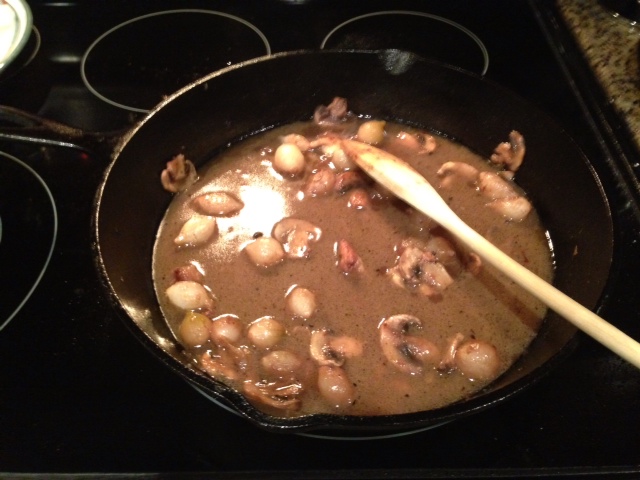 Remove pan from heat.  Carefully add the brandy to the pan and return pan to medium to high heat and bring mixture to boil.  Cook until mixture almost evaporates, about 2 minutes.  Combine stock and corn starch and stir with a whisk until smooth.  Cook 2 minutes, occasionally stirring.
4  Return chicken to pan and cook for one minute.  Remove from heat and stir in remaining 1/4 teaspoon salt, butter and thyme.
As I mentioned, I found a family friendly quinoa to introduce my family to and it went over alright.  It is Trader Joe's Organic Fully Cooked Quinoa that you can microwave or heat in a pan.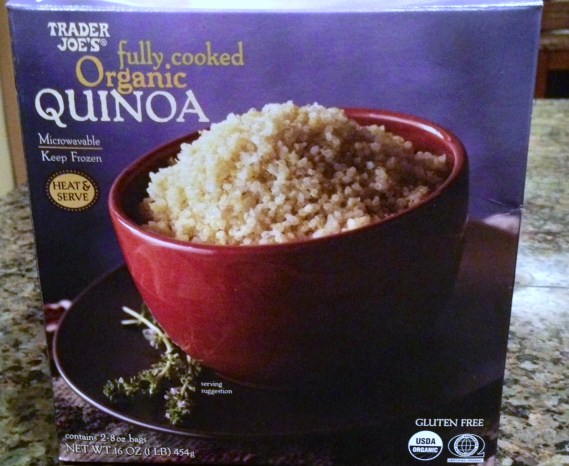 It worked and looked more appealing served with the chicken on top as opposed to by itself.  Try this recipe and let me know if your family liked it.  Cheers to healthy cooking and trying new dishes!