Manic:  Been so busy wrapping up summer and diving into back to school plans since my kids go back next Monday, that I haven't had time to post on my beloved blog!
Managed:  So here is a recipe that I ran a few years ago that is my most read recipe on my blog ever.  And it is my sister-in-law Kathy's recipe from her New Mexico roots for yummy and easy homemade green chile sauce.  Make this sauce and pour over burritos or any other Mexican food recipe.  You will love this and I love the very sweet and thoughtful little recipe book that she made me one Christmas that is filled with some of her other delicious recipes, too….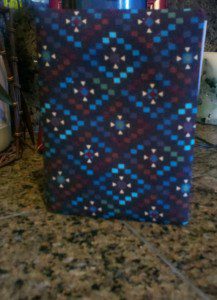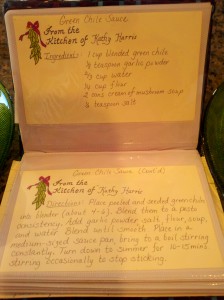 First the Homemade Green Chile Sauce — Easy & Pleasing!
What You Need: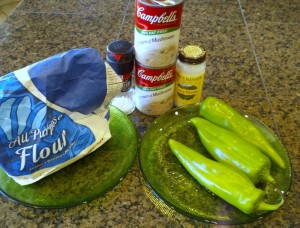 1 cup blended green chile (I used Anaheim Chiles and it came out great)
1/8 teaspoon garlic powder
2/3 cup water
1/4 cup flour
2 cans cream of mushroom soup
1/2 teaspoon salt
What You Do:
1.  Place peeled and seeded green chiles into blender (about 4 to 6).  (I took out the seeds in the Anaheim, but I did not peel.)
2.  Blend them to a pesto consistency.
3.  Add garlic powder, salt, flour, soup and water.  Blend until smooth.
4.  Place in a medium-sized sauce pan and bring to boil, stirring constantly.
5.  Turn down to simmer for 10 to 15 minutes, stirring occasionally to stop sticking.
Now read on to see how to make the smothered burritoes, that my family loved….
Green Chile Smothered Burritos
What You Need:
1 can refried beans (however, I used black beans with jalapenos mixed in instead since my family likes black beans)
1 lb. ground beef
flour tortillas
1/4 lb. cheddar cheese
homemade green chile sauce that you just made 🙂
1 Tablespoon Schilling Chopped Onion
What You Do:
1.  Brown ground beef with the onion.  Drain.
2.  Heat beans in a sauce pan until warmed.
3.  Heat green chile sauce.
4.  Grate cheddar cheese and warm tortillas in the microwave for 10 to 20 seconds each.
5.   Spread one tablespoon each of meat, beans, sauce and cheese in each tortilla.
6.   Roll up and cover with sauce.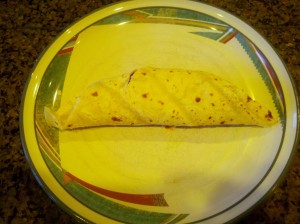 So delicious and my kitchen smelled good, too!  The homemade green chile sauce smelled so good!
Thank you to my sister-in-law, Kathy, who took the time to make me my little cook book several years ago.  It is a treasure and I love her New Mexico-style cooking.
What are your favorite fixings to put in a tortilla?  Share here in the comments section and enjoy this recipe!