Sun Basket is the best meal delivery kit out there hands down!  The money I spend on Sun Basket is one of my smartest and healthiest weekly purchases.  I have tested quite a few of them now including Blue Apron, Plated, Terra's Kitchen, Purple Carrot and others and over a year later, Sun Basket gets my vote as the absolute best.  Here is why and here is one of my favorite recipes from this very good meal delivery recipe kit company.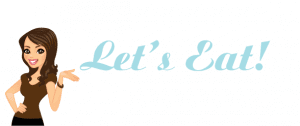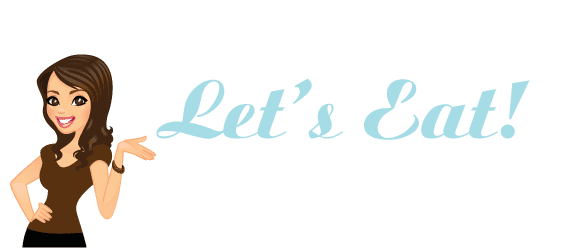 Sun Basket is a cut above all the other meal kits, I think, due to several factors. These include the quality of food, the shipping and delivery process and the cool cookbook that comes with every shipment.  I also love the healthy recipes like this Chicken Meatballs & Chunky Minestrone soup I made from Sun Basket last week.  Delicious and healthy.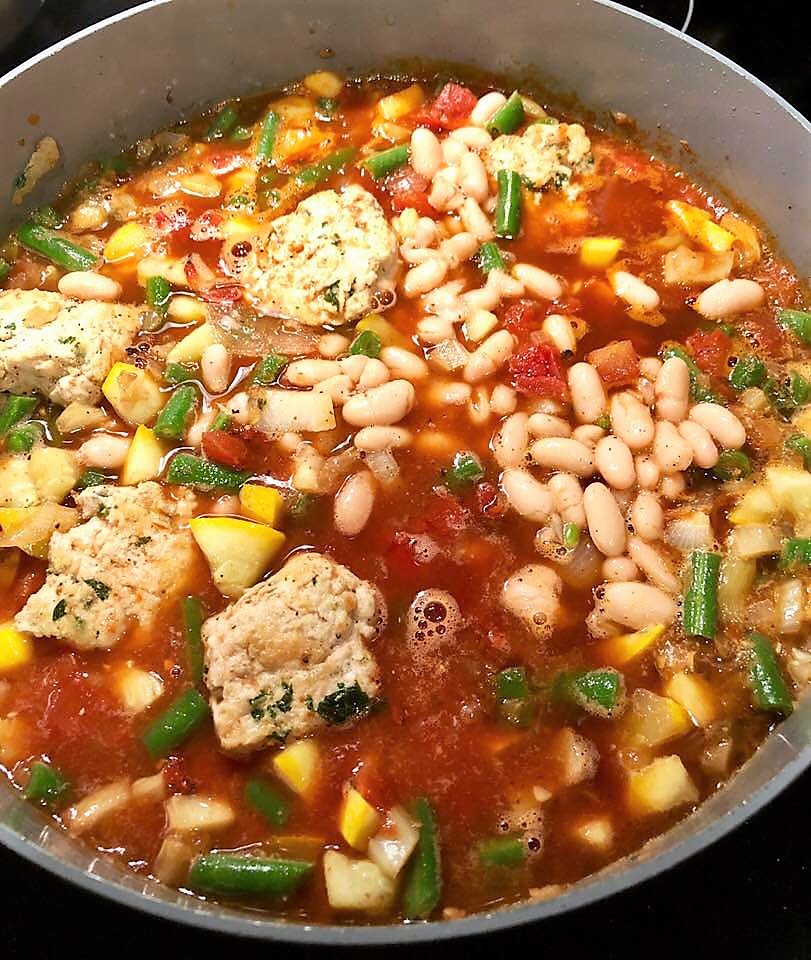 I will share that recipe with you below, but first a little more about Sun Basket and why it has made my life so much easier…and healthier.  Both awesome!
How It Works
*Simple.  I signed up at Sun Basket.
*Every week that I order food, my account is automatically deducted the amount of the food.  My box of fresh, organic and whole food ingredients arrive at my door promptly and consistently every Monday.  An average week, that gives me three meals for two (although it usually makes plenty for three of us with leftovers), averages about $80, sometimes less.  For that I receive fresh and organic ingredients needed for the three dinners.  I can spend less if I opt to not upgrade to organic.  Fresh produce, antibiotic-free meats, yummy spices, wild caught fish and more all come packed beautifully in my weekly box.  If I went to the grocery store and bought the same ingredients myself, it would be about the same amount, especially when the price of organic is added in, the gas to drive to the store cost and my time.  I love the ease, the nutritious foods I receive and the quality of the recipes.  All awesome. If I plan to be out of town or simply don't want to prep Sun Basket meals on any given week, I can simply skip the week.
*Sun Basket provides me an extensive list of recipes to choose from with vegan, Paleo, gluten-free, meat and all kinds of options. I can order from my desktop or from Sun Basket's user-friendly phone app.  I also receive an email confirming my selections and shipment info.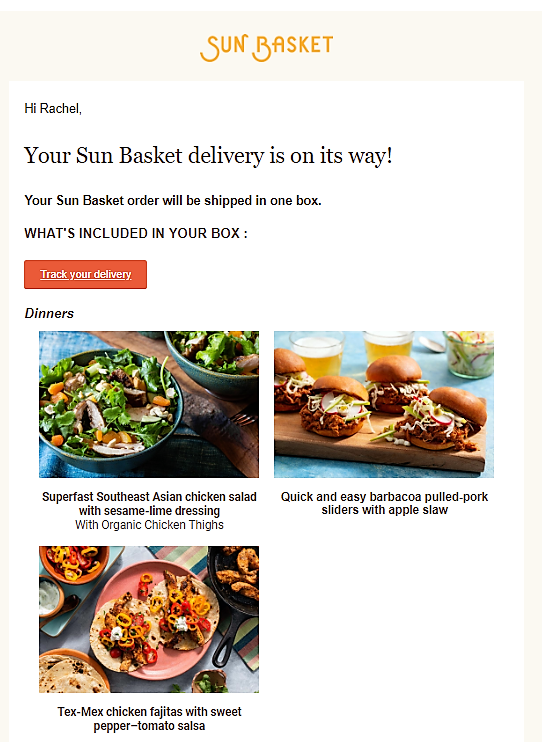 And why do I say that Sun Basket is head and shoulders above the competition?   Here is why…
Top Notch Delivery
*Sun Basket boxes always arrive in good shape, nicely packed and with extra attention to detail.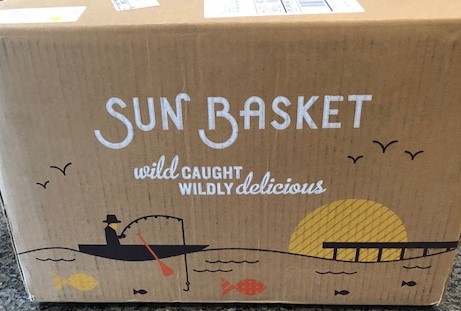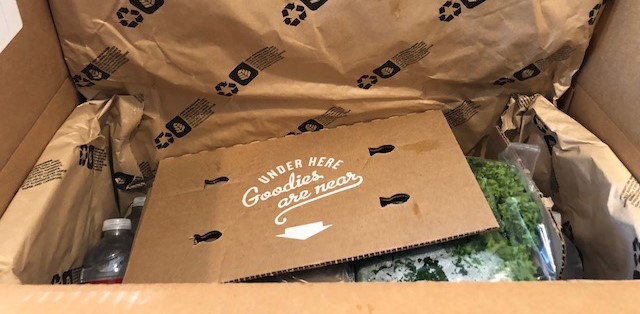 Case in point, during the hot summer months in Phoenix, Sun Basket adds frozen water bottles in addition to the ice packs to ensure extreme caution that the food is kept cool enough until the box can be brought inside.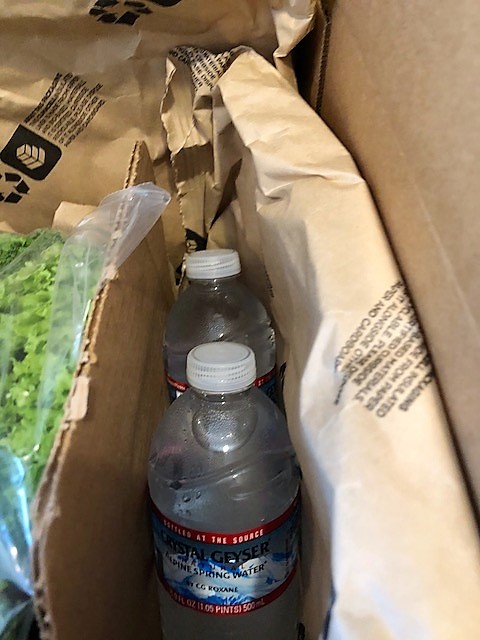 And I was very impressed when Sun Basket suspended my food delivery one week due to extreme record temps locally to be sure that no potential food spoilage could occur.  The company gave me plenty of notice so I could make other dinner prep plans.  With the crazy hot temperatures where I live in Phoenix, I appreciated that extra consideration to keep our food safe.  No other food delivery company I have worked with has done that.
And as I mentioned, Sun Basket boxes always arrive in good shape.  This has not been the case with Blue Apron or with Plated.  Take a look below, Sun Basket vs. Plated…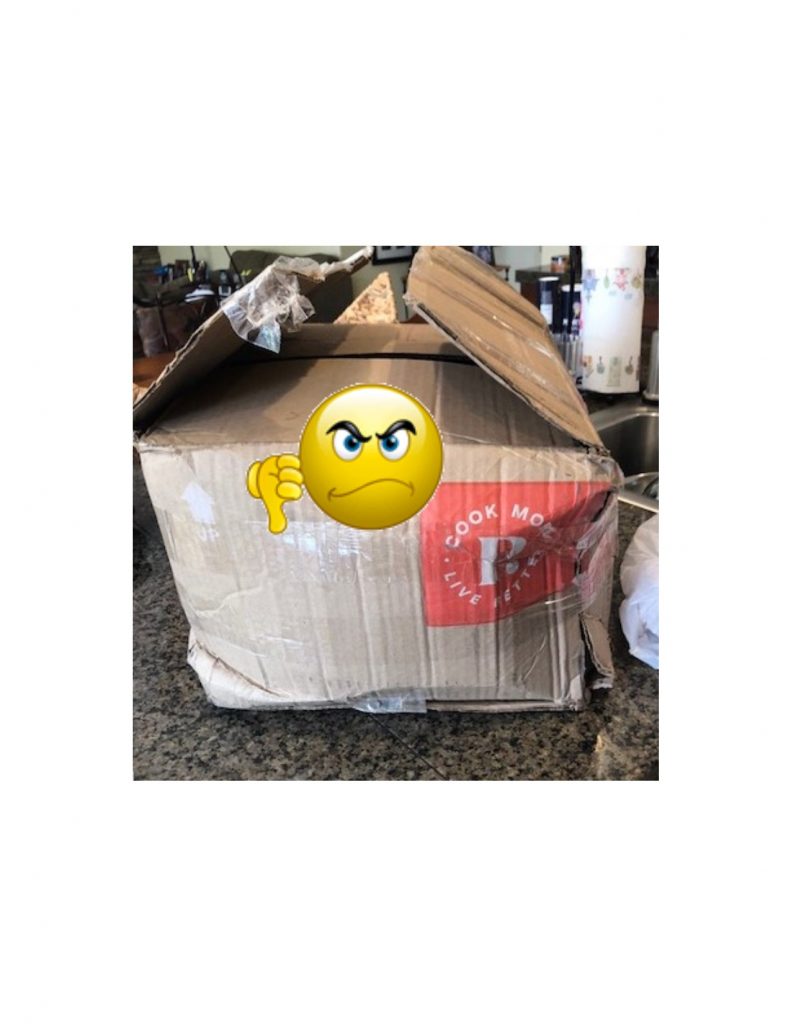 Hate to say this, but more times than not, the Plated box arrived beat up with leaking food inside.  Unfortunately, I canceled my subscription with Plated because the boxes were regularly arriving beat up like this with leaking ingredients inside.  No thank you.
Earth Friendly Packaging & Ice Packs
Sun Basket Meal Delivery uses all recyclable materials, which is one reason that I choose them.  The stuffing inside the box is an insulated liner made with paper that is recyclable in my blue bin.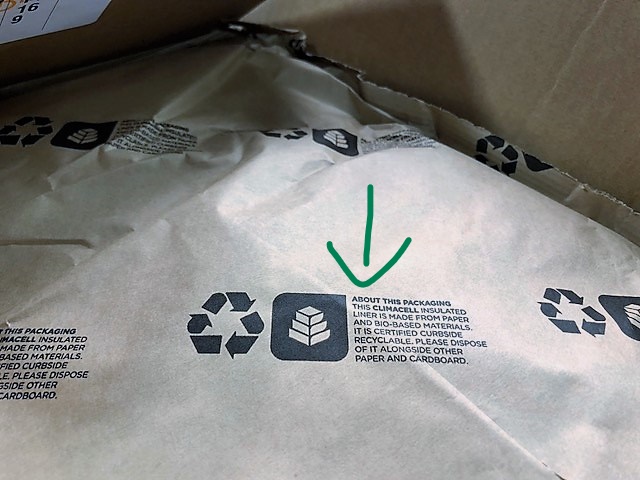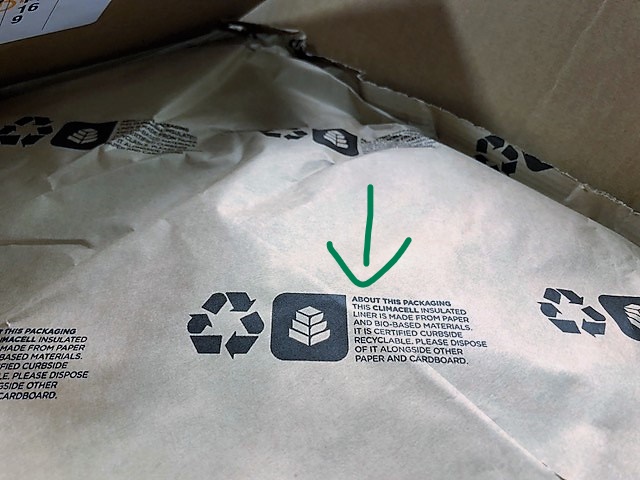 Furthermore, the ice packs used by Sun Basket are made with a gel that is 98% water and 2% non-GMO cotton.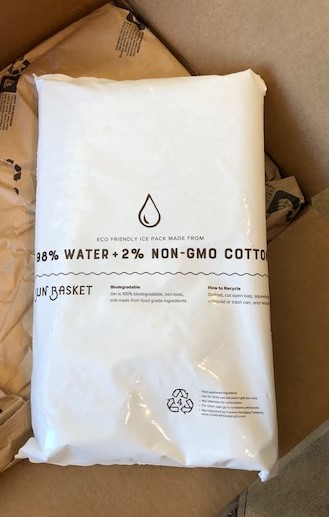 To recycle the ice bags, I simply cut the ice pack open, drain the gel into my trash and then the plastic ice bag covering can be recycled.
Nutritious Whole Fabulous Food Ingredients
Packed neatly in earth friendly paper bags, each meal is organized with beautiful produce and whole ingredients beautifully displayed in your box.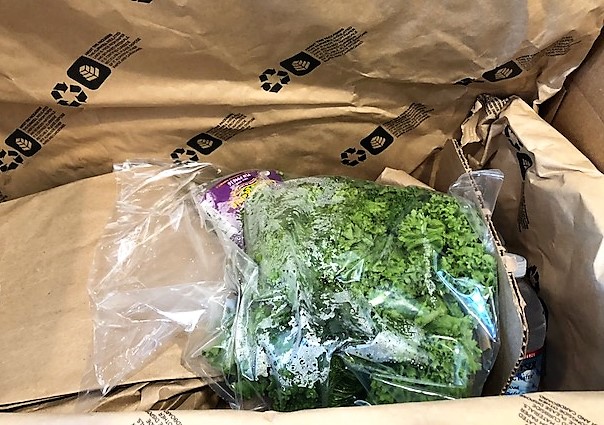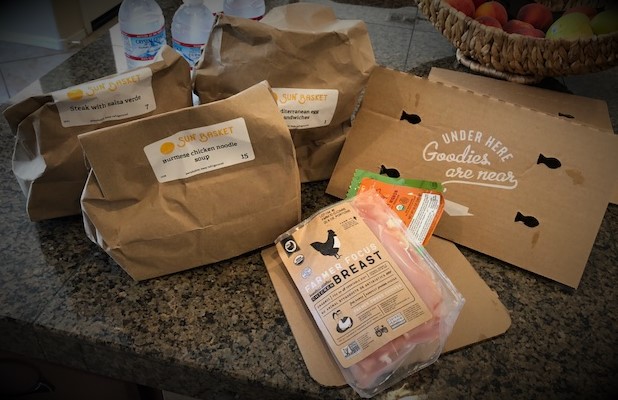 Look how beautifully these organic eggs arrived!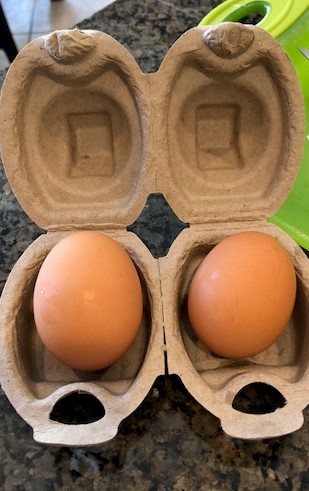 And those eggs turned into this yummy Sun Basket recipe for Mediterranean Egg Sandwiches with Spinach and Olive…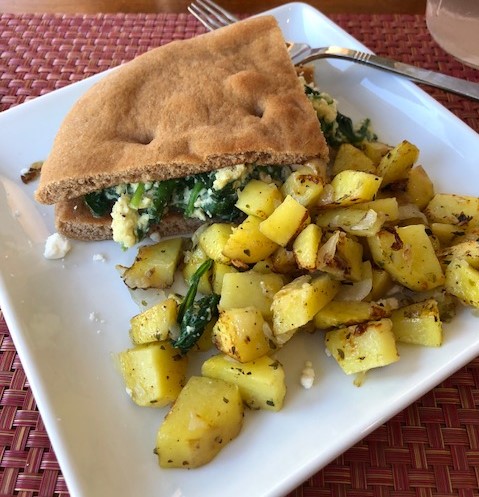 Clever & Creative Cookbook
Every box comes with an entire cookbook filled with creative and clever recipes, so you get the three you ordered plus a bunch of bonus meals that you can make on your own if desired.  So awesome!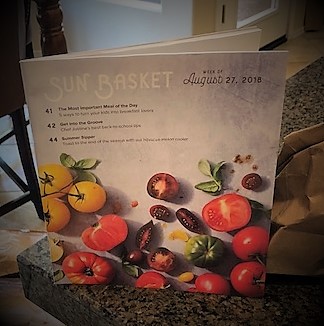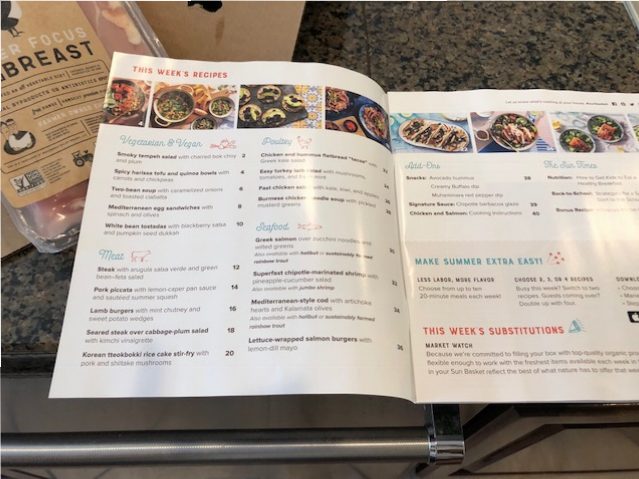 The recipes are packed with good foods that include organic veggies and tasty spices and are very easy to follow.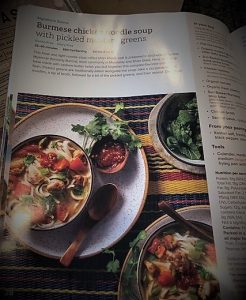 Simply read recipe, chop, prep, cook and dinner is done!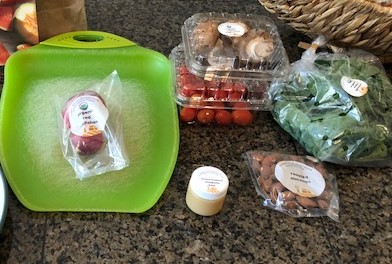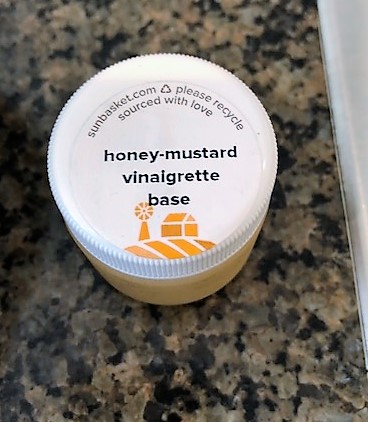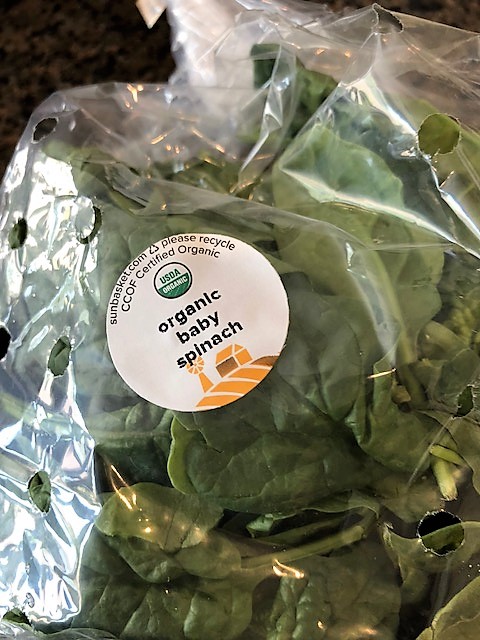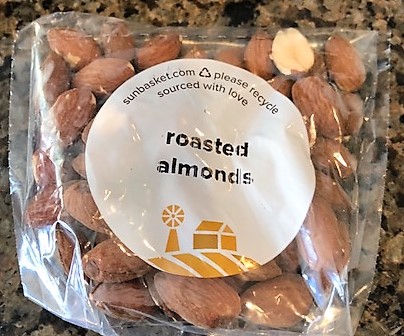 As promised, here is the link to the Chicken Meatballs & Chunky Minestrone soup I made from Sun Basket last week so you can try one of Sun Basket's flavorful meals.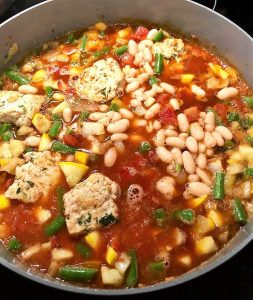 I highly recommend joining Sun Basket so you can receive weekly meals that you know are nutritious for your family to eat. Too much processed, take out and fast food is not doing any of us any favors.  Sun Basket takes out the tedious grocery store run, simplifies the process of finding healthy and delicious recipes, sends everything needed to make the nutritious meals to your door (except for a few staples like olive oil and salt and pepper) all in one click.  I LOVE Sun Basket!  My favorite!  After testing so many, this is the one I recommend 100%!
Happy cooking and eating!
No free food or monetary compensation (I wish!) was provided for this review.  Had to share this because I tested so many and this one is so much better than the competition.