Christmas is next week!  Are you ready?  Don't forget about my favorite part of Christmas morning, the stockings.  Here are some festive and fun suggestions to help you stuff those stockings.  I showed this cool stuff in my Your Life Arizona morning show segment today.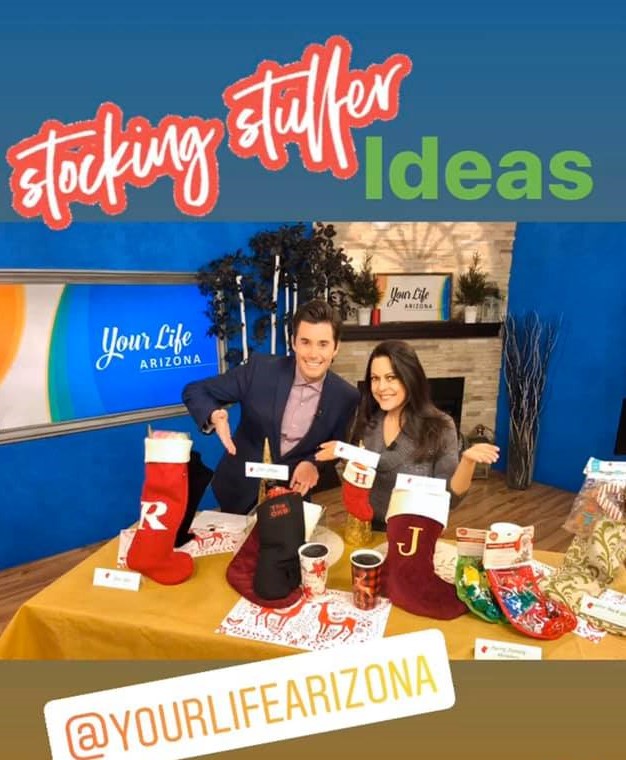 For Her
*More Than Magic Macaroon Bath Bomb Set ($5 at Target) – Cute, colorful and fun for the bath.  Just make sure that the recipient knows NOT to take a bite because these macaroon bath bombs look like real yummy cookies!
*Mini Home Decor Signs (assortment sold at CVS) — For the woman who loves home decor accents, check out CVS for cute mini lifestyle signs with fun messages. I picked up a mini sign that says "Wine a bit you'll feel Better" for $6.99 and another one that shows, "STRESSED, BLESSED & coffee obsessed" for $5.99 also at CVS.  The small size makes this gift a perfect and unique item to put in her stocking.
*Shemergency Kit – (Splurge – $36 at Nordstrom) OR Sparkle Emergency Essential Kit (Steal – $9.99 at CVS) — These mini beauty emergency kits are great on-the-go gifts for her since each pack is small enough to fit in a car glove box or purse.  Each kit contains multiple items for a quick beauty fix.  CVS has one that costs less than the fancier one at Nordstrom.  The CVS kit is a festive red sparkly bag and contains 38 pieces with helpful items like safety pins, fashion tape, dental floss, earring backs and more.  The bigger Pinch pack that is sold at Nordstrom contains 40 essentials that include bobby pins, pain reliever, a nail clipper, deodorant towelettes, hair spray and more.
*One in a Melon jewelry holder ($24 at In The Pink Boutique) – Sweet, useful and pretty small glass jewelry holder.  She will remember that you think of her as a one in a million each time she uses or displays this pretty piece.  The melon play on words is fun.  Unique boutique, In The Pink, has all kinds of great gift ideas.  Check them out on the NE corner Camelback & 44th Street in the AJ's Fine Foods shopping center.
*Luxury Stocking Items For Her – Slip Pure Silk Pillowcase ($85 at Nordstrom) — Silk pillowcases can be purchased for a lot less at Target, Amazon and other places but if a luxury item is desired in Santa's bag for her, then check out the Slip.  The Slip pillowcase is a helpful and anti-aging tool for several reasons.  It prevents bedhead, sleep creases and helps with anti-aging treatments.  Sleeping on silk is recommended by dermatologists, hair stylists and beauty experts.  Silk is less absorbent than other materials so your pricey face cream stays on and doesn't rub off on the pillow.  A silk pillowcase won't tangle hair so that professional blowout will last a few days with slumber on a silk pillowcase.  I swear by my silk pillowcase.
For Him
*Old Kentucky Barbecue (OKB) Theme Stocking – For a unique twist on a stocking for him, hang an OKB giant oven mitt by his stocking stuffed with barbecue items.  Support a local Mom & Pop business with a gift set of Old Kentucky Barbeque Sauce paired with a giant OKB oven mitt that can be displayed with a stocking.  Purchase the OKB Holiday Gift Box for $18 that is a set of all three OKB flavors or select one or all three flavors of the locally owned and made line with the Original, Medium and Hot varieties.  OKB also sells the big oven mitt with one bottle of sauce for $12.  I love supporting local business and this tasty sauce is a handed down family recipe that is 180 years old!  It was originally concocted in the backwoods of Western Kentucky and has been shared from generation to generation.  With vegan whole ingredients that can be pronounced, this is a good choice for a sauce that can be added to all kinds of his favorite recipes. No high fructose corn syrup, gluten, soy or MSG is in this delicious sauce.  Purchase this savory and smart sauce option brand at Fry's Marketplace, Natural Grocers, AJ's and select Bashas in the Valley.  More details at okbsauce.com.
For Both Him & Her
*iHip Bluetooth SoundPods true wireless magnetic earbuds & case – ($19.99 at CVS) — These white ear buds look just like Apple's white wireless ear pods that sell for well over $100.  I like that these imitation pods cost a lot less.  I haven't tested the sound quality but that is such a big savings that it may not matter and the recipient still gets cool wireless ear pods for a lot less.
*Gentek Bluetooth TW2 colorful wireless ear pods – ($24.99 at CVS) – I also found a similar set at the drug store.  This colorful pair is sure to please the person who wants their wireless ear pods to stand out.  Again, this is a huge price cut from Apple's product.
*Emporium SelfieClip ($5.99 at Walgreens) – This cool contraption clips onto a cell phone to transform smart phone photos by creating wide angle and panoramic shots.
*Dashing Phone Pocket ($5.99 at Walgreens) – This handy super slim walletlike item sticks to the back of a cell phone to hold credit cards and an ID.
*Regent Square Studio Design Collectible 2019 Heart Frame Ornament ($6.99 at CVS) — For your sweetheart or to give a cute couple, put their picture in the frame and drop in the stocking.  They will have this keepsake ornament from 2019 to put on their tree every year.
*Happy Holidays Reindeer Travel Mug & Hello Winter Travel Mug ($9.99 each at Walgreens) – Sturdy glass mugs that are festive for the season.  Buy one of these and get the second one for half off the original price through 12/21.
For Teenagers/College Ages
*On The Go Gift Card Theme – For the 16 and older crowd, you can't go wrong with gas station gift cards.  Pair that with their favorite fast food and/or stops, movie gift cards, etc. and you have a winning stocking.  Our son loves to receive a gas gift card combined with one from Chick-Fil-A and Starbucks since those are his regular stops.
Funny Fun For The Stockings
*Bla Bla Go Work Out Stainless Steel Water Bottle by Slant- ($32 at In The Pink Boutique) – Fun item that is also useful.  This gift will encourage your recipient to exercise while also giving them a good laugh.  Get yours at In The Pink Boutique located on the NE corner of Camelback & 44th Street in the AJs shopping center.
*R.J. Reindeer Poopin' Pals Candy Dispenser ($1.99 at CVS) – Make folks of all ages laugh when they receive a reindeer toy candy dispenser that dispenses candy from the deer's backside that looks like poop!
*SnarkCity.com Funny Luggage Tags – Luggage tags that will identify a suitcase with a humorous design.  Funny sentiments that include, NOT YOUR SUITCASE & RANDOM CRAP INSIDE – ($9 for a set of two at In The Pink Boutique) – Make them laugh and others who accidentally grab the wrong suitcase at the airport.  Especially fun for the traveling soul.
For The Furry Family Members
*Pet Central Holiday Cat Stocking – ($6.99 at CVS) — Stocking is conveniently included and is packed with 10 cat toys.  Red and green colors are available.
 *Merry & Bright Holiday Reindeer Cookie ($3.99 at PetSmart) & Tinsel Treats Candy Cane Dog ($2.99 at PetSmart) Dog Treats – Festive and yummy dog treats.  The candy cane is peanut butter flavor and the reindeer is an apple cinnamon flavor.
Stocking Stuffers That Give Back
*One Bead One Hope Earrings – ($9.99 at CVS) – I love gifts that give back and these pretty earrings, that fit perfectly in a stocking, do just that.  The One Bead One Hope Akola project is described on their website as a globally inspired brand with pieces that are handcrafted by women in Uganda.  High quality materials are used that are also upcycled for an earth friendly product plus these pieces are created by women who have been a given the jewelry-making job to provide for her family.
*Endangered Species Cranberries Almonds + Dark Chocolate & Peppermint Crunch + Dark Chocolate Bars – ($2.25 at Natural Grocers) – Not only are these candy bars delicious, but they give back 10% of the net profits to save wildlife.  The wrappers holding each bar explains which organization is supported like the grey wolf and penguins.
Festive Sweet Treats
*Prickly Pear Cactus Candy – ($1.49 at CVS) – Fun for the guest visiting from out of state to receive in a stocking.
*Russell Stover The Most Wonderful Time of the Year Mini Assorted Chocolates Box ($4.99 at CVS) – This is the perfect size of assorted boxed chocolates.  Fits in the stocking perfectly for the chocolate lover.
*Reeses Peanut Butter Tree ($1.19 at Walgreens & other retailers)
*Kit Kat Duos Mint + Dark Chocolate ($1.19 at Walgreens & other retailers)
What unique stuffers do you include in the stockings at your house?  Share here in the comments section.  Happy last-minute holiday shopping!