As seen in my KTVK Your Life Arizona segment today.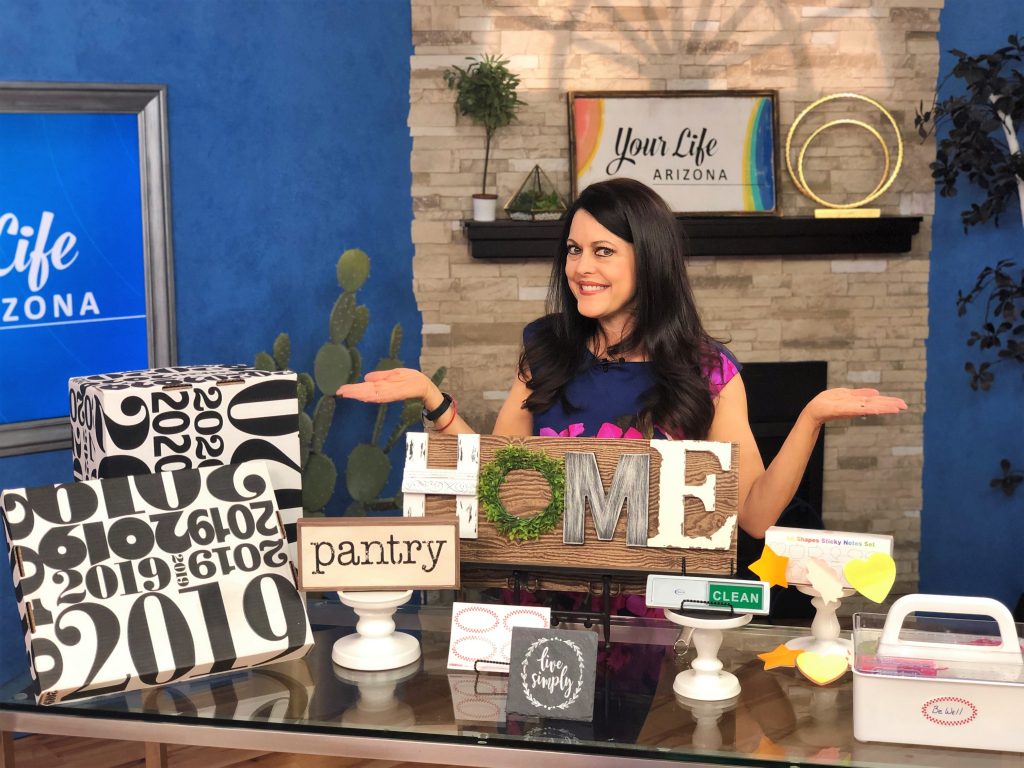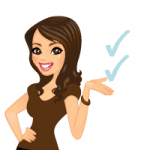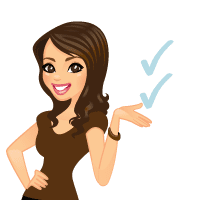 More organization and less stress are my New Year's Resolutions.  So far, I've been slowly but surely tackling this goal.  It works!  I'm feeling less stressed.  Less clutter means more calmness.  Look at some of my tried and true tips and tools as well as some new ideas I recently discovered.  Try the tips below and say hello to more organization and less stress!
First start the process by answering this question…
Are You An Internal Or External Organizer?
Ask yourself if you are an internal or external organizer.  Internals like to store their organized gadgets and neat stacks out of sight under a cabinet or in a drawer.  Externals like to place their cool organization tools out on display with clever items that keep stuff straight and look nice.  For example, internal organizers keep jewelry in a box under the sink, while externals keep it stored in a pretty jewelry box that sits on top of a dresser.  Knowing which one you are helps to streamline the process of getting started.  I have ideas for both types below. Let's start with some tips for the home.
For The Home
Laundry Room Décor/Lost Key Solution
Never lose keys again and add to your laundry room décor with a hanging hook shelf.  Any hanging shelf will do and you can just hang nails on the wall if you aren't into décor.  I love little cool touches of fun decorating elements all over, so this external organizer idea works well.  Walk into our laundry room and you are greeted with this fun sign: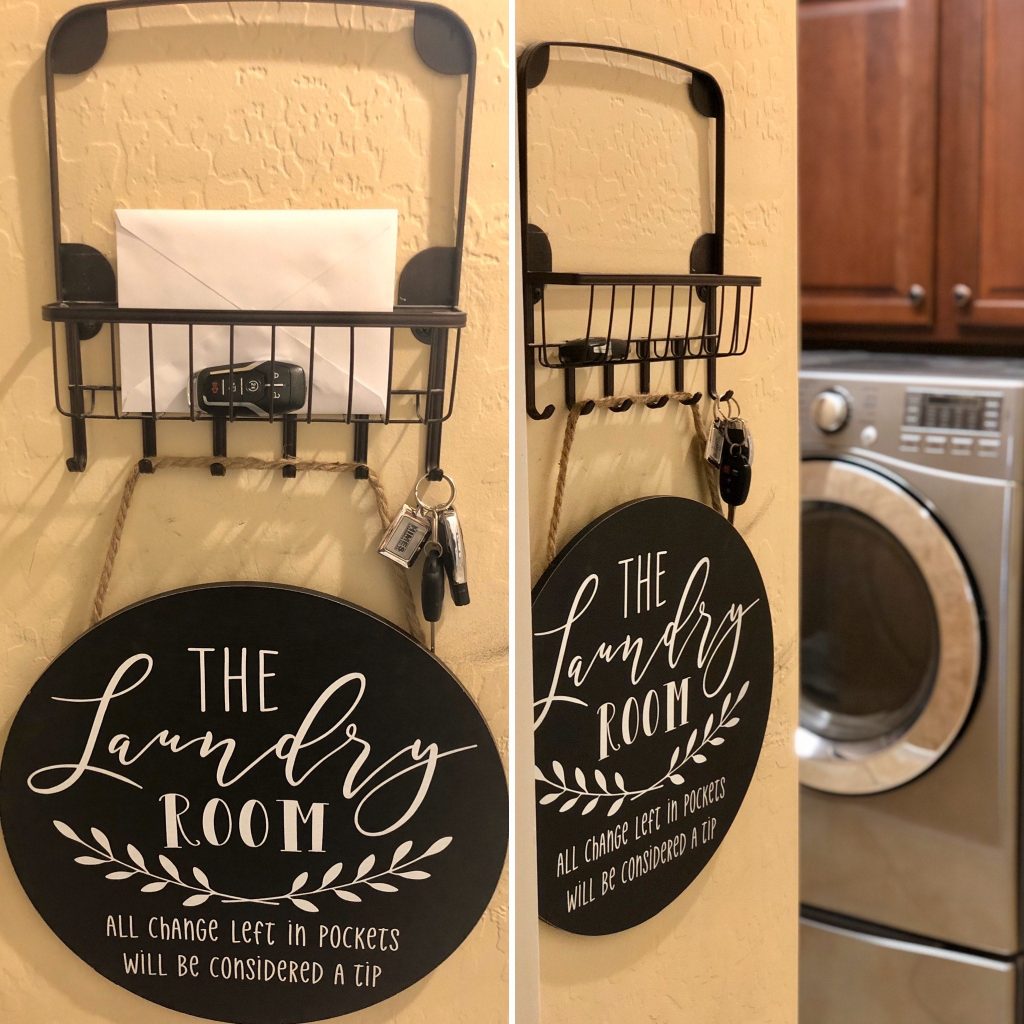 I hung the humorous sign on a mail holder that has hooks on the bottom.  Everyone's keys and outgoing or incoming mail have a place. No more lost keys which is especially helpful when kids become teenagers and multiple keys become the new normal.  Misplaced keys mean tardy mornings.  Keys neatly hung on a hook in a common area, like the laundry room, means all leave on time…most mornings anyway.  I bought my fun laundry room sign at Hobby Lobby on sale for $10.79 (regularly $17.99) because I used my retailmenot.com app to redeem a 40% coupon.
Pleasing Pantry
I must give credit to my 18-year-old daughter for this one.  She volunteered to redo the pantry and I'm very glad that I agreed to it!  She purchased simple white crate boxes at Target ($4 for the smaller ones and $8 a piece for the larger crate boxes).  She then used card stock to label each box into food categories.  She got rid of every expired item and placed the crates just right for easy access and storage.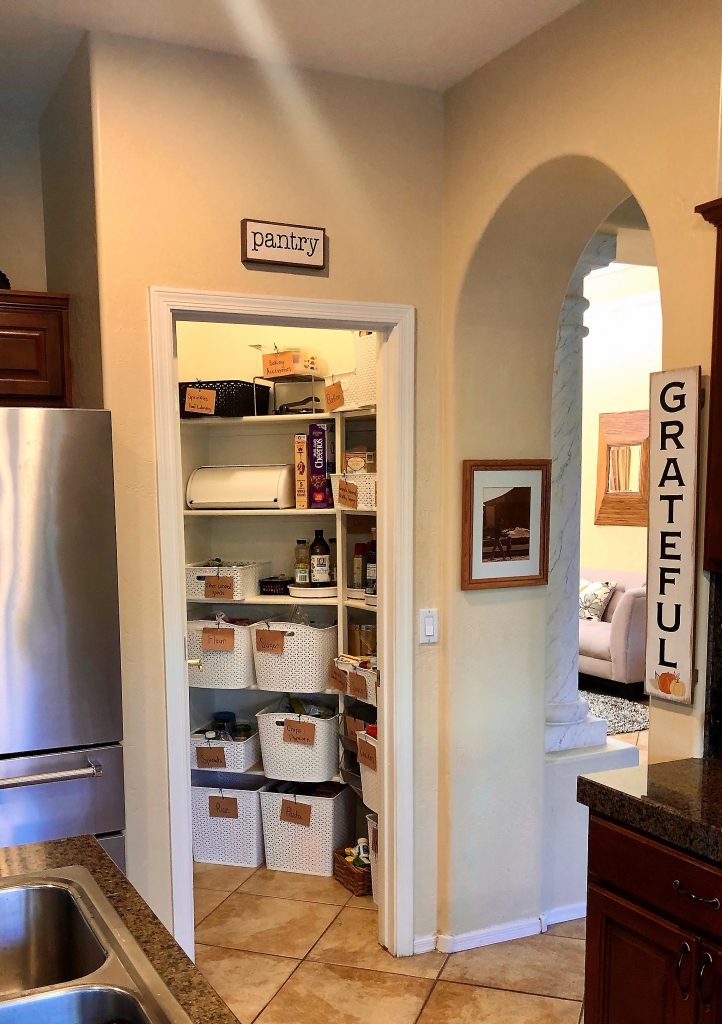 I can't believe how much faster I can cook a meal, find items and clean out the pantry with the new organized order.  I can make meals in half the time because my ingredients are so easy to find.  We also stopped accidentally buying duplicate foods since the big cleanout and makeover.  I added a little sign that says "pantry" to the top of the door for a finishing touch.  My small pantry is now functional and even looks nice, too.  Take the time to do a pantry makeover.  You may find that you eat heathier foods with this system as well.
No More Stacked Dishes Idea
Again, kudos to my girl.  She purchased a clever magnetic sliding sign for the dishwasher that says "DIRTY" and "CLEAN" and this idea has resulted in no more stacked dishes in the sink.  Before the cute sign arrived, dirty dishes were placed in the sink since our family members weren't always sure if the dishes in the dishwasher were clean or dirty.  The sign tells my family to either load the dirty dish if the sign says dirty or put away the clean ones if the clean sign is showing.  Love this!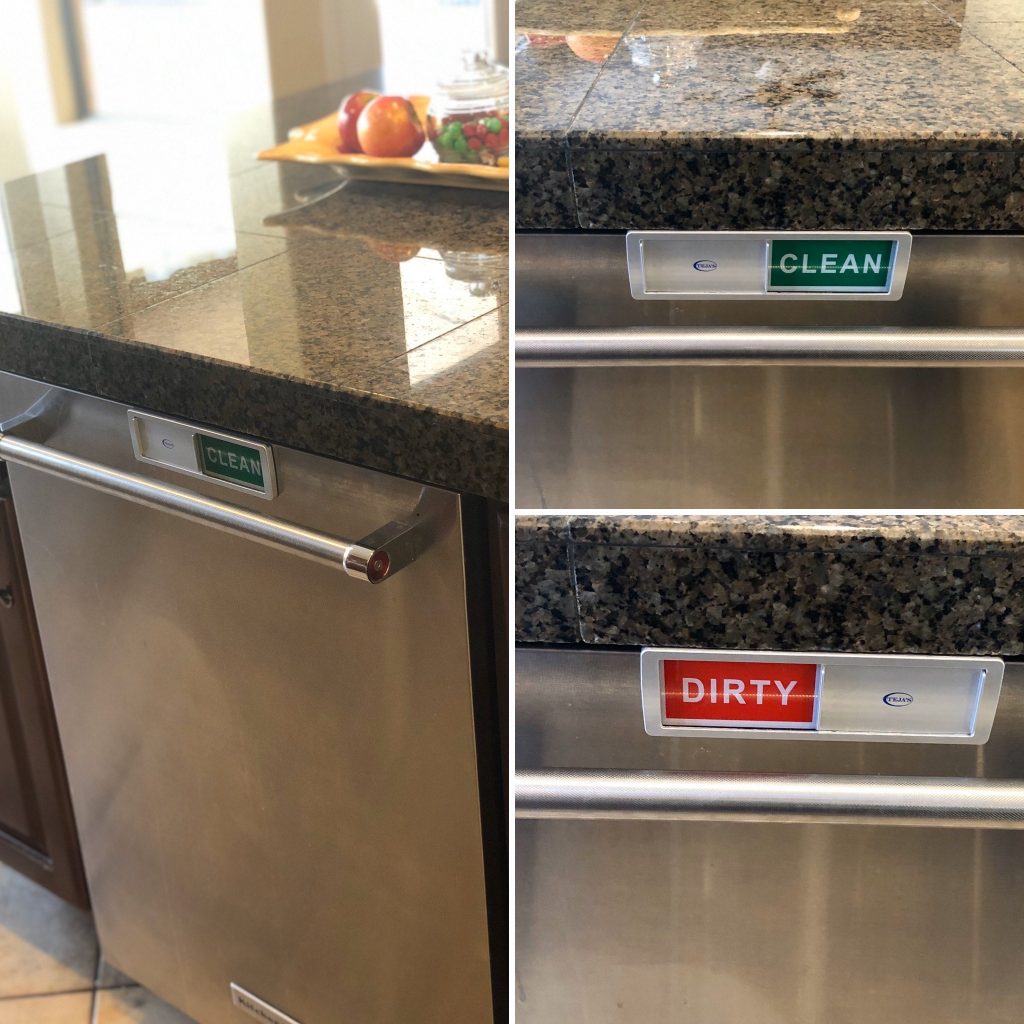 This unique item sells for $6.95 at Amazon and we swear by it!
Wellness Kit
Unexpected illness is part of life and when your kid (or you) gets sick suddenly the last thing you want to do is run to the store for wellness supplies.  I keep a wellness kit handy with everything I need to nurse a family member back to good health.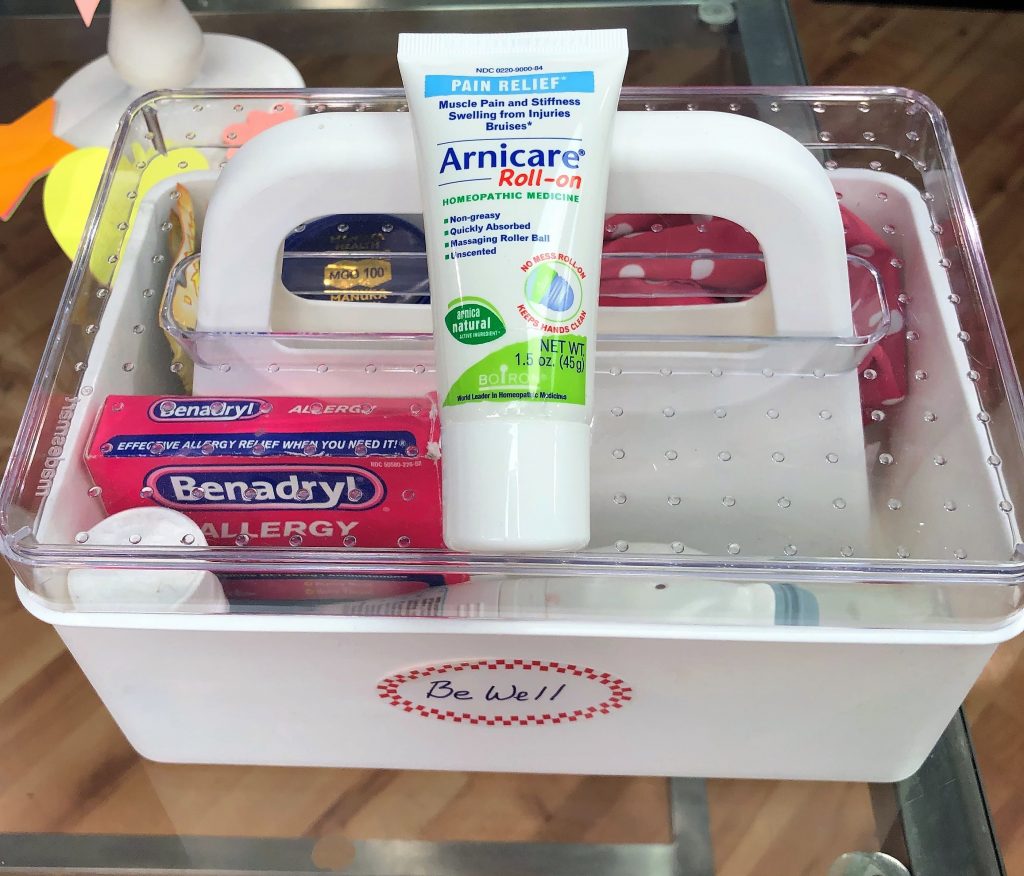 My supplies include pain relievers, both ibuprofen and acetaminophen, a thermometer, tissue, herbal tea and honey.  For accidents I also keep on hand bandages, an ice pack, antibiotic ointment and several of my favorite homeopathic meds like Boiron Arnicare Roll-On Homeopathic medicine.  Arnicare relieves muscle pain and stiffness from injuries as well as helps reduce bruising.  It is also perfect for everyday pain from activties like spring cleaning, yardwork, exercise and even stiffness from sitting too long at the computer.  I love that it is homeopathic and is made from a mountain daisy plus it is odorless and the handy tube roller ball is a no mess application that keeps hands clean.  The medicine is quickly absorbed and is unscented.  It is sold at Sprouts Farmers Market, Whole Foods, Target, Walmart, CVS, Amazon and many other stores that sell healthy products.
For Important Papers, Pictures, Keepsakes
My #1 organization item that I show in my morning show segment every single year since 2013 is the Best Box from The Container Store. 
At only $4.99 a box, this helpful item prominently displays the year in big bold print all over the box.  It looks nice and stacks nicely.  It holds plenty of letter and legal-size folders, documents or books for filing, storage or moving. It's also perfect for storing children's artwork and photos by year. I have one each for the last six years and it has helped me to clear out and organize the important papers from the previous year.  This box saved me loads of time the year we refinanced our home as I could easily pull important papers from previous years with the easy-to-spot year boxes.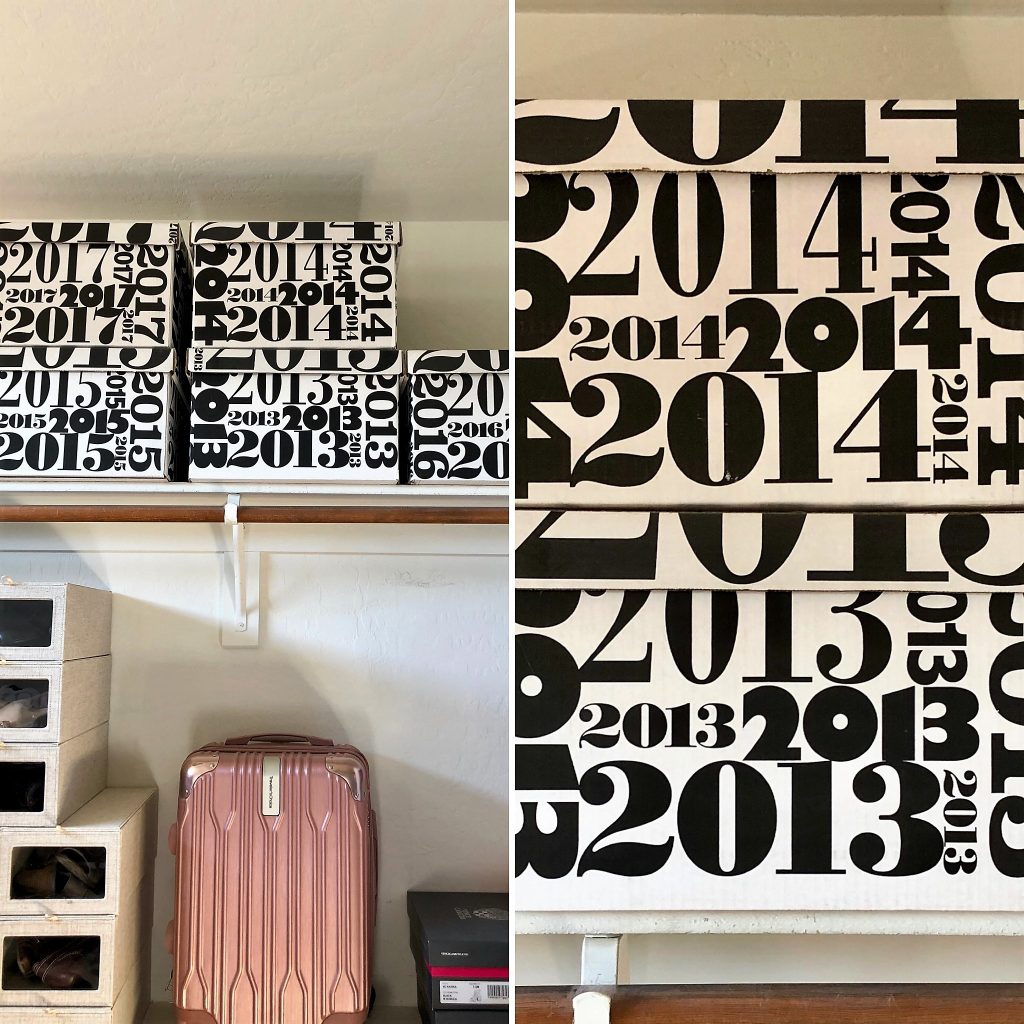 I buy mine faithfully every January at The Container Store or online at containerstore.com.
For Travel
My Forever Favorite Find For Packing
My longtime tried and true travel tool costs only $7.99 and has been my packing lifesaver for years now.  The Pack This! Travel list pad by Knock Knock is a handy exhaustive packing list that includes everything you need to remember for a trip including stuff that I wouldn't consider or remember.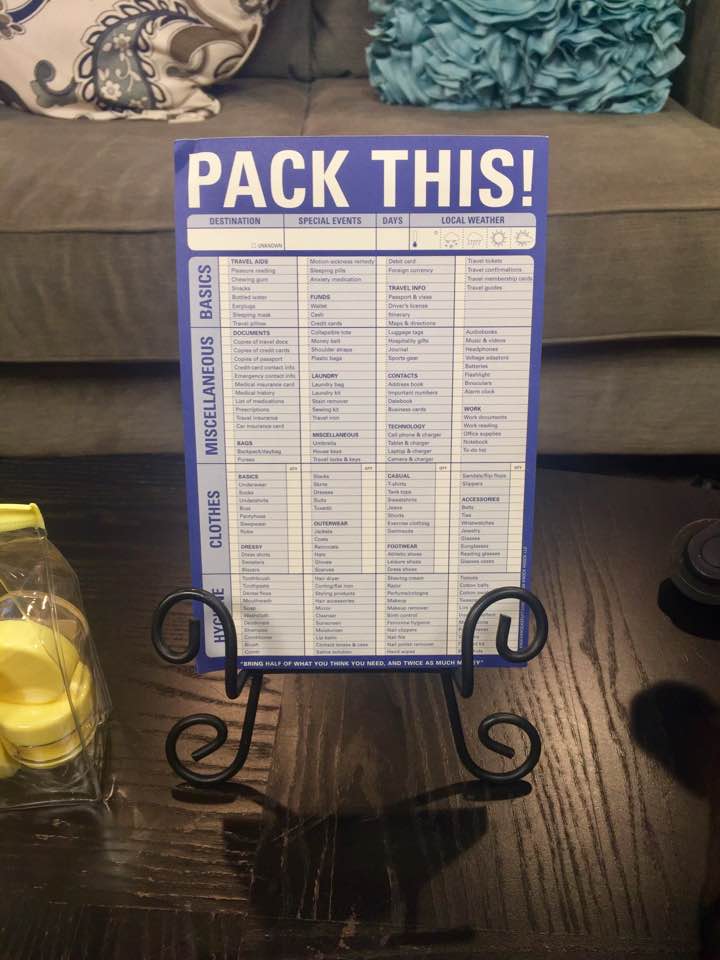 Examples include an umbrella, binoculars, bug spray, sunscreen and more. Every time I use this list, I forget nothing and my packing is done faster and is more efficient.  I swear by this and I buy my pad (60 sheets 6 x 9 size) for $7.99 at knockknockstuff.com and at Amazon for only $7.
My New Favorite Finds
My two new terrific travel finds are awesome, stylish and functional.  The Casery Travel Backpack and the Casery Milan Wallet both rock.  The backpack is made of vegan leather with pretty rose gold hardware and perfectly fits my laptop and a bunch of my other carry-on travel items.
The best part of this beautiful backpack is the smart sleeve on the back that easily and quickly slips right over my suitcase handle.  This gives my back much needed relief and makes getting through the airport and making connections a breeze.  The Milan Wallet is also helpful with cool interior labeled pockets for a passport, boarding pass, IDs and more. The backpack sells for $89 and the wallet for $68, both at thecasery.com.  With these travel items, I now look like a seasoned traveler and I move faster through the airport.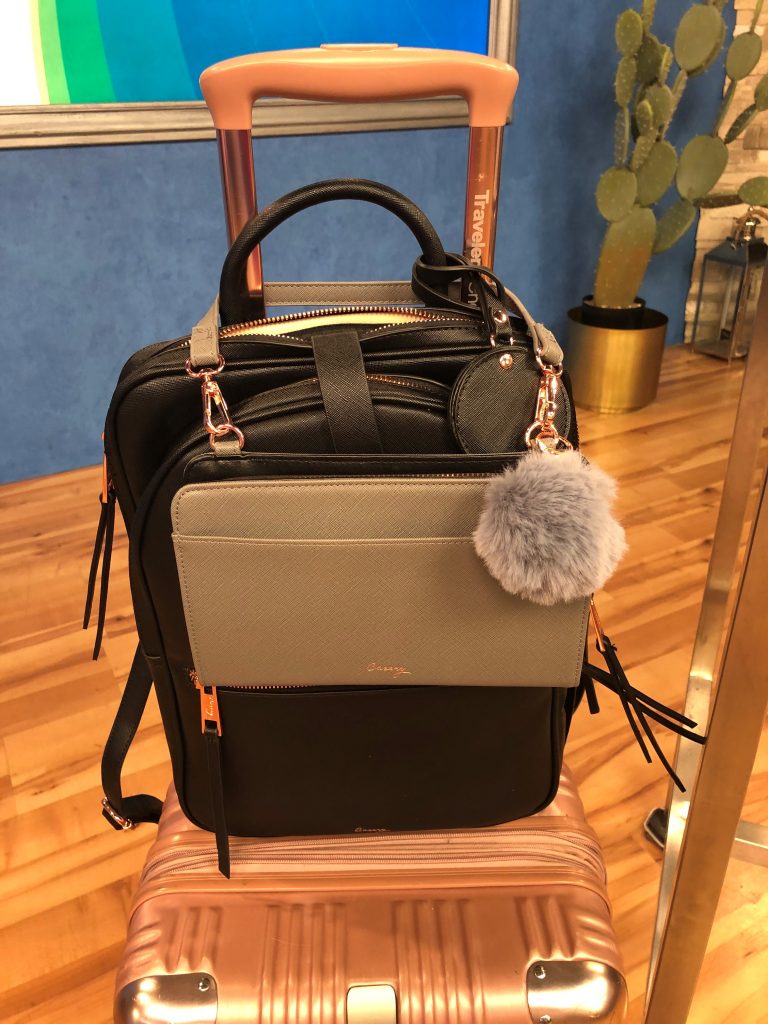 For The Car
I keep a handy little bag in my glove box with essentials I might need when I'm out and need something right away.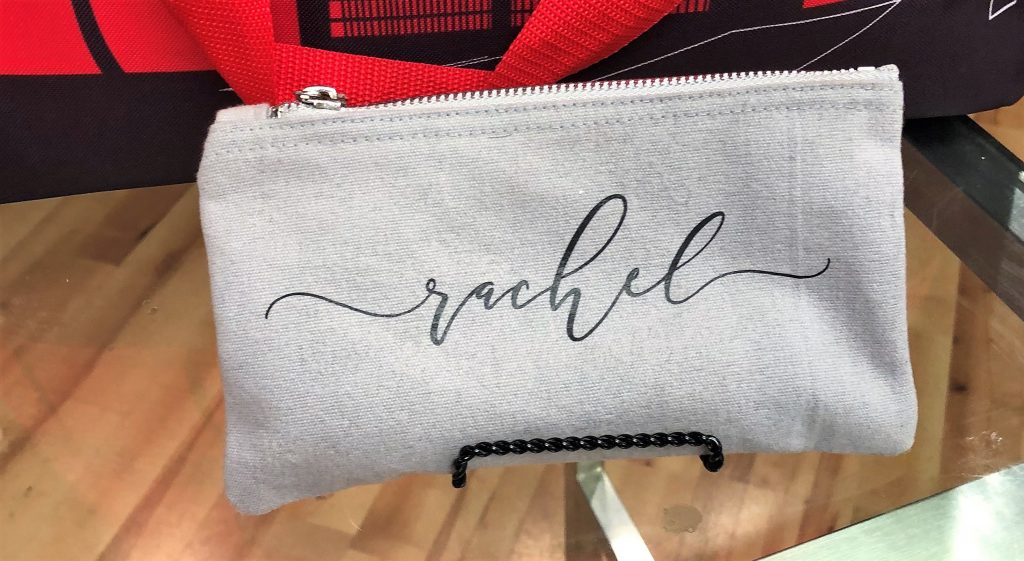 My small bag contains a pain reliever, hand sanitizer, floss, chap stick, tissue, extra sunglasses and glasses in case I have a problem with my contacts.
Go Green Grocery Organization Tool
Be earth friendly and keep a big bag in your car to avoid needing plastic grocery bags.  The absolute best big bag I have found is Trader Joe's big rectangle bag that fits a lot and truly keeps frozen foods frozen for up to two hours (as long as you pack several frozen items together in the bag because they act as an ice pack).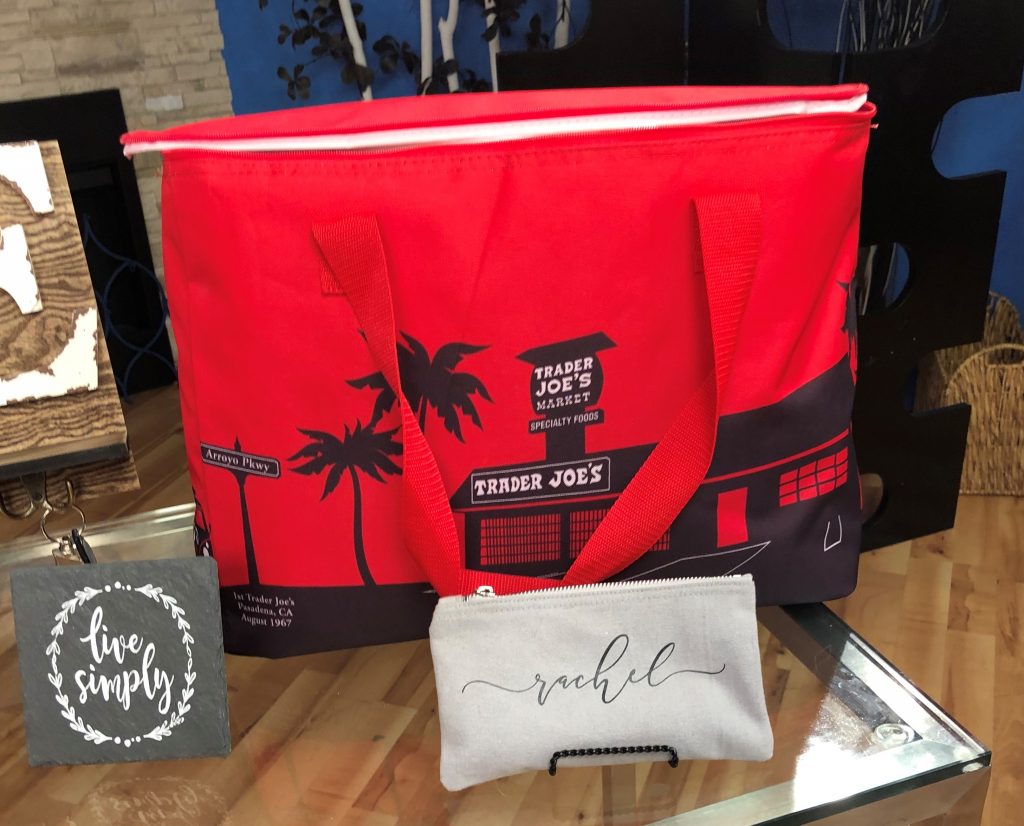 I also keep plastic bags in the Trader Joe's big bag so I remember to place them in the grocery store's recycling bin when I'm at the store.
Simple Smart Quick Tip
Never forget an important item again by using my steering wheel sticky note trick.  The night before you need to load something in your car that you can't forget but you can't put in your car yet (like food), write it on a sticky note and stick it to your steering wheel.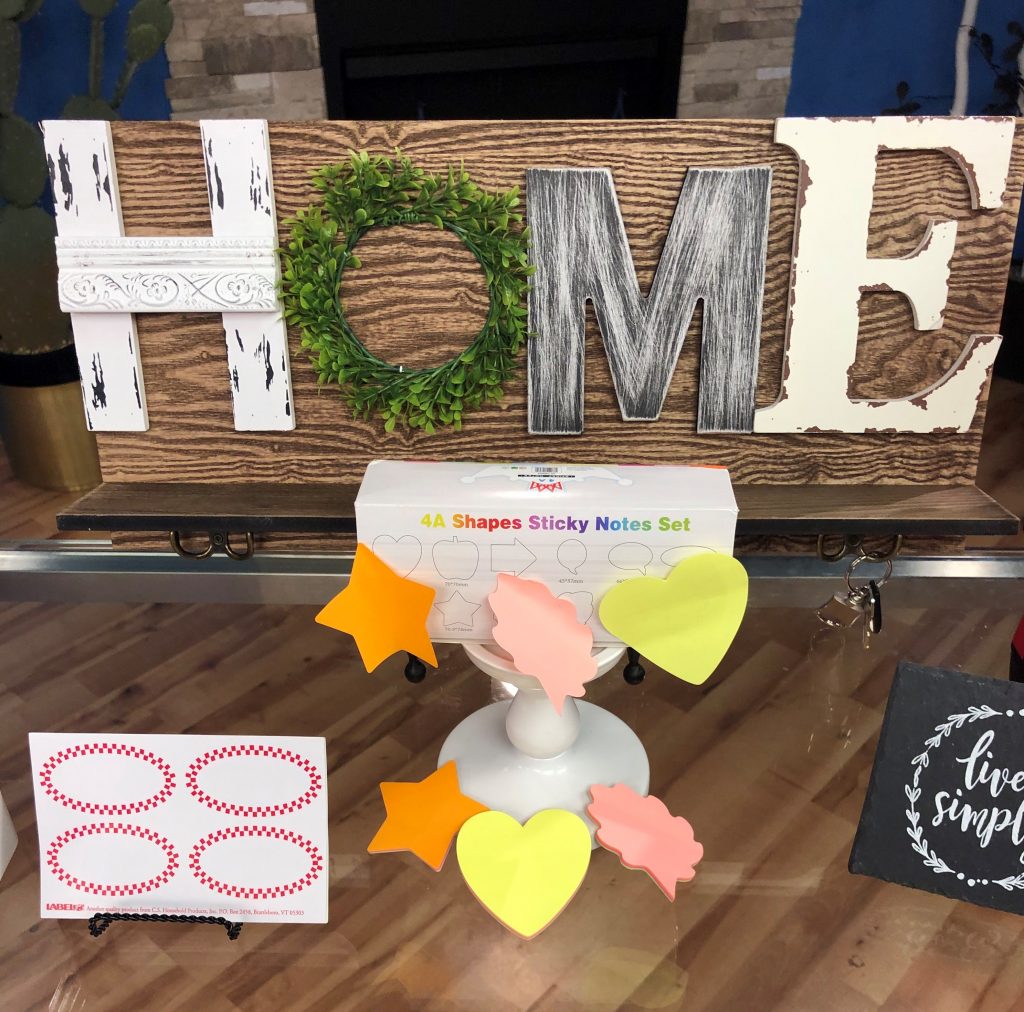 You will see it when you get into your car to drive and the reminder will help you remember to grab the item.  Works every time!
The Finishing Touch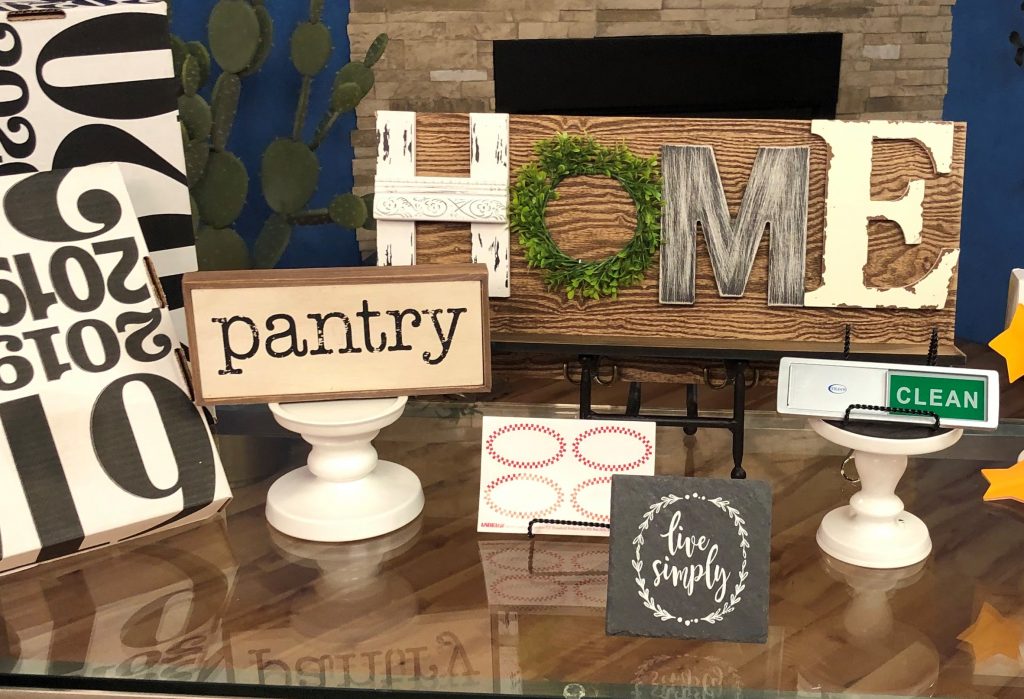 Once you have finished an organization project, treat your project to a small finishing touch like a decorative sign.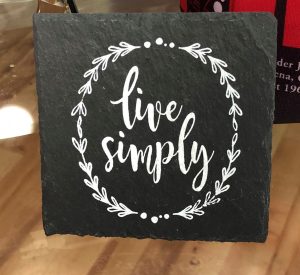 When the pantry was all done, I bought a cute little sign that simply says, PANTRY from Hobby Lobby.It was on sale so it only cost $4.79 and it looks nice hanging above the pantry.
When I worked on my closet, I bought matching hangers and added a fun sign in the closet.  The finishing touch completes the project and is pleasing to view every day.
What are your favorite organization and/or spring-cleaning tips and tools?  Leave your suggestions here in the comments section.  Happy spring cleaning and organizing!
No compensation was received for showing products in television segment.  Three samples were provided for testing for this blog article and all of my opinions about how great these tips and tools are are 100% my very own.