I share this Pumpkin Supreme recipe every November and every year my blog readers and morning show viewers tell me that they love it!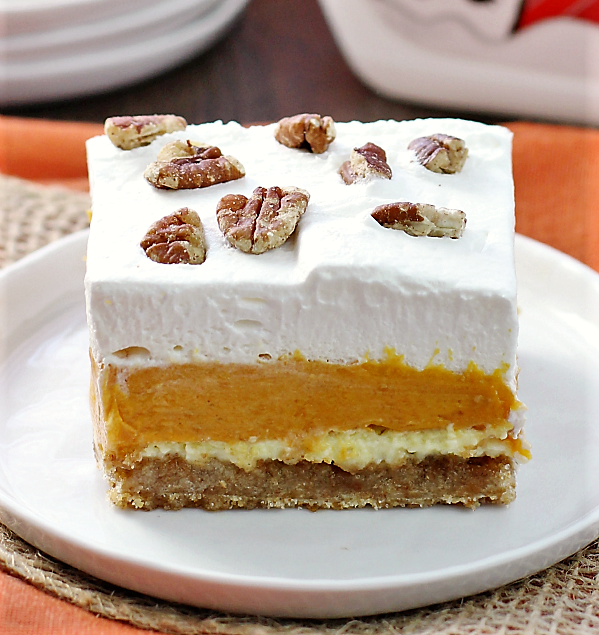 A bit different from pumpkin pie, this sweet treat will have you going in for seconds.  With a light whipped topping over a pumpkin and cream cheese layer that lays on top of a chilled delish graham cracker crust, this recipe satisfies a sweet tooth and then some.  A big thanks to my sister-in-law, Stephanie Harris who allows me to share this each year.  This scrumptious recipe was passed down to her through generations of her Texas family.  Here is the recipe below.  Happy Thanksgiving next week.  Be safe.  Be thankful.  Bless you all.
What You Need:
Ingredients:
1 3/4 cup graham cracker crumbs
1 3/4 cup sugar
1/2 cup melted butter
2 eggs, beaten
1 cup chopped pecans
1 8 oz. cream cheese
1 big container cool whip
3/4 cup milk
2 small boxes of instant vanilla pudding
1 regular sized can of pumpkin
dash of cinnamon
What You Do:
1. Mix graham cracker crumbs and 1 cup of the sugar in with the butter.
2. Press this mixture into a 9 x 12 Pyrex dish, so that this becomes the crust.
3. Combine eggs with the 3/4 cup of sugar and cream cheese.
4. Mix until fluffy.
5. Spread over crust.
6. Bake at 350 degrees for 20 minutes.
7. When completely cool (can even refrigerate overnight), go on to next step.
8. Mix 3/4 cup milk with two boxes of instant vanilla pudding.
9. Add pumpkin.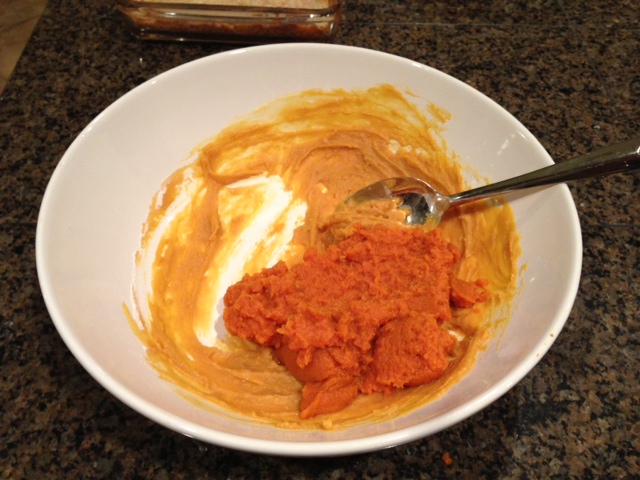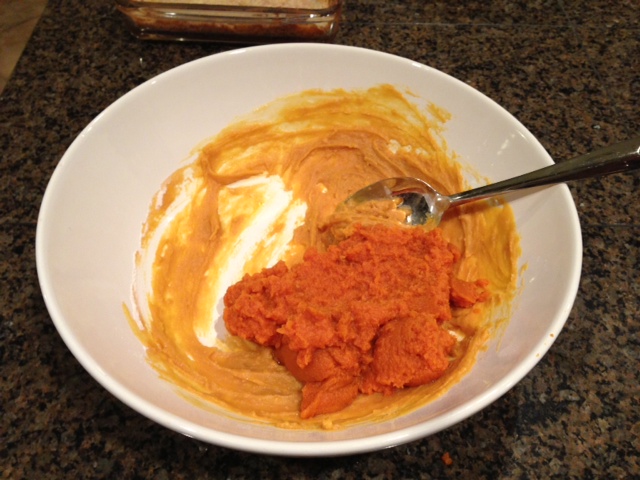 10. Fold in one cup of cool whip.
11. Spread over cooled cream cheese mixture.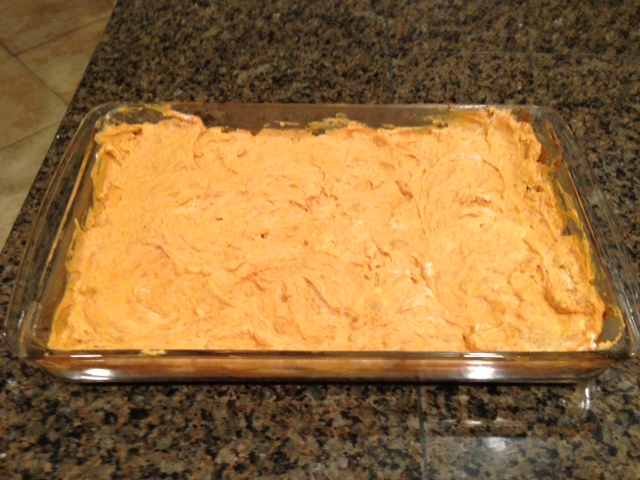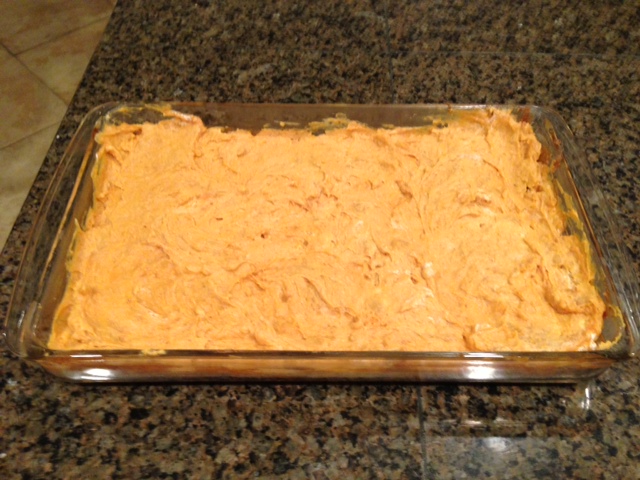 12. Cover with remaining Cool Whip and sprinkle nuts on top.  Here is what a slice looks like and you won't believe how good it tastes.  Place a dollop of whipped cream on top, like pictured, or layer the entire top with whipped cream, sprinkled cinnamon and pecans.  Up to you.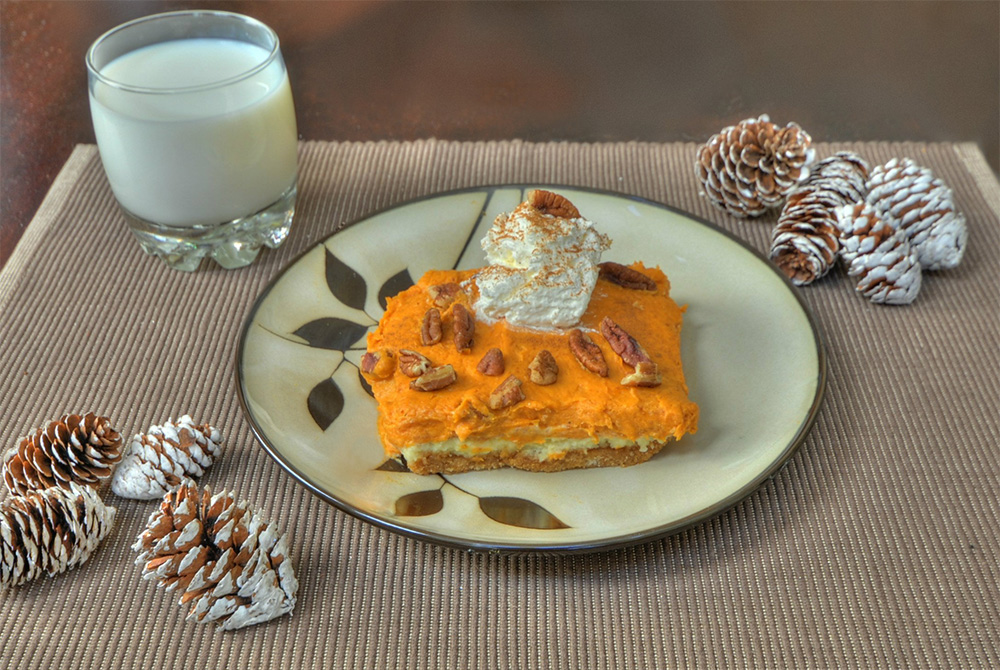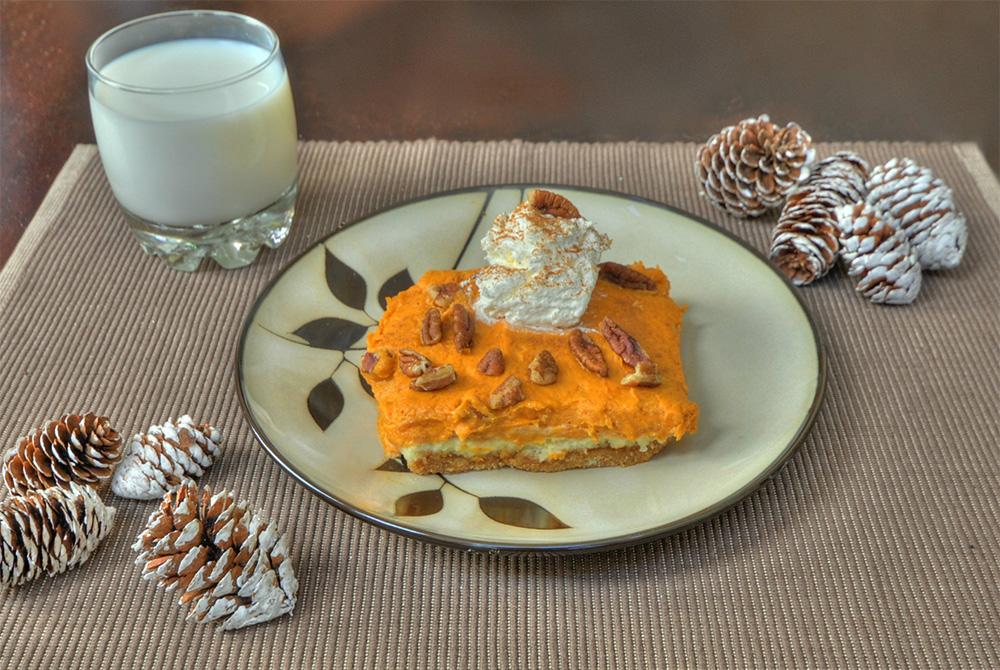 Truly decadent!  You can also serve this dessert in mason jars by following the same steps and layering in the jars instead of a pan.  This recipe is super tasty.  Try it!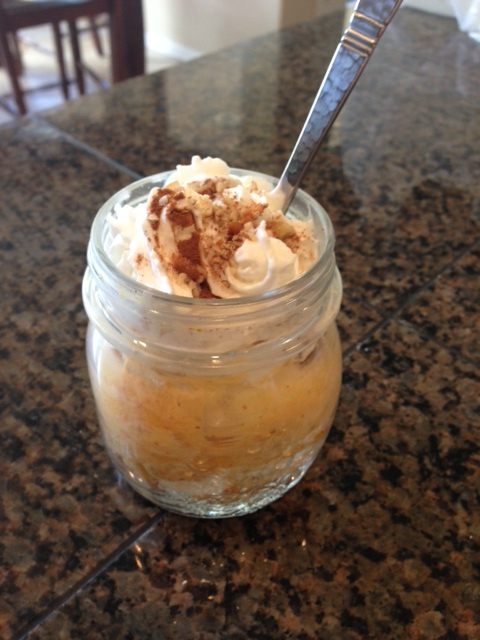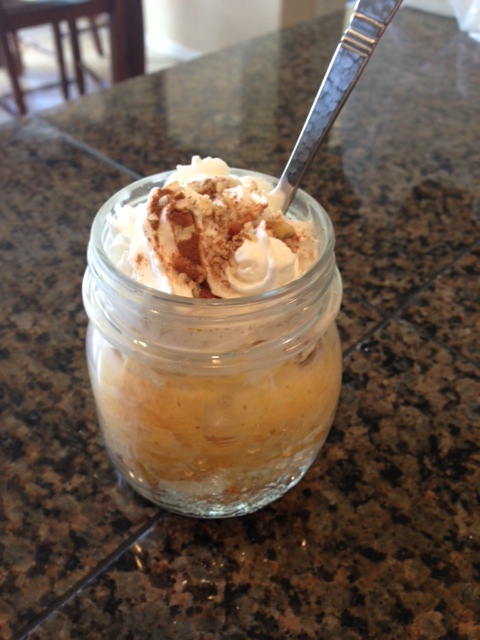 Enjoy!  So yummy!  Happy Thanksgiving!!