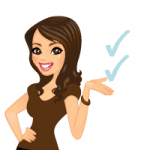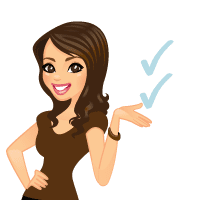 20 years later I finally completed and hung two beautiful frames that show a collage of my kids' school pictures from kindergarten through high school. It felt great to get this done. The framed pictures look nice with my home décor. When I shared this on social media, I had a lot of pals ask me about it, so I decided to share this project with my Your Life Arizona morning show viewers (see segment video below) along with a few tips on how to best organize your pictures through the years.  
I really like how the photo art looks on my wall at the top of the staircase. As a new empty nester, it is gratifying to see the school year photos of my two grown kiddos every time I go up and down the stairs.
When my young adults came home to visit, they both noticed it right away.  They liked it, too.  Happy mama heart!  Here are the details and links about the items I showed in the segment…
The Frame
I love the high-quality sturdy frame that looks great on my wall. It is sentimental and doubles as nice wall art as well. The frame features a black matte finish and a white matting design that is similar to a shadow box look. A sturdy sawtooth wall hanger is attached for easy hanging. I bought the Pearhead School Days Graduation Frame $29.99 at Amazon.
Picture Organization Tools
These tools can also be used to store other keepsakes. In addition to school photos, art projects, report cards and other mementos can be safely stored. Your kids may want these items to share with their own kids someday.
I showed several different storage box tools for saving, storing and organizing school pictures and other mementos through the years. I have used all three items. All are functional and attractive for storage. Here is the list of what I showed in the segment…
*Lakeshore Learning Keepsake Portfolio – $21.99 at Lakeshore Learning stores or to purchase online. This item works for kids to have on their own to learn how to organize keepsakes or parents can use it themselves, like I did.
*IKEA Kvarnvik Storage Box with lid – $6.99 each – I love the look and the feel of these pretty cloth storage boxes. I bought the soft sky-blue color to file my daughter's pictures and the handsome grey one for my son's photos. I bought mine at IKEA.
*Year Marked Best Box – $4.99 at The Container Store – My #1 organization item that I show every year since 2013 is the Best Box from The Container Store. The nice size of each box makes them ideal to store print photos of all sizes. This handy lidded box also works great to file tax papers and anything else for the kids, home, etc. I appreciate that the box has the year prominently marked all over for easy spotting when I need to pull the box from storage.
What home projects (kids or otherwise) have you completed that you want to tell us about? Share here in the comments section as we love to know about tips and tools to streamline the creative process. Taking time out of this crazy world to work on a beloved project is a stress reliever.
One sponsored link appears in this article.  Managedmoms.com is happy to partner with reputable sites.