Who doesn't love a tasty Egg McMuffin from Mickey Ds?  Even though I mostly avoid fast food restaurants, I will not decline McDonald's classic breakfast sandwich.  When I saw a trick to create a circular egg at home in my air fryer, I made my own healthier version and it tastes great!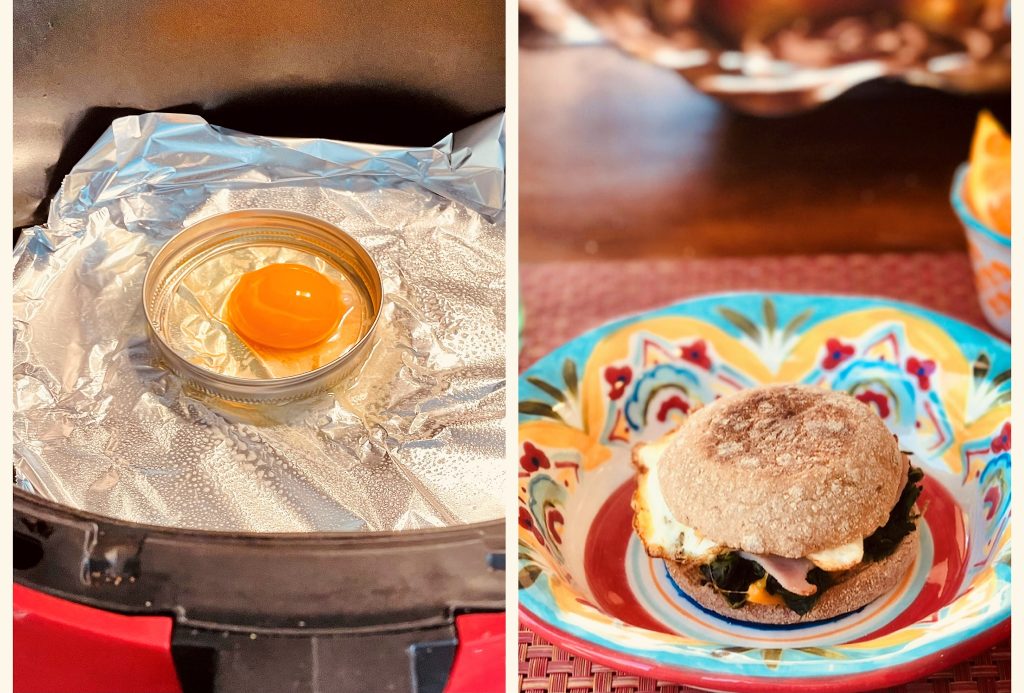 Check out this 20 second how to video for a quick tip view.  Detailed instructions follow the video.  Happy breakfast air frying!
Here's how to make this…
 Line air fryer with aluminum foil for easier clean up.  Spray a bit of olive oil on foil.
Place mason jar lid outer cover (with hole exposed) down on foil.
Crack one egg into mason jar lid.
Cook egg in air fryer at 400 for 5 minutes…or a bit longer if you want the yolk cooked more.  Season with salt and pepper.
Pop out or cut around egg from mason jar lid and place cooked egg, your choice of cheese slice, ham or whatever meat you want to add and cooked spinach (for a healthy twist) in whole grain English muffin.
Spray a little olive oil on the the outside of both sides of the muffin and place assembled sandwich in air fryer on 370 degrees for 3 minutes.  Flip and cook again at 370 for 2 minutes.
Enjoy!
Note:  I discoverd this air fryer fried egg circle tip online at a blog called Adventures Of A Nurse – great tip not invented by me.  So fun, easy and tasty! 
Some links in this blog may be sponsored.  The opinions and recommendations stated in our articles are 100% our own.