I am an unofficial foodie.  I'm not a food expert, chef or even much of a cook.
But I can eat out with the best of them.  I could have trained to be a restaurant critic because I love to eat and I absolutely love to dine out.  And if restaurant food didn't shrink my budget and enlarge my body, then I'd eat out every day if I could.
Since I can't get my daily nourishment from restaurants and because my time is precious and my wallet is thin, I choose wisely where I dine.
So I will include weekly restaurant picks under my Food category on this site.  I will tell you where my favorite foods live when it comes to local fare.
Last week I recommended the very healthy and delicious Pomegranate Cafe.  Today's post spotlights another Ahwatukee eatery that has enhanced the neighborhood with local organic foods.  Several recent magazine articles have also given this place a hearty and healthy thumbs up and it's called Hillside Spot Cafe.
Located on 48th Street and Warner Rd., this is my favorite place for fantastic fries, corn on the cob, pulled pork sandwich, salmon, chocolate chip cookies and more.  I know that is quite the list, but I'm telling you, it is all good here!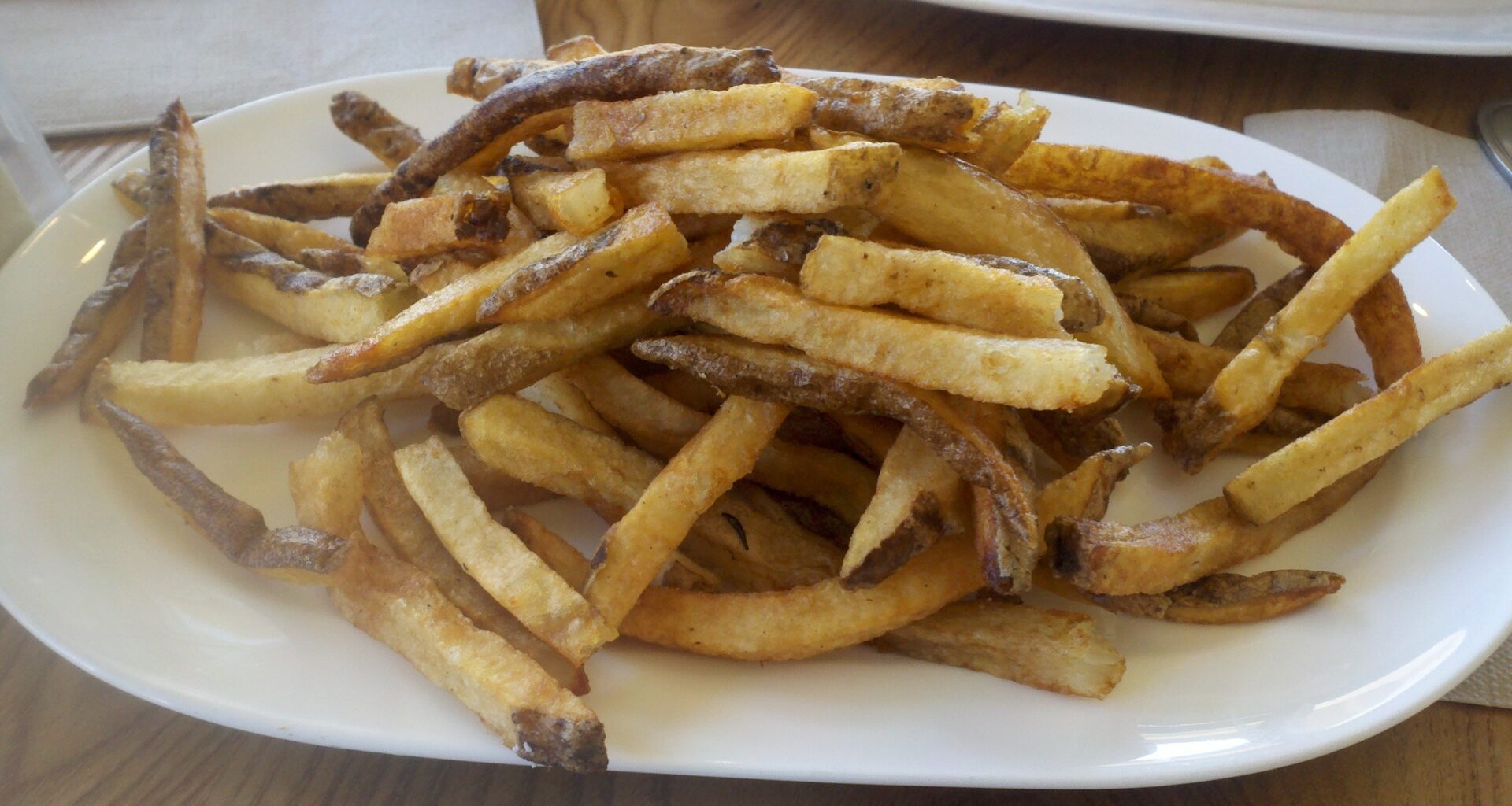 Let's start with the french fries.  If I am going to indulge in fatty fries, then they have to be worth every calorie that I count.  Go ahead and stop counting if you order them here, because they are just worth it.
Never frozen, these tators are hand cut and are simply the best fries that I have ever tried.  This is pretty much the only place that I will allow myself to indulge in french fries.  Don't we moms deserve an occassional french fry?  I say yes!  And now on to the corn!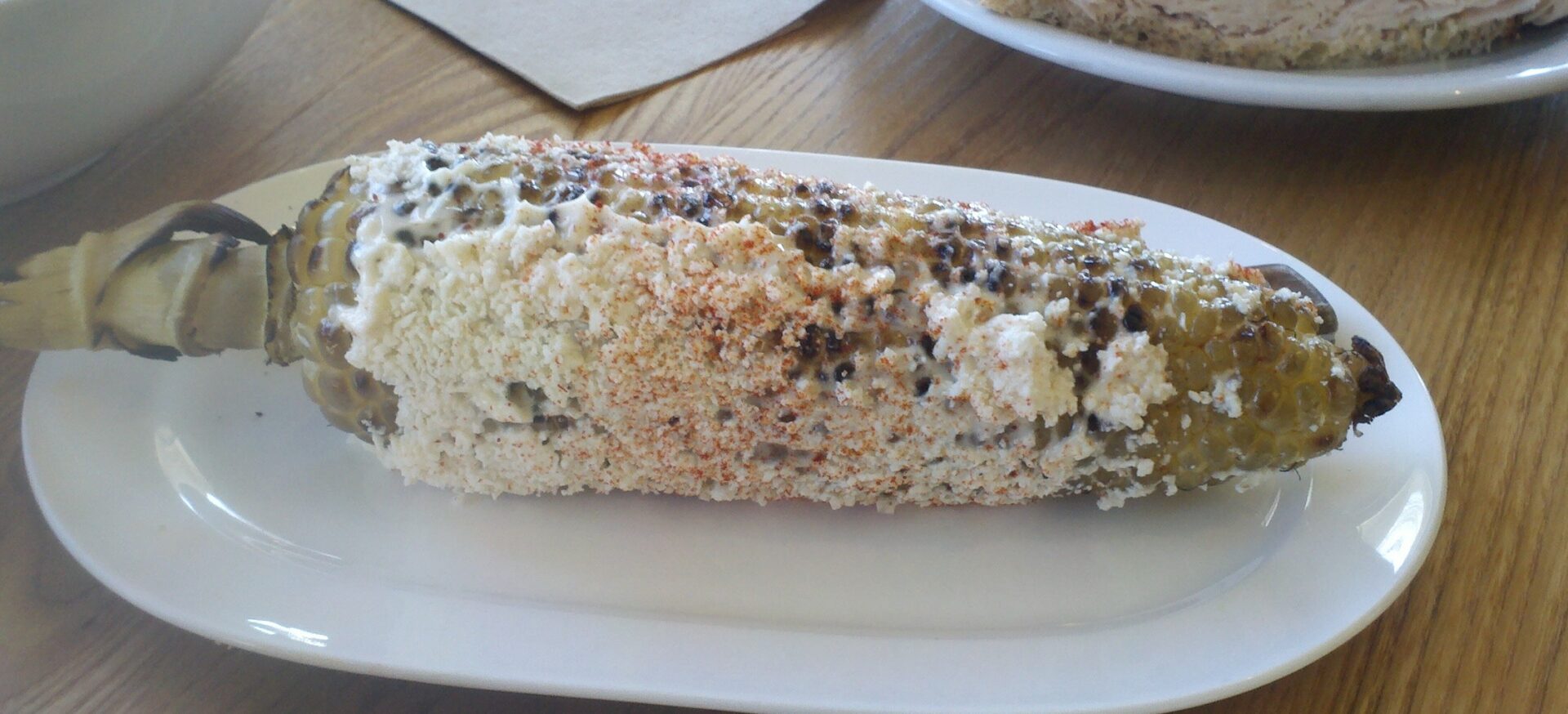 When my son first saw the unique corn on the cob, he was unsure about the thick coating peppered with red paprika.  He took one bite and never looked back.  He and his teenage friends now order it every time.
Hillside calls the corn "Callejero Style" and is happy to share their secret sauce that covers it.  Cotija cheese, smoked paprika and a certain type of mayo called aioli coat the corn making it scrumptious and irresistible.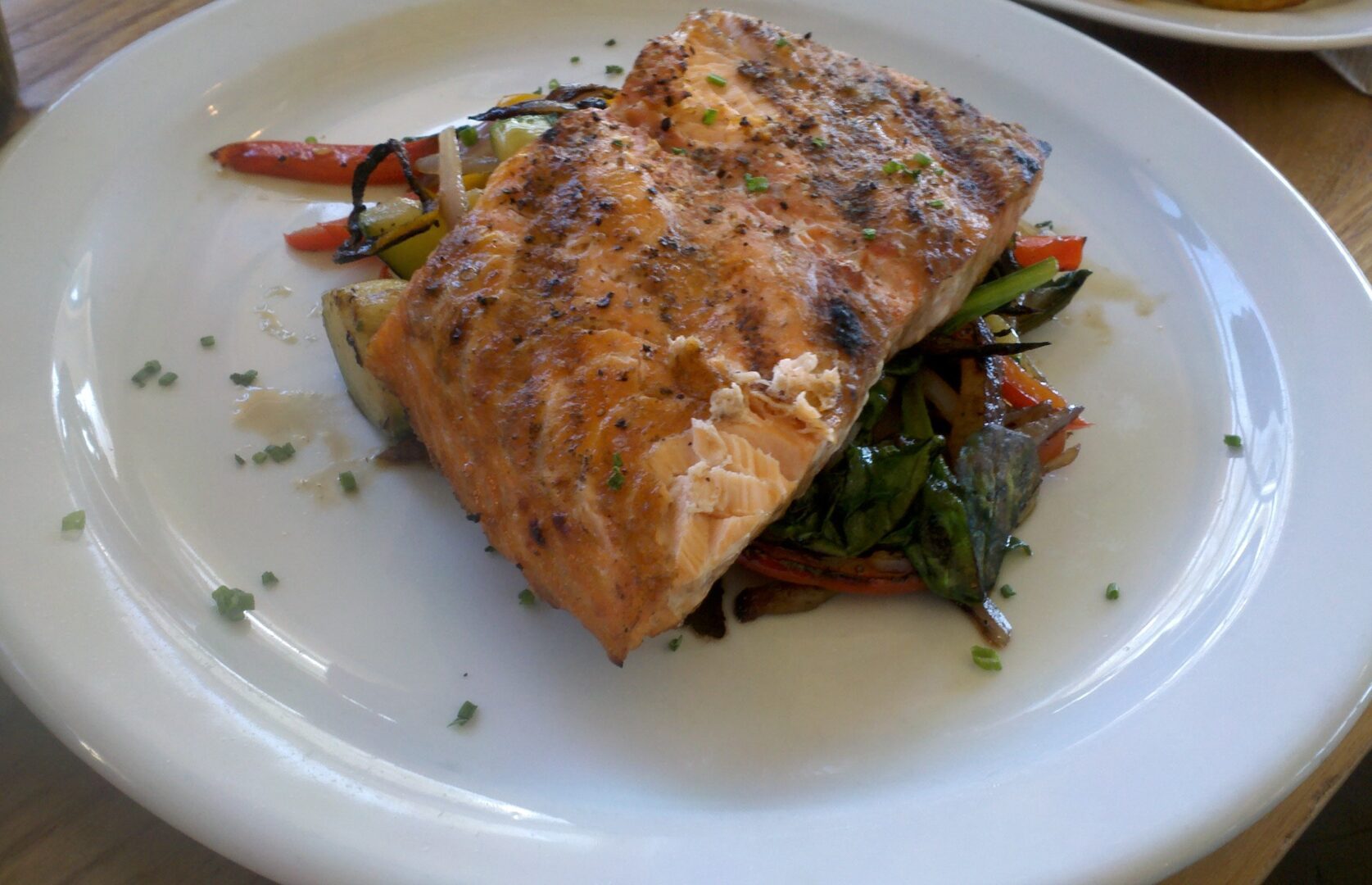 I love ordering the salmon because it is delicious and comes on a bed of healthy veggies that perfectly compliment the fish.  And the salmon is wild!  So many restaurants do not buy it wild.  I absolutely love that!
And let me cover the I-gotta-have-it chocolate chip cookie!  Another decadent goodie that I only allow myself to have at Hillside Spot.  The cookies are made with the perfect balance of chewy and crunchy and the chocolate melts in your mouth with every bite.
Other baked goods are also offered and are good, but I think the chocolate chip cookie wins hands down.  In fact, they run out of the cookies quite a bit because customers buy them in bulk.  (Yep, I've done that!)
Oh and I can't forget the bar.  Great wines and draft beers.  Coffee drinks are also offered.
Plus this place is a neighborhood one-of-a-kind and buys local featuring produce from area farms and producers whenever possible, including Cartel Coffee Labs, MJ's Bakery, Maya's Farms, Schreiner's Sausage, Oak Creek and Four Peaks Brewery.   I took that right from their website and you can taste the difference.
Breakfast is also served, but I have yet to escape there for a morning meal.  Children are welcome and a kids menu is available.
Breakfast and lunch tend to be casual with folks ordering at the counter, but come at night and waiters greet, seat and take good care of you.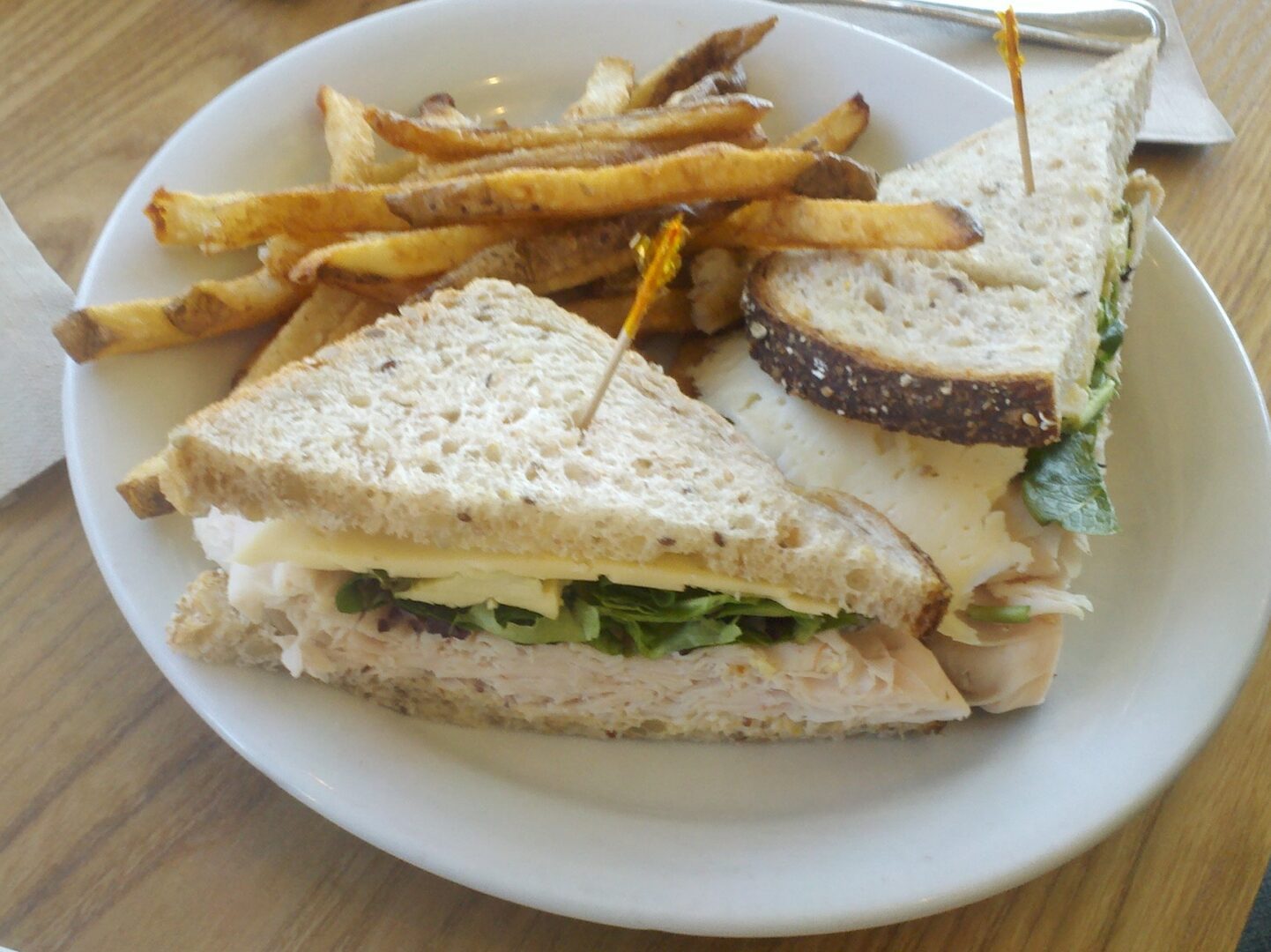 Other amazing items include sandwiches like the turkey one pictured here  My personal favorite is the pulled pork sandwich.
Appetizers like the Gallo guacamole are tasty.  Satisfying salads are also recommended.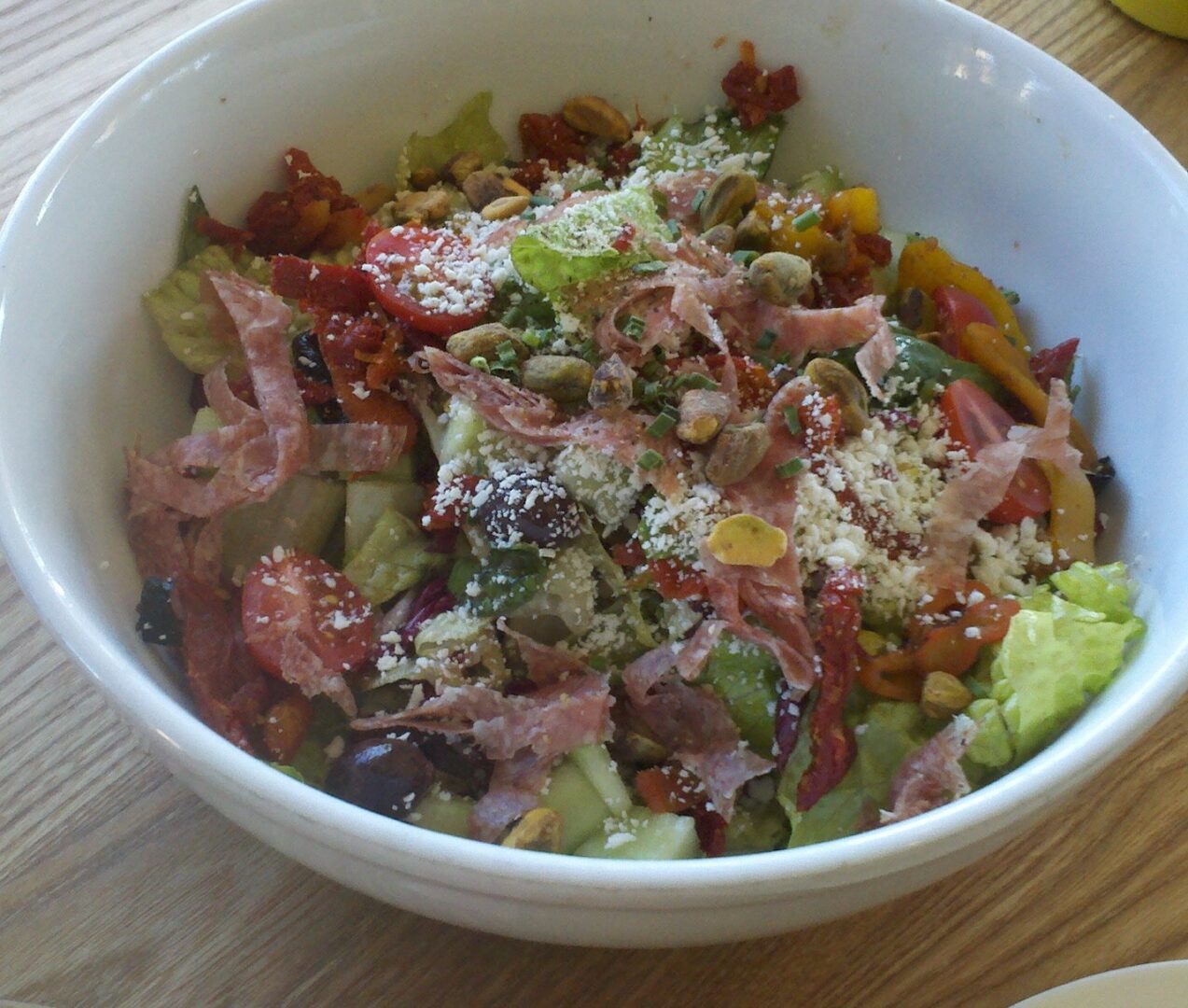 I truly haven't found anything on the menu that I didn't like.
Prices are mid-range,  but worth it, because you are getting fresh organic foods.
A plate of those amazing fries sell for $3 with the corn going for $4.25.  I happily paid $8.50 for the pulled pork sandwich that came with a choice of fruit, chips, salad or fries.  And you will pay $6 for the guacamole and chips, which is my favorite appetizer on the menu.
For more about Hillside Spot, check out their website at http://www.hillsidespot.com/menu.html.
Are you hungry yet?!
Go ahead manic managed moms out there, treat yourself.  And don't forget the fries and the cookie.  Rationalizing Rachel says to share both for tasty fun that is worth it.  I recommend that moms munch at Hillside Spot Cafe!  Try it this weekend!