Manic:  I'm ready to justify chomping down on chocolate because it is Valentine's Day!
Managed:  Have it!  But have it the healthy way.  Read on to see which chocolate to eat to get the pleasure and the health benefits, too.
To get chocolate's true health benefits, there are a few things you need to know about this food that melts in your mouth and melts your heart.  Admit it, when you see a heart-shaped box of truffles, you think romance.  So try these ideas:
1.  Eat the dark stuff because dark chocolate is the food that has the antioxidants, while milk chocolate has more fat.
2.  Look for 70% cocoa or higher on the packaging.  Dark chocolate that says 70% cocoa or higher is the better choice because the higher the cocoa percentage, the less sugar there is in the bar.  For many of us that takes some getting used to. 
To compensate for the slightly bitter taste of the higher percentage of cocoa, I go for 70% dark chocolate bars that have walnuts, almonds, blueberry or raisins mixed in.  Whole Foods stores have a pretty good selection of these types of bars.
3.  For a decadent, but really healthy Valentine's Day dessert, go for good ol' fashioned chocolate covered strawberries.  Dip organic strawberries into a 70% or higher dark chocolate fondue.  Yum!
4.  In true dark chocolate, the cocoa beans boast calcium, iron, Vitamin A, Vitamin C, potassium and more.  I found this surprising information in the book, "The World's Best Power Foods" and I was thrilled to read that so many vitamins and minerals can be found in the good stuff.  However the book does advise sticking to one square of dark chocolate.  Ok, I can try.
5.  Remember on Valentine's Day to beware of your pup's love for chocolate, as it can be fatal to a dog.  The Power Foods book explains that the danger to dogs is due to the caffeine and other ingredients found in cocoa. 
6.  Buy a bar that gives back to your body and to wildlife.  Dr. Grey Stafford from the Wildlife World Zoo recommends the Endangered Species delicious line of candy bars.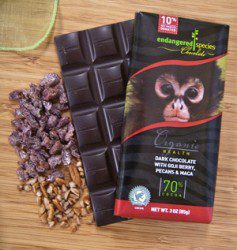 This chocolate bar gives 10% of sales back to support endangered species, habitat and humanity.  My personal favorite is the Organic Dark Chocolate with Goji Berry, Pecans and Maca bar.  Notice that the label says 70% cocoa plus each bar has additional items that increase the nutritional value.  The Goji berries boost the antioxidant benefits and the pecans are rich in fiber.  One bite of this bar and my manic day instantly feels a little more managed. 
So savor the goodness of chocolate on heart day, but go for the right kind so that you can enjoy a dessert that lets you have your chocolate and eat it, too!
Happy Valentine's Day everyone!