Manic:  Thinking that I had to feed my boy fast food because we didn't have a lot of time before his first playoff hockey game tonight.
Managed:  Remembering an easy cheat pork chop dish that is fast and tasty that I hadn't made in years.  Thankfully, McCormick still makes the seasoning!
Busy moms out there, you will love this recipe because it only calls for two ingredients.  Pork chops and 1 packet of McCormick Bag 'N Season Mix.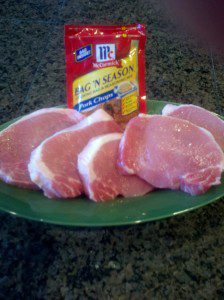 It is truly that simple! 
I have made this before with both bone-in pork chops and with boneless chops.  I think the boneless come out a bit better in this recipe.  I have noticed that the boneless seem to be more tender with this particular seasoning packet.
As the packet instructs, simply open the McCormick packet and unfold the enclosed bag.  Sprinkle the seasoning packet all over the pork chops, place in the bag and add 1/4 cup of water in the bag.  Then seal the bag with the tie that is provided and bake at 350 degrees for about 25 minutes. 
So easy.  A no-brainer on a busy night!
I like to serve my finished pork chops with mashed potoatoes.  I use the liquid from the bag that coats the cooked pork chops as a gravy for the tators.   I added veggies and strawberries to the finished dish to give my family a balanced meal, especially since my son was about to go play a hockey game.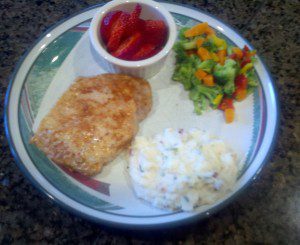 I have been buying this seasoning mix for pork chops since I was newlywed.  If you haven't tried this and you need something fast, grab the packet and the pork at your local grocery store.  McCormick saves the day, so my son could get to the rink to play. 
What is your favorite cheat dinner trick?  Leave your ideas here in the comments section.