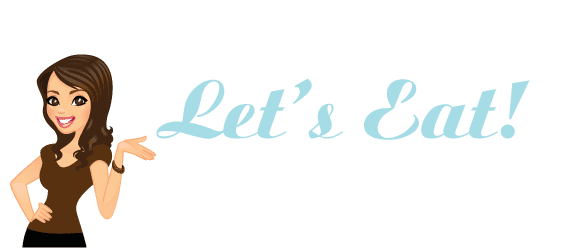 Manic: Finding a meal that my entire family loves.
Managed: Cleaning out my cookbook drawer to find one packed with recipes that are loved by my family!
When I was in college, I bought a cookbook with the perfect title.  Called "Leaving Home" by Louise (LuLu) P. Grace, R.D., it was a good cookbook to follow, as I ventured out on my own.
And her book description on the cover page still applies to my life today.  That reads, "For people who love good food…but don't know how to cook…are too tired to cook…or don't want to cook."  For me, at this stage in my life, the being too tired point hits home!
Although this little book is tattered and spilled on, it is still in tact, so I was happy to thumb through the pages to find that old beef stroganoff recipe that hubby and I enjoyed before we had kids.  And guess what, the kids love it, too!  So here is how to make Louise Grace's recipe:
Beef Stroganoff Recipe
Stuff You Need: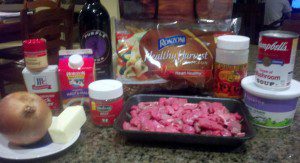 1 1/2 to 2 pounds of sirloin steak
1/4 cup butter (no wonder this is so yummy!)
2 cups fresh mushrooms, washed, drained and sliced (I omit this for my family's taste)
1/3 cup onion, chopped
1 10 1/2 oz. can of cream of mushroom soup, undiluted
1/4 cup half and half cream
1/4 cup dry red wine (my favorite ingredient)
1 tablespoon instant beef bouillon crystals
1 teaspoon seasoning for meat (author suggests Knorr Swiss Aromat, but  I use what I have on  hand)
1/4 teaspoon black pepper
1/4 teaspoon ground nutmeg (my second favorite ingredient in this dish)
1/4 cup sour cream
1 package egg noodles or rice (I use whole grain noodles for a healthier recipe)
What You Do:
1.  Trim excess fat off of meat.  I always have the butcher cut the meat up for me.  Makes life much easier when I get home!
2.  In lidded pot, using medium heat, add butter and melt.  Next add steak, mushrooms and onions.   Cook until steak is done and onions are tender.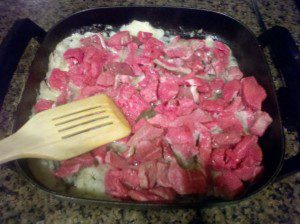 3. Add all remaining ingredients, except for sour cream.  Mix well.  Cover and cook 20 minutes longer until stroganoff is thick and smooth.
4.  Just before serving, stir in sour cream.
5.  Serve over cooked egg noodles or rice.
Enjoy and feel free to share your tips and tricks for tasty homemade beef stroganoff!