Manic:  I get so busy running kids around town, that I forget to eat enough fiber to keep things moving…if you know what I mean!
Managed:  Discussing this with another manic managed  mom, who told me about a magical smoothie that keeps your metabolism moving smoothly.  I'm all for that, so I gave this blended beverage a try.  Read on to see how to make this delicious and healthy drink.
The Get Things Moving Smoothly Smoothie
What You Need: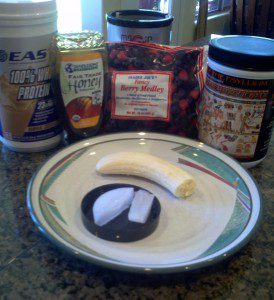 1/2 of a large banana
1 scoop (1/3 cup) of a Whey Protein like the EAS I purchased
1/2 Tablespoon flax seed oil (not pictured)
1/4 cup frozen mixed berries with lots of healthy blueberries mixed in
1/2 Tablespoon honey
2 teaspoons psyllium seed husks (I bought the one shown at Trader Joe's)
8 oz. water
2 ice cubes
What You Do:
1.  First of all, I bought the Magic Bullet for all kinds of recipes, but especially for the smoothies, because after you make the smoothie, just rinse the blade and take the cup with you.  And managed moms are usually on the run, especially in the mornings!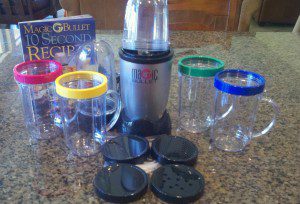 2.  However, you can use any blender.  All you do is blend all the ingredients and it is ready.  Fast, frothy and healthy 🙂
My gal pal, who shared this with me, told me that the original recipe came from the book, "You:  On A Diet" by Dr. Oz.  She modified it a bit and I really like her changes, so this recipe is her version.  I also happen to be a huge Dr. Oz fan, so this is a smoothie that I believe in. 
And yes…..it does work 😉 
What drinks or foods do you consume to get enough fiber in your diet?  Share here in the comments section.