Manic: Long to cook healthier meals, but unsure how to do it.
Managed: Invited the awesome healthy culinary experts from Pomegranate Cafe to join my web team and show all of us how to make some of my recipes ultra healthy and ultra tasty.  And yipee, they accepted my invitation and showed me how to make pasta-less veggie lasagna.  You won't believe just how tasty this extremely healthy recipe is!  Read on for the secret recipe, compliments of Pomegranate Cafe and be sure to visit the team page to learn more about this extraordinary mother-daughter team.
First Meet Pomegranate Cafe:
Meet the very talented culinary team, Mother and daughter and cafe owners, Marlene and Cassie Tolman.  Pomegranate Cafe is located at 40th Street and Chandler Blvd. in Ahwatukee (http://pomegranatecafe.com/) These two lovely ladies asked their very talented Chef Ana to makeover my lasagna recipe, so she did.  Here is what she came up with!
Ana's Amazing Pasta-less Lasagna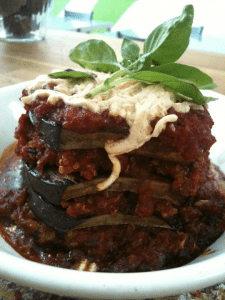 What You Need: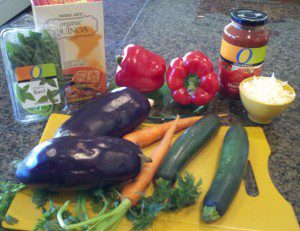 2 medium red bell peppers finely diced
2 medium carrots finely diced
2 garlic cloves minced
2 medium zucchini squash finely diced
1 cup pre-cooked quinoa
2 medium eggplants cut in half and sliced lengthwise (1/2 inch)
1 24 oz. bottle organic marinara sauce
Grated cheese – Chef Ana used vegan mozzarella, but I used dairy mozzarella
Fresh basil
What You Do:
1.  Saute the first 4 ingredients in extra virgin olive oil until tender.
2.  Add half of the marinara sauce and the pre-cooked quinoa.  Cook for 5 minutes on low heat.
3.  Grill the eggplant with a little olive oil, or none if using a nonstick pan, until it turns light brown color.
4.  Using four eggplant slices per person, plate the lasagna laying one slice of the eggplant and covering it with the veggie marinara sauce.  Then I deviated a little bit from the recipe and I added some shredded cheese on top of the sauce.  Then I layered the next eggplant slice with more sauce and cheese.  Repeat layers and then top final layer with just marinara sauce and sprinkle your choice of cheese.
5.  Warm in the oven at 350 degrees for a just a couple of minutes to melt the cheese.
6.  Take out of oven and top with basil leaves and serve.  Here is how mine came out and I am happy to say that it came out pretty tasty!