Manic:  Can't outgrow my fried chicken cravings, but I know that fried is bad for me.
Managed:  Found a great cookbook with a yummy recipe for baked fried chicken and the publisher gave me permission to share it! 
So read on, so you can have your fried chicken…and eat it, too! 
Oven-Fried Chicken Recipe
(From Betty Crocker Cooking Basics: Recipes and Tips to Cook with Confidence; Wiley 2008; reprinted with permission from the publisher)
What You Need: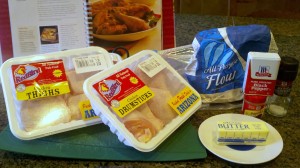 1 cut-up whole chicken (3 to 3 1/2 lb)…but you can see in the picture that I used thighs and drumsticks because that is what my family likes 🙂
1/4 cup butter or margarine (1/2 stick)
1/2 cup all-purpose flour
1 teaspoon paprika
1/2 teaspoon salt
1/4 teaspoon pepper
What You Do:
1.  Cut fat from chicken and discard.
2.  Heat oven to 425 degrees F.  Place the butter in a 13 x 9-inch pan, and melt in the oven, which will take about 3 minutes. 
3.  In a large food-storage plastic bag, mix the flour, paprika, salt and pepper.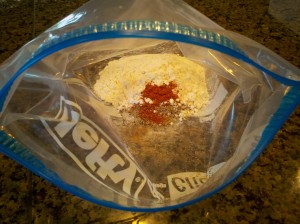 Place a few pieces of chicken at a time in the bag, seal the bag and shake to coat with the flour mixture.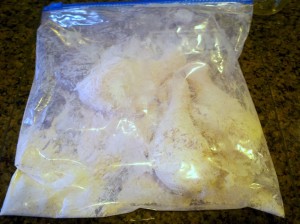 Place the chicken, skin sides down, in a single-layer in the butter in the pan.
 
4.  Bake uncovered 30 minutes.  Remove the pan from the oven: turn chicken pieces over, using tongs.  Continue baking uncovered about 30 minutes longer or until juice of the chicken is clear when you cut to the bone of the thickest pieces (170 degrees F for breasts; 180 degrees F for thighs and legs on instant read thermometer).  If the chicken sticks to the pan, loosen it gently with a turner or fork. 
The cookbook also describes how to lighten up the recipe.  Simply remove the skin from the chicken before cooking.  Do not melt butter in pan; instead spray pan with cooking spray.  Decrease butter by 2 tablespoons; melt the butter and drizzle over chicken after turning in step 4 for 11 grams of fat and 240 calories per serving. 
I love that this cookbook suggests lighter versions and has a picture with every recipe.  I highly recommend Betty Crocker's Cooking Basics:  Recipes and Tips to Cook with Confidence!
What is your favorite cookbook?  Tell us here in the comments section and Happy Cooking 🙂