Manic:  Almost forgetting to add my family's beloved garlic bread to my pasta dinners, but how can I make mine taste as good as the bread does in the restaurants?
Managed:  Took the advice of one of our managedmoms.com subscribers to buy and try an awesome new cookbook called The Mom 100 Cookbook by Katie Workman.  I love it!  And author Katie gave me permission to share some of her recipes!  Last week I showed the delicious Honey Ginger Soy Chicken recipe.  This time I want to show you her quick recipe for a nice basic garlic bread.  Her book goes on to show additional and yummy variations to the many ways you can prepare crostini.  I really like this basic version and my family loves it.   Take a look….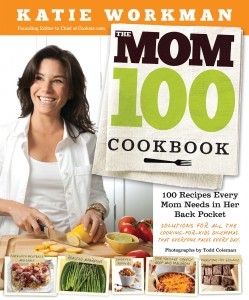 The Mom 100 Cookbook Crostini Recipe
What You Need: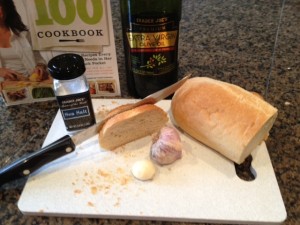 1 long baguette, sliced 1/3 to 1/2 inch thick
About 1/2 cup of Olive Oil
Kosher or coarse salt
2 cloves garlic, cut in half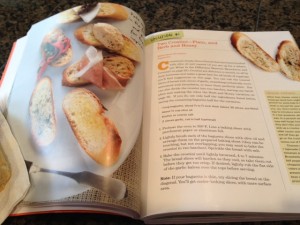 What You Do:
1.  Preheat oven to 350 degrees.  Line a baking sheet with parchment paper or aluminum foil.
2.  Lightly brush each of the baguette slices with olive oil and arrange them on the prepared baking sheet.  Sprinkle the bread with salt.
3.  Bake bread until lightly browned, about 4 to 7 minutes.  The bread slices will harden as they cool, so take them out before they get too crisp.  Then lightly rub the flat side of the garlic over the tops of the bread before serving.  So yummy!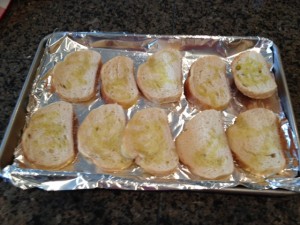 Thank you Katie Workman for allowing me to share this tasty recipe with my managedmoms.com readers!  Katie's book is filled with easy recipes that can be made multiple ways to please every age in the family.  The book also includes a lot of great pictures, which I appreciate, because I'm a big picture person when it comes to following cookbook instructions.  I love my new Mom 100 Cookbook by Katie Workman and I recommend a copy for all busy parents looking for simple and nutritious recipe ideas that will please the whole family!  I purchased my copy at Barnes & Noble, but it can also be ordered online here.