Manic:  School mornings period!  And what are the right foods to feed my very busy teen and tween as they rush out the door?
Managed:  Asked a professional to give us some ideas!  Certified Nutritionist Janet Little from Sprouts Farmers Market has some good and unique ideas!  And for you local Sprouts Farmers Market fans, not only is Sprouts celebrating a big 10-year anniversary this year, but the new Ahwatukee Foothills location is about to open!  The healthy and awesome new store, located on 48th Street and Ray Rd., opens the doors on Wednesday, August 22nd at 10am!  Can't wait!  In the meantime, be sure to visit all of the other cool Sprouts Farmers Market locations and try these great breakfast ideas…
Janet says:
Breakfast Foods: Balancing Quick and Easy with Delicious and Nutritious
 Compliments of:  Janet Little, Certified Nutritionist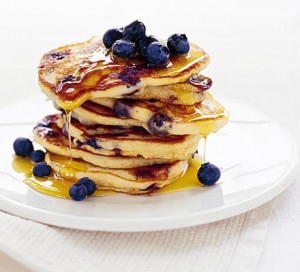 With school back in session you're probably wondering how you are going to find the time to feed your kids a quick and easy, yet delicious and nutritious breakfast.  Here's the good news: Constructing a healthy breakfast doesn't need to take a lot of time – here are a few quick and easy tips.
You always want to choose nutrient-dense foods such as whole grains, proteins and complex carbohydrates. Go for visual appeal with a variety of colors, shapes, and textures. Keep foods simple – kids love to eat with their hands!
Breakfast Basics
A high-protein breakfast combined with complex carbohydrates will help keep your kiddos feeling fuller longer and provides fewer sugar-based calories that will leave them fatigued and hungry soon after.
Power boost your pancakes with a scoop of protein powder. Whey, soy or egg white protein powder can be added to any pancake mix. Just add a couple teaspoons of water to thin out the batter. 
Spread hummus on whole-grain English muffins and top with sliced almonds for a satisfying meal containing protein, carbohydrates and heart-healthy fats.  Hummus comes in a variety of flavors so let your child pick his or her favorite.
Here's a lunch-for-breakfast idea that is quick and nutritious and perfect for the first meal of the day – Serve low-fat chili over turkey dogs – a great morning meal that packs a lot of protein.  Pour a glass of milk for an added calcium boost.
Reheat leftover roasted, grilled or baked chicken for a meal that's high in protein and low in fat. Place the chicken on top of quinoa instead of rice. Top with veggies for an additional nutritional-punch.
Roll up a mini bean burrito that is high in dietary fiber, B vitamins and potassium. Beans are a great source of complex carbohydrates, which give your child the morning energy boost he or she needs. And, there are many varieties of beans so they won't grow weary of one kind of bean.
Or, go à la carte with yogurt; hard boiled eggs; chicken or turkey slices; beef or soy jerky; cheese slices or string cheese; soy beans (edamame); apples; bananas; pears or mixed nuts.
A healthy breakfast can be quick and easy with a little preparation.  Add a dash of imagination, a sprinkle of variety and remember last night's dinner can make an excellent morning breakfast treat!