Manic:  Trying to stick to my New Years goal of cooking more for my family who are all constantly on the run!
Managed:  Decided to try the recipe that Trader Joe's was giving out last week at their tasting station for Chicken Tortilla Soup and it was so easy and so tasty!  Take a look and try this family-pleasing soup recipe….
Chicken Tortilla Soup Recipe from Trader Joe's
What You Need: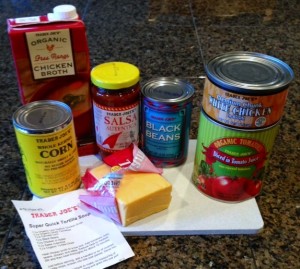 (not pictured:  Tortilla chips to top soup with)
What You Need:
1 box Trader Joe's Organic Low Sodium Chicken Broth
1 28 oz. can of Trader Joe's Diced Tomatoes
1 9 oz. can of  Trader Joe's Whole Kernel Corn
1 15 oz. can of Trader Joe's Black Beans
1 12 oz. can of Trader Joe's Premium Chunk White Chicken in Water
1 Jar of Trader Joe's Salsa Autentica (our family's #1 favorite salsa)
I added shredded cheddar cheese to top off each serving
Tortilla chips
 What You Do:
1.  Heat chicken broth to a low boil.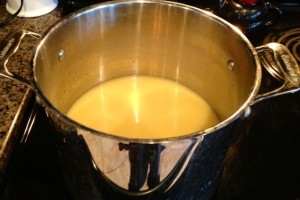 2.  Add tomatoes, corn, beans (I drained my beans first), chicken and salsa.  Reduce heat to medium.
3.  Stir and then heat thoroughly for about 10 minutes.
4.  Just before serving, add a handful or so of crushed tortilla chips, broken into bite sized pieces.
5.  Top each individual serving off with a few more tortilla chips and a handful of shredded cheddar cheese.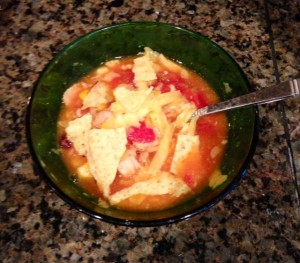 My family loved this dish!  Thank you Trader Joe's for giving us a recipe that requires no measuring since everything goes into one pot!  So easy, so delicious and so perfect for the winter season!  Try it and enjoy!