Manic:  This week because between our two kids, every night this week has activities and I have been trying really hard to make good homemade meals and not eat on the run!
Managed:  Checked this website today, yep my own managedmoms, to look for a healthy, tasty and quick recipe that I could throw together for my girl and her friends.  She had a carload of pals that were over before we headed out to the Pump It Up party her class won.  After scrolling through the many recipes that I have published since the I launched this website, I found the perfect one that was given to me by Celebrity/Professional Chef Chuck Wiley from Hotel Valley Ho's Cafe ZuZu and it was the perfect healthy meal.  The 5th graders loved it and couldn't believe that they were getting a serving of fresh veggies that included zucchini, asparagus, squash, carrots and more.  So if you didn't see this recipe for Lemon Chicken Orzo Pasta with Fresh Spring Veggies before, print it out now because this is truly a goodie that kids love and adults also enjoy…especially with a glass of good white wine.  Oh and on a day like today, I grabbed a cooked roasted chicken from Safeway (they now have 100% Open Nature line) and that made this super easy to make in snap.  I was thrilled that the kids got a good homemade meal instead of pizza or burgers on the run.  And remember to check managedmoms.com under the Food section when you are looking for meal ideas.  I was at Safeway when I pulled this up on my smart phone.  Try this….
Lemon Chicken Orzo Pasta with Fresh Spring Veggies
What You Need: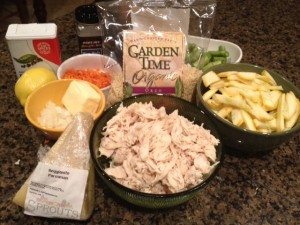 2 tablespoons butter
1 small onion, chopped
2 cloves garlic, chopped
1 carrot, diced
1/2 lb. asparagus, cut into 1 inch pieces
1 small zucchini, quartered lengthwise, cut in 1 inch pieces, diagonally
1 small yellow squash
1 whole cooked chicken, boned and diced
1 cup orzo pasta, cooked al dente and drained
1 cup chicken broth
1 lemon, juice and zest
Kosher salt and ground black pepper to taste
1 cup Parmesan cheese, grated
1/4 cup basil leaves, sliced
3 tablespoons pine nuts, toasted
What You Do:
1.  Heat a large skillet over medium-high heat, add 1 tablespoon of the butter, onion, garlic and carrot and saute until tender.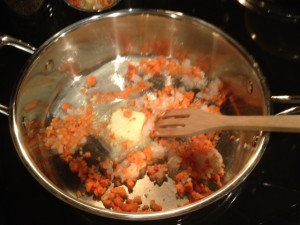 2.  Add the asparagus, zucchini and squash and saute briefly.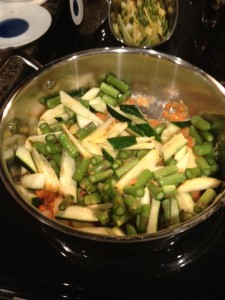 3.  Add the cooked chicken, cooked orzo pasta, broth and lemon.  Bring to a boil, lower heat and simmer, stirring until mixture begins to thicken.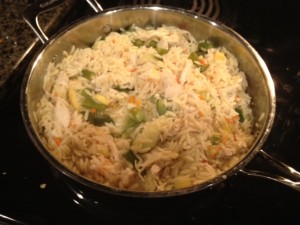 4.  Stir in the remaining butter, 1/2 cup of the cheese and transfer to a serving bowl.  Sprinkle with the basil and pine nuts.  Serve with the remaining cheese and enjoy!
A few notes….I used too much Orzo…stick with the 1 cup that Chef Wiley has in the recipe.  My picture has too much pasta and not enough veggies shown because I accidentally used too much of the orzo.  I also omitted the pine nuts because my daughter is allergic to tree nuts, but I've had it with the pine nuts and it is really better with the pine nuts, although my family still loved the dish, I'm happy to report!
I also highly recommend this dish with a good glass of Pinot Grigio Vino, too!