As we continue on with managedmoms.com recipe contest, I was excited to try Kelly Fink's entry that she found on allrecipes.com.  She tells me that the Stuffed Pork Chops with Gorgonzola and Apple is a family favorite in her household and this yummy dish didn't disappoint.  Here is how you make it…
What You Need: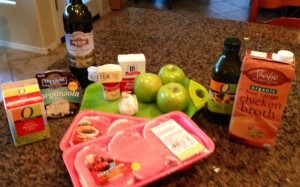 For Pork Chops:
1 Tablespoon butter
1/2 Tablespoon dried thyme
1/2 cup chopped Granny Smith apples
ground black pepper to taste
1/4 cup Gorgonzola cheese at room temperature, crumbled
2 thick pork chops (I used 4 small ones to feed our family of 4 and that worked fine)
For sauce:
1/2 teaspoon olive oil
2 cloves garlic
1/4 cup Gorgonzola cheese
3 Tablespoons dry sherry (I used dry red wine since I didn't have sherry on hand)
1/8 cup heavy cream
1/2 cup chicken broth
salt and pepper to taste
What You Do:
1.  Preheat oven to 375 degrees.
2.  To make the apple stuffing:  In a saute pan or skillet on medium heat, melt the butter and saute thyme, chopped apples, salt and pepper together until the apples are completely softened: about 15 to 20 minutes.
3.  Place the apple mixture in a bowl and mix in 1/4 cup Gorgonzola cheese.  The cheese should liquefy into the stuffing within a couple of minutes.
4.  To prepare the pork chops:  Butterfly the pork chops by slicing them down the middle away from the fat part of the chop.  The recipe says to use bone-in pork chops, but I used boneless and they came out fine.  Stuff each one with 2 to 3 tablespoons of the apple mixture.
5.  Bake the chops for about an hour.  I overcooked mine a bit, so test them at 45 minutes.
6.  To make the sauce:  heat the oil in a saute pan or skillet on medium heat, then saute the garlic until transparent and the cheese until slightly melting.  Immediately add the sherry (or dry red wine in my case), let cook for a minute until combined, then add the cream and 1/4 cup of the chicken stock plus add the salt and pepper to taste.  Stir until well blended.  Stir occasionally and reduce the liquid on medium high heat until the sauce begins to toast/caramelize and turn darker brown.  Add the remaining 1/4 cup chicken stock, reincorporate the cheese and continue reducing until there is just 1/4 to 1/2 cup of the thick liquid remaining.  The finished dish was very tasty and I forgot to snap a picture of it plated up because I was so anxious to try it….the Gorgonzola cheese aroma was driving me crazy!  But I did snap a picture of it finished in the pan, so take a look and give this delicious recipe a try.  Good luck Kelly and thank you so much for submitting this recipe!  Serve the pork chops over a bed of sauce and sprinkle some crumbled Gorgonzola cheese on top of the finished pork chop for appearance and for flavor.  Yummy!