A few months ago, managedmoms.com held a cooking contest and our winner, Kimberly Bodine submitted several extra recipes for us to try, too.  So today, I'm sharing her yummy recipe for Easy Quick & Tasty (I like all of three of those words) Pepper Steak.  And if you missed her winning entry, Balsamic Tomato Pasta, check it out here.  Now here is the recipe for the pepper steak….
Easy Quick & Tasty Pepper Steak
What You Need: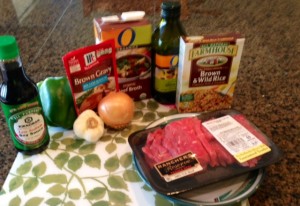 1 Tablespoon Olive Oil or natural unsalted butter
1 large green pepper, thinly sliced
1 medium onion, thinly sliced
2 medium cloves of garlic, minced
1 14 oz. can of low sodium beef broth
1 packet of dry, low sodium brown gravy mix
1 tablespoon of light soy sauce
1 lb of precut beef strips (fajita/stir fry) or thinly sliced sirloin steak
2 cups cooked rice or egg noodles to serve over, your choice
What You Do:
1.  Place medium sized saute pan over medium heat and warm up oil.
2.  Add onion and pepper slices, cooking until peppers begin to soften and onions may brown a tiny bit.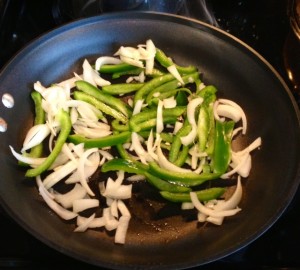 3.  Add beef and minced garlic and cook until meat is browned.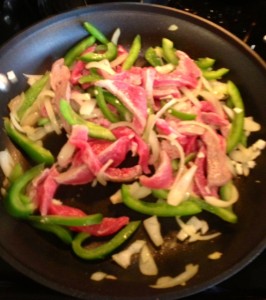 4.  Mix in brown gravy powder, then add beef broth and soy sauce.
5.  Keep stirring until well mixed and simmer until gravy thickens and becomes a nice dark brown.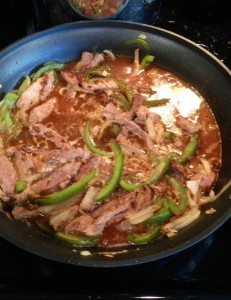 6.  Serve over rice or egg noodles.  My family loved this dinner and I also served a little over my salad and that tested good, too.