You may remember that several weeks ago I invited all of you to submit a dinner or breakfast recipe to managedmoms.com for a chance to win a $50 gift card to your favorite restaurant.  I have received some great ones and today I share with you Kimberly Bodine's recipe for Balsamic Tomato Pasta.  I love that it calls for fresh and natural ingredients like diced green pepper, garlic, cherry tomatoes, basil and more.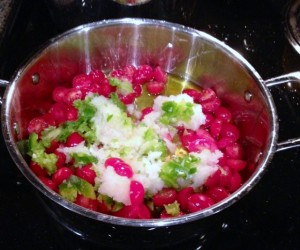 My family loves that it included pasta (I chose to use whole grain penne) and my son's friend, Connor liked it, too.  Those teenage boys are good judges because they come in hungry and ready to eat!  So our first recipe gets good marks!  Here it is and we will be posting more of the entries soon.  Remember to email us your recipe because even if your recipe isn't the winning meal at the end of the contest, your name still goes in a drawing to also win a gift card to your favorite restaurant so send us your recipes.  Email to [email protected]  Now check this one out….
Kimberly's Balsamic Tomato Pasta
What You Need: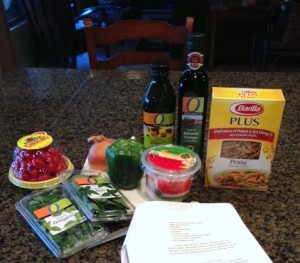 1 large container of cherry tomatoes, halved
1 halved medium onion, diced
3 cloves garlic
1/2 cup diced green pepper
1/2 cup olive oil
1/4 cup balsamic vinegar
2 teaspoons of fresh basil and fresh oregano
1 16 oz. box of Penne pasta cooked
Fresh shredded Parmesan cheese
What You Do:
1.  In medium saute pan, warm up the olive oil.
2.  Add tomato, garlic, onion and green peppers.
3.  Cook until garlic begins to brown and vegetables soften.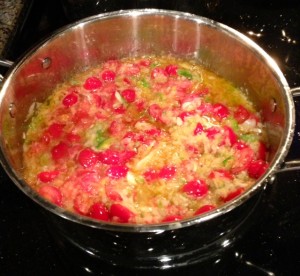 4.  Add balsamic and fresh herbs and simmer until tomatoes are well cooked.
5.  Toss with penne pasta and served sprinkled with Parmesan cheese.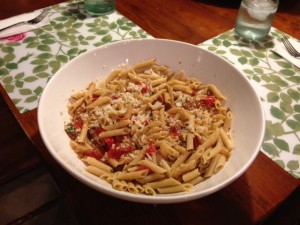 This is the done dish and it was scrumptious!  My family loved it and discussed adding some protein to the dish the next time we make it.  Perhaps Italian sausage or chicken.  Try it!  Your family will love it, too.  Thank you Kim for sending us this recipe to try!  We will keep you posted on the final results as we continue to cook and taste the entries.
It isn't too late to add to your recipe to the contest.  Email yours in to [email protected] for your chance to win and for my family's chance to try your family's favorite.  I look very forward to receiving your recipes.