With the Bachelorette finale two days ago, I knew I had to make something good for my neighborhood gal pals that were coming over for our Monday night guilty pleasure TV viewing.  So I went through my blog and remembered this gem of a rich recipe that makes a very tasty lasagna.  This is a recipe that my friend, Jodie gave me that calls for vodka sauce and wine in the dish.  No wonder this is my fave lasagna dish!  Not to mention that the noodles are no boil.  So if you missed this the first time I ran it, here it is again.  Yum!
Luscious Lasagna Recipe
What You Need: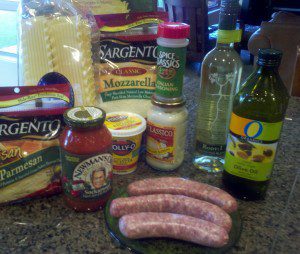 1 lb. sweet Italian sausage (substitute thinly sliced zucchini for the vegetarian version)
1 Tablespoon olive oil
1 jar of your favorite tomato pasta sauce ( I used my hubby's #1 favorite, Paul Newman's Sockorooni)
1 jar of Alfredo sauce
1 teaspoon dried Italian herbs
1 cup white wine (I used Sauvignon Blanc)
1 block whole milk mozzarella cheese (I grated it for ultimate freshness)
1 cup shredded Parmesan cheese (I also grated this)
Ricotta or cottage cheese for top (optional – I used ricotta cheese and it was yummy)
1 package oven bake no boil lasagna noodles
What You Do:
1.  Preheat oven to 350 degrees.
2.  Spray oblong pan, preferably glass, with nonstick cooking spray (I used my olive oil cooking spray)
3.  In one pan, pour both sauces, add herbs and 1/2 cup of the wine.
4.  Stir, put a lid on the pot and place on medium heat, stirring occasionally.  Once the sauce heats through, remove the lid and turn burner to low.
5.  Saute the sausage in the olive oil over medium high heat, stirring occasionally.  The recipe recommends using a cast iron skillet for a really good flavor.  I agree.  As the meat browns, break it into tiny bits.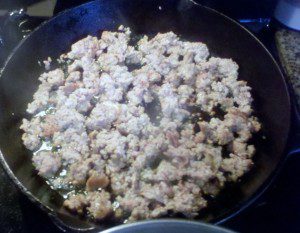 6.  Add 1/2 cup of wine to deglaze the pan.  Turn to medium low heat and let the wine cook off.  Drain on paper towels.
7.  Grease the bottom of the pan with a little spray olive oil and a little sauce.  Layer noodles in the bottom of the pan.  Add 1/3 of the sauce.  Sprinkle 1/2 of the meat evenly.  Add 1/3 of the mozzarella cheese to cover the meat.  Then sprinkle Parmesan cheese on top.  This is your first yummy layer.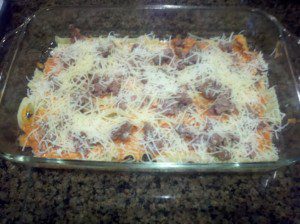 8.  For second layer, simply repeat the first layer.
9.  To make third layer, apply noodles, the rest of the mozzarella cheese, the rest of the sauce and sprinkle Parmesan cheese on top.  End by spooning dollops of ricotta or cottage cheese on top.  Cover with foil.
10.  Bake 30 to 40 minutes.  I baked mine for 35 minutes and it came out perfect.  Let stand for 5 to 10 minutes.  Serve and enjoy.  My husband and our company all loved it!
Although I listed 10 steps, it is actually really easy to prepare.  I loved the sweetness of the sausage, the creamy ricotta dollops and the white wine infusion.  So yummy!
And it reheated perfectly the next day, as shown in my yummy lunch piece here.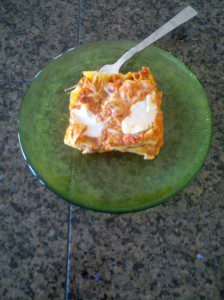 Thanks again to our reader, Jodie for sending this one in.  If you have a somewhat easy, and very yummy recipe that you want to share, send one in to us.  I was thrilled to receive, prepare and then taste this recipe, which she calls Sweet Italian Lasagna.  However, after tasting it, I had to rename it Scrumptious Lasagna because it is so delicious 🙂