Lucky for me, it is soup season to nurture us during winter's chilly temps.  And this is lucky for me since I have to eat soft foods as I recover from my gum surgery.  So I asked a few pals for their soup recipes.  I plan to share several here on my blog, starting with Sherry's Soup:  Potato Leek Soup.  Thanks for the yummy recipe, Sherry.  Here is how you make it…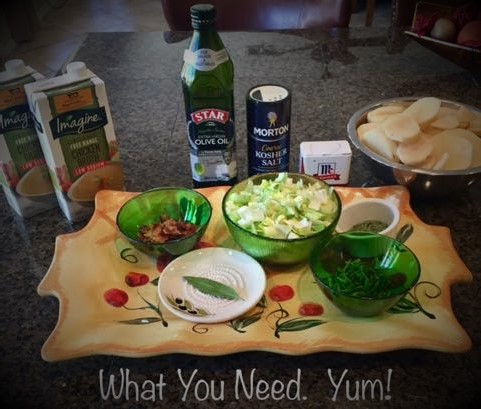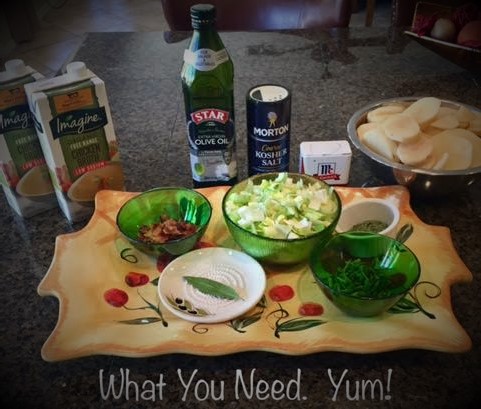 4 leeks, trimmed of tough tops, leave 3-4 inches of green on white of leek.
2 T. olive oil
1 bay leaf, fresh or dried
4 potatoes, peeled and sliced
salt and pepper
6 cups chicken stock
1/3 lb. bacon, sliced and cooked crisp (keep grease and set aside bacon for garnish)
1 T. tarragon, fresh, leaves stripped from stems and chopped slightly, for garnish
2 TBS chives, fresh, chopped, for garnish
Optional add-ins:
Corn as much as you would like to add to soup
Half & Half cream
Sour cream for dollop serving per soup bowl
What You Do:
1. Cut leeks in half lengthwise and slice into 1/2-inch pieces. Place leeks in colander. Separate sliced leeks under cold running water and clean them. Drain well.
2. Heat medium soup pot over med high heat. I used my dutch oven because I am big fan of cooking homemade soup in it.  So good.  Add 2 tablespoons olive oil (or try Sherry's trick and use the bacon grease from the bacon cooked instead of the olive oil to saute the leeks and potatoes), bay leaf and leeks. Season with salt and pepper. Peel potatoes and thinly slice them, adding them to soup pot as you go.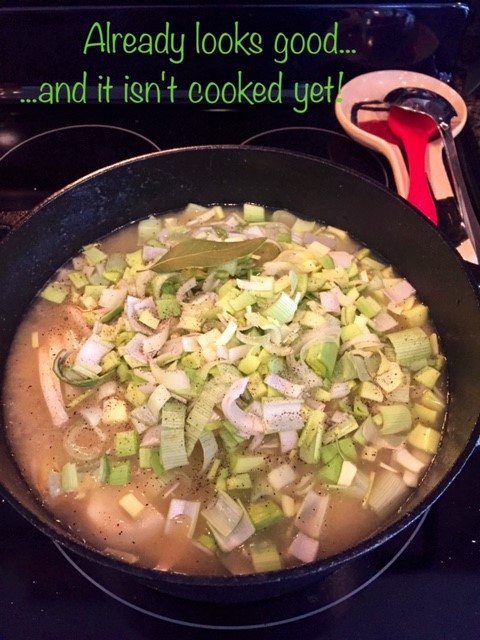 Season potatoes with a little salt, add chicken stock to soup pot. Cover soup and bring to boil. Uncover and simmer 12-15 minutes, until potatoes are very tender. Break up potatoes to slightly thicken soup Remove bay leaf.
3. Serve with bacon, tarragon and chive garnishes.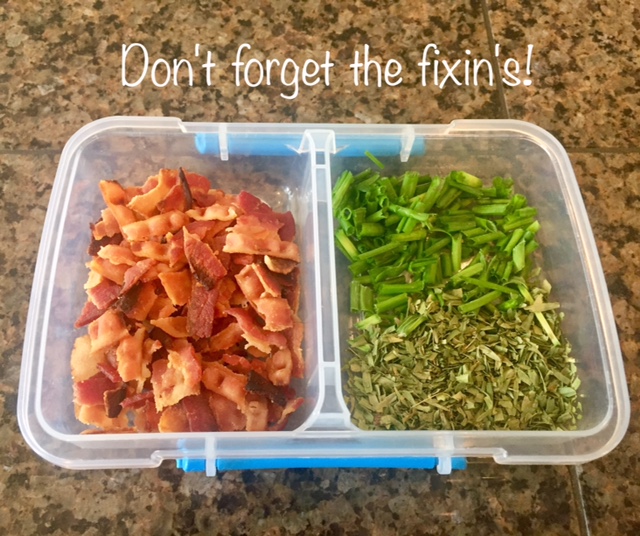 4. Sherry adds about 1/2 cup of fresh corn before simmering and about 1/4 cup cream at the end for a richer tasty soup. Along with the garnishes mentioned, she also adds a dollop of sour cream before sprinkling on the rest.  I was out of sour cream, so I missed that in my pictures of the finished soup. Next time for sure!
Thank you Sherry Kline for your perfect and lovely potato and leek soup recipe!  Give it a try folks and stay warm and well through the winter months.